The wait is finally over. The ultimate 'flawless face' secrets are about to be revealed. And we're ready for it.
We are going to give you the complete Flawless Face 101 with insider knowledge from some of Laura Mercier's most renowned make-up artists.
So sit back, take note and enjoy as we take you through some of the most useful tips and tricks that are definitely worth knowing…
CAVIAR VOLUME PANORAMIC MASCARA
An indulgent volume mascara offering a full panoramic look with glossy black pigments that conditions and moisturizes lashes for a soft feel touch. The innovative Lash-Hugging Helix Brush is designed with gentle hollow fibres that are delicate on lashes and glide on for a smudge proof, non-clumping, and flake free application. The unique Helix shape rotates to reach each lash, weaving in between lashes to evenly coat, volumize and create a full 360 degrees panoramic effect.
TOP TIPS
Start by curling the lashes- before the lashes have time to drop work the brush wiggling back and forth through the lashes root to tip. Tease the inner lashes towards your tear duct, tease the outer lashes towards your ear for a full panoramic effect.
 
CAVIAR STICK EYE COLOUR AU NATUREL
The perfect light natural nude to naturally sculpt the eye or a quick a wash of colour. A soft taupe with an iridescent sheen is the perfect nude for light to medium skin tones or soft brightening shade for deeper skin tones.
It has 12hour and can be worn all over the eye including the waterline to add brightness giving a wider eyed effect.
TOP TIPS
Swipe caviar stick onto eyelid – don't need to use an eye primer as the caviar sticks are smudge and crease proof blend the edges out with fingertips or a soft blending brush you have around 30 seconds before the caviar stick sets. Try concentrating the caviar stick at the root of the lashes both on the top and bottom blending the edges out for a soft, diffused and defined eye.

BLUSH COLOUR INFUSION – STRAWBERRY
Nothing says young, fresh and youthful than a tactfully placed flush of pink on the cheeks. It's the perfect pick me up for Zoom Fatigue or just a quick and easy way lift your face (and mood).
Our Blush Colour Infusion in Strawberry is a beautiful cool toned pink that mimics a natural flush in the skin, ensuring a subtle, undetectable look. For deeper skin tones the shade 'Pomegranate' is a great option to add a gorgeous wash of colour.
These blushers provide 10 hours of buildable colour and unlike most powder blushers, these have a silky smooth texture that melt into the skin, allowing your skin to show through.
TOP TIPS
When it comes to blush it all comes down to placement. Personally, I have a rounded face shape, so I like to place blush high up on the cheekbone to streamline the face and create definition. If you want to create balance in a longer face, adding a flush of colour to the apple of the cheek can add volume and compliment your look.

ROUGE ESSENTIEL SILKY CREME LIPSTICK – ROUGE ULTIME
With summer around the corner and the opening of restaurants and bars (amen) now is the perfect time to rock that red lip that has been hidden away for the past year-and here is the best bit- you can make it completely mask proof so you don't have to worry about smudging your perfectly crafted pout.
The perfect red lip starts with well prepped lips, so if you suffer from flaky lips, up your water intake and try the Laura Mercier Hydrating Lip Balm infused with Plum Oil.
Next, pat a small amount of concealer over your lips to make sure you get the true pigment of your lipstick and to create a great base to work from. Of course, a lip liner is crucial to create the perfect shape but the real magic comes from your choice of lipstick.
The Rouge Essential Lipsticks give high-impact colour whilst nourishing the lip. The Mediterranean sea algae extract boosts the renewal of collagen in the lip and moisturises to ensure the products sits perfectly on the lip.
TOP TIPS
Now- to make that lipstick completely budge proof. In the same way that we set our foundation with a powder to make it last all day, we can press a small amount of our Translucent Loose Setting Powder over the top of our lipstick with a small brush to lock in the colour and give you the confidence to wear that bold lip again – oh how we have missed it.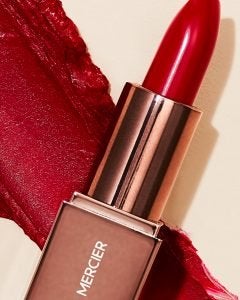 So there you have it. A complete run-down of some of the most exclusive insider-knowledge from the world of Laura Mercier. And what better way to spend your Sunday afternoon than sitting down with your limited edition Laura Mercier Box and experimenting to find your 'flawless face'.
We hope you enjoy x
As the Beauty Editor for LOOKFANTASTIC Beauty Box I'm always hunting for a good beauty story, I like to remain ahead of the trends. But aside from this, I'm a keen reader and writer in my spare time. You'll find me with my head in a good book most of the time- Beauty & Fashion related or otherwise! You'll often find me obsessing over the latest tropical-scented body oil or lathering on the coconut moisturiser. As you may have already guessed, I have a natural affinity for all things tropical. Beauty and grooming for me is escapism, a little slice of heaven away from the day-to-day.