Ahead of International Women's Day, we caught up with Millie Bobby Brown, founder of Florence By Mills to get an insight on her brand and what it's like to be one of the youngest founders in beauty. 
Inside the industry: Q&A with Millie Bobby Brown
What inspired you to create the brand?   
A few years back, I was still just learning about skincare myself and I found it challenging deciding on where to start. I found that there was not a brand in the market that catered directly to my generation. Everything was so grown up, and I found that there wasn't a brand that felt young and fun, while also having clean, high-quality formulas at an affordable price point that could appeal to young adults too. I also wanted to create a product that if my older sister wanted to grab a blush or mascara from my bag, it was appropriate for her too!  
What are your ride or die products from the range?   
It's so hard to pick, but my absolute favourite items are the Look Alive Eye Balm and Glow Yeah Tinted Lip Oil. I'm all about hydration!  
What's your typical morning skincare routine?   
My skincare routine constantly changes depending on what I have scheduled for the day - if I'm on set, at a shoot, or just hanging out at the house. I try to always stay consistent by at least washing my face with the Clean Magic Face Wash, moisturising with the Dreamy Dew Moisturiser, and applying an SPF. Then depending on if I have more time in the morning, I might add in a toner, face mask, or special treatment. 
How does it feel to be one of the youngest founders in beauty?  
It's really an honour to have been able to start my own brand at such a young age and something I am very grateful for every day.  
How have you managed to juggle creating a business, your education and your acting career? 
It's definitely difficult at times to balance everything but with the help of my family and team we make it work - it's really a group effort! The most important thing for me is managing my time and staying organised.  
Which females inspire you the most?  
All the women in my life really inspire me because they are all strong in their own unique ways. My mum and my nanny Flo (who Florence is named after!) are two that really stand out.  
Do you have any advice for young girls who want to start in the beauty industry?  
My biggest advice is to follow what you are most passionate about. It's a lot more fun to run a business when you're passionate about what you are working on. Do you love doing makeup? Try being a makeup artist! Do you love experimenting and mixing up your own products? Look into product development! Once you discover your passion, then try and meet people who are doing similar things and talk to them for specific tips and advice.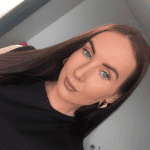 As a beauty fanatic I'm always on the lookout to try and experiment with new products! I've been writing about everything beauty for over 3 years and specialise in skincare so have plenty of tips and tricks to help put blemishes at bay and get your complexion glowing. Whilst being a content writer at LOOKFANTASTIC I've had the opportunity to collaborate with incredible brands including Tom Ford, Dolce & Gabbana and La Mer, taking my understanding of the industry to the next level. In the past I've been a freelance makeup artist and have collaborated with brands including NYX and Revolution Beauty on a personal level, sharing my makeup creations for the world to see. My ride or die brands have to be PIXI, Laura Mercier and Bobbi Brown and I can't live without my trusty MAC Velvet Teddy!