While we don't believe in beauty rules, there is no denying that certain colours can help enhance your natural beauty. To make the most of beautiful brunette hair, these are the shades and tones to look for in your makeup.
Fair Skin and Dark Hair
Fair skin with dark hair is such a beautiful English Rose combination!
However, paler skin tones can look a little dull and ashy against dark locks. To enhance that natural glow, rosy blush is beautiful on the cheeks.
Brunettes carry off colour really well and we love the drama of a bright red lip against fair skin. Just be sure to counteract any redness in the skin with a neutralizing primer under your foundation, to make the red lip stand out.
On the eyes, silvery blues and navy look beautiful and it is a gorgeous way to try a smoky eye with a difference.
Olive Skin and Dark Hair
Olive skin and brunette hair is a beautifully Mediterranean combination.
Makeup can help bring out the warmth of olive skin. Keep sallow tones at bay with a great bronzer. We love the serum bronzers as they blend in so beautifully.
Nude lips are usually a difficult choice but they look just gorgeous with deeper skin tones and dark hair. Soft browns and dusky pinks are also really on trend right now, making it an ideal shade moment to try one out!
On the eyes, warm khakis and deep greens are just gorgeous and bring out the colour of your hair and eyes. Look for shadows with a gold metallic base for a touch of shine.
Dark Skin and Dark Hair
Deep skin and brunette locks have the ability to pull off most looks, from subtle natural tones to bright and bold statement colours.
For skin, you want to make sure you avoid anything that leaves your skin looking ashy. Our team love coppery illuminators for adding a real glow, although we also have a real soft spot for a hot pink blush too!
On the lips, bold hot pinks, deep reds and bright oranges all stand out beautifully with dark hair. Look out for lipsticks with incredible pigmentation, whichever colour you choose.
On the eyes, rich golds and coppers can bring out the highlights in your eyes and hair. Pair with false lashes for extra drama,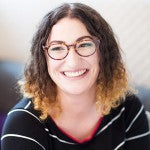 Major fan of scented candles, Make Up brushes and Highlighter. I'm always on the hunt for those Holy Grail products and my dressing table is covered in more beauty products than I like to admit. As an adopted Northerner originally from Brighton, I spend most my days wondering what all this rain is about. My hair isn't grateful for the move. Currently loving:
NIOD Photography Fluid