Forget abs, this year is about sculpted cheekbones and toned, perky complexions. We ask the experts how to whip your skin into shape.
Whether you're a skincare novice or know your AHAs from your BHAs, the search for perfect skin is on the rise. During the recent pandemic, #skincare was the most frequently used beauty hashtag on Twitter and the platform accumulated 6.4 million skin-related tweets throughout 2020* alone. Advanced skincare techniques and hi-tech innovations are becoming second-nature to our everyday regimes, leaving the days of a simple two-step cleanse and moisturise far behind us. Now, the term 'workout' has adopted a new meaning, with exercises that claim to tone, sculpt and contour our faces seemingly more desirable than hitting the treadmill. 
"Just as your body needs regular exercise to stay toned and firm, the 57 muscles in the face and neck also need to be exercised," explains Danielle Collins, world leading face yoga expert and best-selling author of The Face Yoga Journal. "As they become stronger through exercise they are lifted and firmed, and the skin attached to the muscles is also lifted and tautened, helping to reduce lines and wrinkles." 
Non-invasive massage tools and holistic techniques, such as jade rollers and Gua Sha (a traditional Chinese healing method whereby a stone is used to apply pressure to the skin in a stroking method) are dubbed the new 'facial workout'. But what are the benefits? Dr. Hadley King, board certified New York City based dermatologist & skin expert, says: "Gua Sha is designed to be an act of self-care by slowing down your breath and allowing yourself to rhythmically contour the face with the stone to release muscle tension and activate the lymphatic system." 
"The jade roller can be a more convenient and quick option for stimulating blood flow and draining puffiness. The cool temperatures of the stones may also have soothing and mild anti-inflammatory effects. And when used properly, the Gua Sha tool may accomplish a lymphatic drainage massage that can decrease facial puffiness for up to 24 hours," Dr. Hadley adds. 
While there are no age limitations when it comes to looking after your skin, Danielle recommends that we should start using facial devices when we hit our 20s. "The earlier the better. But remember it is never too late to start toning muscles, releasing tension and boosting blood circulation - so even if you are 60 plus, it's still a great time to start." 
If you're a newbie to the world of facial sculpting, you may be wondering how best to incorporate tools and devices into your regime. "Different modalities can be used at varying stages of the at-home routine, from facial brushes and ultra-sonic devices during cleansing to deeply cleanse and thoroughly prepare the skin or after the application of booster-serums to aid in penetration of skincare actives," advises Emma Nowakowski, director of global education at NuFace. 
Microcurrent is another new-age technique that's taking the skincare world by storm. This method uses "non-invasive low-level, electrical current capable of facial stimulation, that sends soft gentle waves (microamps) through the skin and down to the muscles, which mimic and gently re-energise the body's natural ionic flow. This works to restore muscle strength and integrity to provide a lifted appearance," Emma explains. 
Of course, when trialling any new product or device for the first time, don't forget to take precautions. "If you have any skin conditions, medical conditions or are pregnant please always gain medical advice when using any tools or devices. Also listen to your body and what feedback your own skin gives you when using them," suggests Danielle Collins. 
Will 2022 be the year you step into the skin gym?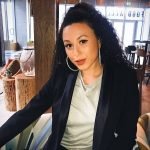 As a beauty obsessive, I'm always trialling and testing new, exciting brands and product discoveries. With over 6 years' experience in beauty writing, including freelancing on the Net-A-Porter beauty desk, I have lots of useful beauty hacks, tips and tricks to share. I'm constantly seeking the latest hair products to make my curls ultra-bouncy and defined. The Cantu Coconut Curling Creme is my Holy Grail! My lipstick collection is always expanding – and my favourite lip product of the moment has to be a nude lipgloss for the ultimate everyday look.