Did you know that the skin around your eyes is the thinnest and most fragile skin on the entire face?* And when you consider that we blink on average nearly 30,000 times a day**, using over 200 muscles in each eye to do it***, it's no wonder those crow's feet and bags creep in before any other wrinkles. And yet, even as a 45-year-old Beauty Editor who should know better, I still skip the eye cream step in my skincare routine!
That is, until I watched this video on Tik Tok, shared by a 54-year-old fan of this sold-out product from Peter Thomas Roth.
If you haven't seen the instant effects that Peter Thomas Roth Instant FirmX Eye gives…in less than a minute, then check it out! It's honestly the most amazing before and after results I have ever seen. And believe me, I've seen a lot! As a Beauty Editor, I am constantly sent products that promise to reduce the appearance of puffiness and fine lines around your eyes, but some of them take weeks or months of daily use before you can see their effects. This little pot of gold appears to work instantly, something that as a mum of 2 boys (hello sleepless nights) needs in her life!
The first time I tried Peter Thomas Roth Instant FirmX Eye, I was extremely tired and jet lagged after a 9-hour Transatlantic flight (as evidenced by my puffy, bloodshot eyes in the before picture). Fine lines, crow's feet and shadows are a daily concern too, so I was hopeful the cream would also make them magically disappear. The instructions recommended to apply the product to just-cleansed skin before the rest of your skincare serums and creams. You must shake the product first to activate it and then apply a thin layer over the eye area (if you apply too much, they suggest to wipe away the excess with a damp cloth after it dries).
With this warning in mind, I smoothed a pea-sized blob underneath each eye, concentrating on the puffy, dark area and my crow's feet on each side. The texture is gel-like and feels quite cool on contact. It doesn't take long for the 'tightening' feeling to take hold, feeling as if your skin is being shrink wrapped, like a sandwich in clingfilm. About three minutes later, it was dry, and during that time, I could see the puffiness disappearing, shadows lightening and fine fines fading. Literally before my eyes! I continued with my normal skincare regime – serum and day cream with SPF – and then applied my make up. Normally I would use eye concealer to disguise my undereye shadows, but this time, thanks to this powerful little product, I didn't need to! Concealer is one of my daily products that I normally cannot leave the house without wearing, so I couldn't quite believe my luck.
If I had needed some extra help in that area, I would have opted for a creamy concealer as the 'tightening' effect can make the area feel dry. After a day of school drop offs, business meetings and food shopping, I was amazed my eyes looked as bright and line-less as they did when I left the house that morning.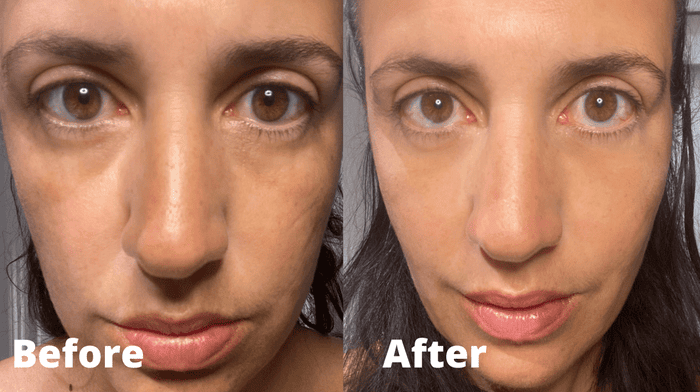 The next day, not concentrating, I applied a bit too much of the cream, causing it to 'pill'. You know those annoying little granules that your skincare products sometimes create? That process is called pilling! So, as the packaging told me to, I wiped away the excess with a damp cloth. This unsurprisingly diluted the results, which made me extra cautious of how much of the cream I used each time after that. I did try mixing it with concealer and regular eye cream too (as the packaging suggested). I preferred this application method as the skin wasn't left feeling as 'tight' as if you apply it on its own. However, I think if my bags were looking extra baggy, then I'd revert back to using it solo.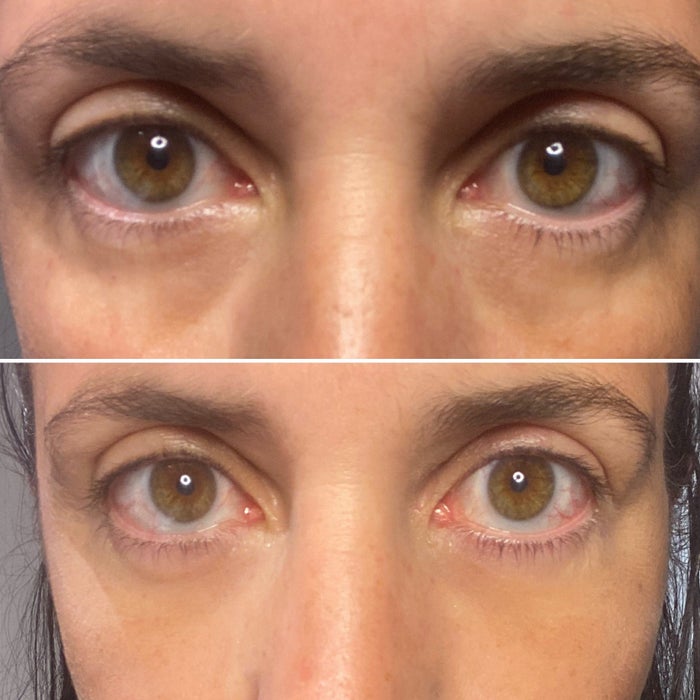 So, would I recommend it? It's a big fat YES from me! In my 20 plus years as a Beauty Editor, I have never known a product to work so fast! You just need to wait a matter of minutes until you see the results. So, if you want a product to quickly fix your puffy undereye bags, brighten your dark shadows and smooth out your crow's feet, then this is the product for you! It's well worth the investment.
Yet to try the Peter Thomas Roth range? Discover more of their iconic youth-boosting formulas below.
Our top Peter Thomas Roth Picks:
Shop the full Peter Thomas Roth range on LOOKFANTASTIC.
*https://observer.com/2017/10/why-the-skin-around-your-eyes-ages-so-quickly-and-how-to-protect-it/ 
**https://www.huffpost.com/entry/why-do-we-blink-so-much-mental-rest_n_2377720 
***https://www.medindia.net/know_ur_body/interesting-body-facts-about-eyes.asp