If you're serious about your skincare, then you've probably heard of the Bobbi Brown Vitamin Enriched Face Base. A true cult classic and a best-seller for the brand, the multi-benefit, skincare and primer hybrid is loved by consumers and celebrities worldwide for being so much more than a moisturiser.
We caught up with Bobbi Brown PRO Artist, Lampros Faslis, to explain everything you need to know about the makeup-enhancing must have. Plus, we put the product to the test ourselves to see if the Vitamin Enriched Face Base (VEFB) really does make makeup last longer.
What is the Bobbi Brown Vitamin Enriched Face Base?
The Bobbi Brown VEFB is a unique, multi-tasking formula that combines the benefits of both a moisturiser and primer. Enriched with hyaluronic acid, shea butter and a blend of vitamins B5, C and E, the smooth, buttery cream helps to plump the skin and give a healthy-looking glow, leaving the complexion both softer and smoother. Lightweight and fast-absorbing, the VEFB contains energetic geranium and grapefruit extracts that give the product its unique, fruity scent.
What skin type is the Bobbi Brown Vitamin Enriched Face Base for?
According to Bobbi Brown PRO Artist Lampros Faslis, the VEFB is perfect for anyone with normal to oily skin. If your skin is more on the dry side, he suggested using the formula on top of your usual moisturiser for added hydration and its makeup prolonging, primer benefits.
When to apply the Bobbi Brown Vitamin Enriched Face Base
As a moisturiser and primer, the VEFB should be used after any cleansers, toners and serums in your usual skincare routine, according to Lampros. The product doesn't contain SPF, so he suggests following with a Primer Plus Protection SPF 50 for broad UVA/UVB protection to keep your skin shielded from any harmful effects of the sun.
To apply the formula, "take a blueberry sized amount of the product, spread it in between your fingertips and press across the entire face and neck" advises Lampros. "Massage this into the skin using circular motions to increase blood flow on the skin for a smoother, plumper base".
Should the Bobbi Brown Vitamin Enriched Face Base be worn alone or under foundation?
As a moisturiser and primer 2-in-1 product, the VEFB can be worn either alone, for a fresh, plumped and glowy, natural look or underneath makeup to help prolong the wear of foundation and give that lit-from-within effect.
Hyaluronic acid and squalene in the formula help to smooth and soften the skin. The clever primer even releases hydration throughout the day to help the complexion maintain moisture over time, so your foundation can stay looking seamless.
Lampros' advises wearing your favourite Bobbi Brown foundation over the top of your VEFB and applying it with the Full Coverage Face Brush to help your makeup last even longer: "Using this technique rather than your fingertips ensures you aren't adding additional oils to your base which could affect the longevity of your look".
We applied the Bobbi Brown Vitamin Enriched Face Base underneath the Bobbi Brown Skin Long-Wear Weightless Foundation SPF15 and these were the results
We put the VEFB to the test to see how it affected not only the application of foundation, but also how it wears after hours after application...
Alice Macfarlane, Beauty Writer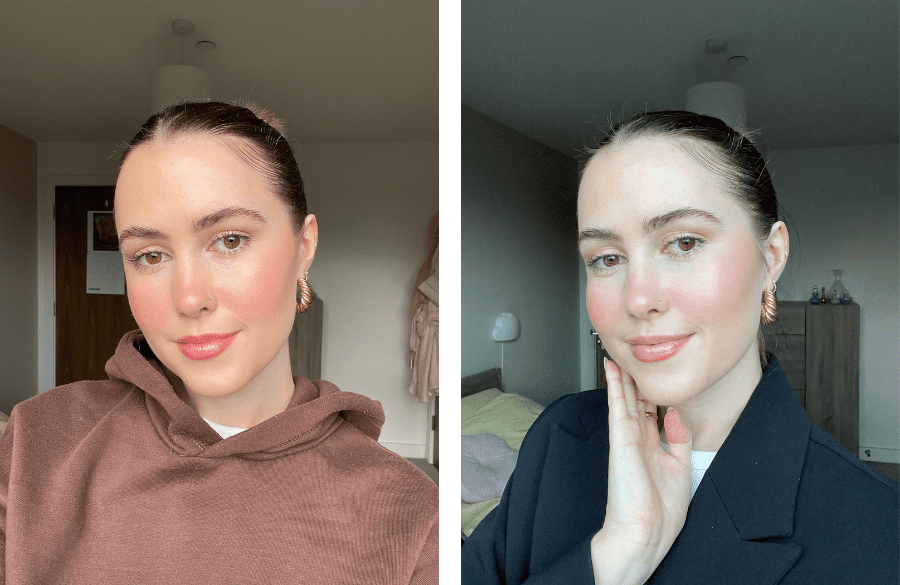 Alice used the Bobbi Brown Weightless Foundation SPF15 in Warm Ivory.
"As a skincare fanatic, I generally prefer using a good-quality moisturiser as a base for my makeup, so the hybrid formula of the face base is ideal for me! With all the nutrients and hydration of a moisturiser, and the skin smoothing properties of a primer, the cream melted into my skin nicely leaving it glowy and fresh, but not too shiny. A little bit goes a long way with this product, and I found that a pea sized amount was just right for me"
"Applying my foundation with a brush, the medium-coverage formula blended smoothly and evenly over my skin, and I was pretty obsessed with the results...Bright, smooth and glowy (but not shiny), I didn't even need to apply powder on top of my base! These formulas worked together to give me one of my best skin days to date, and what's more, my skin still looked just as radiant after five hours wandering around town in the rain!"
Penny Lafferty, Senior Beauty Writer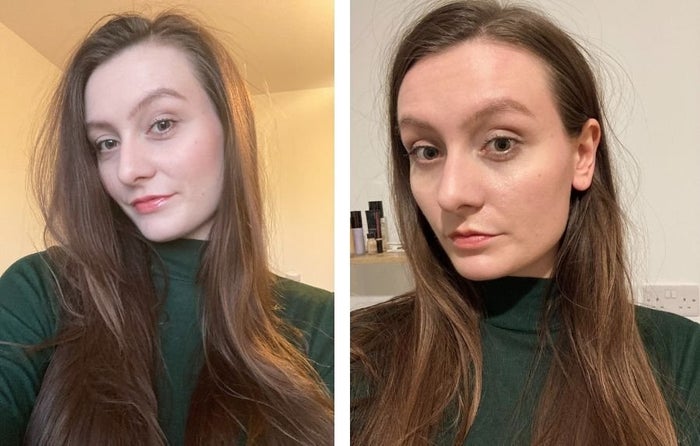 Pictures taken after foundation was applied on top of the VEFB (left) and 12 hours after wear (right)
Penny used the Bobbi Brown Weightless Foundation SPF15 in Warm Porcelain.
"The Vitamin Enriched Face Base applied smoothly and evenly, providing a seamless canvas for blending my foundation. I love how a little goes a long way, and the geranium fragrance is fresh but never overpowering. As it's a primer-moisturiser hybrid, the base cuts out an extra step of my morning routine, saving me precious time on office days.
I noticed a huge difference in the staying power of my foundation. I have a very oily T-zone and struggle to find products that remain throughout the day. The Vitamin Enriched Face Base kept my foundation in place for much longer than usual – I did have a small bit of separation on my nose by the end of the day, but I touch my face a lot, so that's probably why!"
Working with brands at LOOKFANTASTIC for over two years I have developed my knowledge of all things beauty from key skincare concerns to niche makeup tricks and haircare hacks. I have a major passion for finding effective solutions that are easily accessible to everyone so that we can all achieve our best, glowing complexion.