Indulge in the blissful scents of the Moroccanoil haircare ritual with the LOOKFANTASTIC x Moroccanoil Limited Edition Beauty Box. Worth over £92, treat yourself to luscious locks and the restorative power of the brand's signature Argan Oil for just £30- saving yourself over £60!
Don't delay in getting your hands on this little slice of tropical heaven, your hair will thank you.
What's in the Box:
Moroccanoil Treatment Light
Create the proper canvas for all hairstyling
The foundation of haircare, complete with both styling and conditioning benefits—in a lighter formula. Infused with argan oil, Moroccanoil Treatment Light improves manageability, speeds up blow-drying time, and boosts shine.
Apply a small amount from mid-length to ends. Use on damp hair to prep for blow-drying or on dry hair to eliminate frizz and protect against environmental factors.
Hydrating Shampoo
Gently cleanse and hydrate hair
Infused with antioxidant-rich argan oil, moisture-attracting red algae, and Vitamins A and E, this daily cleansing and colour-safe formula helps maintain hair's natural moisture balance.
Massage throughout wet hair and scalp. Continue to add water to activate a rich, luxurious lather from the highly concentrated formula. Rinse thoroughly.
Tip: To get more lather, resist adding more shampoo—and add more water instead.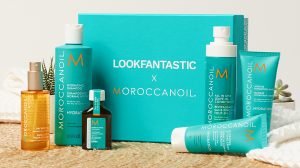 All in One Leave-In Conditioner
Nourish and soften hair for up to 72 hours
A lightweight, multitasking spray that detangles and hydrates hair while protecting against breakage and thermal damage. All in One Leave-in Conditioner improves manageability while nourishing and softening hair for up to 72 hours.
Spray throughout clean, towel-dried hair. Comb through and style as usual.
Tip: Can be used to refresh and restyle second-day hair.
Intense Hydrating Mask
Deeply hydrate and moisturize
This five-minute revival treatment features a rich and creamy formula that deeply hydrates and moisturizes hair while improving texture and manageability. Intense Hydrating Mask helps restore hair's elasticity and shine with no heat required.
Apply a generous amount to damp hair and comb through. Leave on for 5–7 minutes and rinse thoroughly. Use 1–2 times weekly.
Tip: Add a few drops of Moroccanoil Treatment Light for added shine and elasticity
Hydrating Styling Cream
Create a soft hold and natural feel
A styling cream that combines extraordinary conditioning properties of antioxidant-rich argan oil for a soft hold. This product is highly effective in creating smooth styles and is versatile for all hair types.
Apply a small amount from mid-length to ends. Use on damp hair and style as usual; or use on dry hair to reduce frizz.
Dry Body Oil
Instantly moisturize and nourish
Infuse skin with the antioxidant-rich, nourishing properties of argan oil, as well as olive and avocado oils. The weightless formula absorbs quickly to lock in moisture, while soothing dry areas and improving overall skin texture and tone. Featuring the signature Moroccanoil scent, Fragrance Originale.
Spray a thin layer directly onto the skin immediately after showering and lightly massage in an upward circular motion.
Subscribed to the LOOKFANTASTIC Beauty Box? Click through your early access email* and shop the nourishing haircare rituals of MOROCCANOIL in this Limited Edition Beauty Box for just £25!
Not subscribed yet? Subscribe today (https://www.lookfantastic.com/beauty-box/lookfantastic-beauty-box-subscription/11140463.html ) and get £5 off when you use code MOROCCANBB
*valid on 3, 6 and 12 month subscriptions only
As the Beauty Editor for LOOKFANTASTIC Beauty Box I'm always hunting for a good beauty story, I like to remain ahead of the trends. But aside from this, I'm a keen reader and writer in my spare time. You'll find me with my head in a good book most of the time- Beauty & Fashion related or otherwise! You'll often find me obsessing over the latest tropical-scented body oil or lathering on the coconut moisturiser. As you may have already guessed, I have a natural affinity for all things tropical. Beauty and grooming for me is escapism, a little slice of heaven away from the day-to-day.