It's the skincare trend taking over our TikTok feeds, but peptides are more than just a beauty buzzword. Offering a whole host of complexion benefits including reducing the appearance of fine lines and supporting the skin barrier, digital askINKEY advisor, Ray, is here to tell us why this clever little molecules should be the next addition to our routines.
What are peptides and what do they do?
"In the simplest of terms, Peptides are short-chain amino acids that act as the building blocks for proteins in the skin like collagen and elastin."
"Peptides are small signaling molecules that help to support your skins collagen and elastin. As peptides are small, they are better suited to penetrate the skin as opposed to collagen molecules which are much larger and sit on the surface."
"As we age our collagen production naturally starts depleting, which can increase the appearance of fine lines, wrinkles and make our skin a bit lack-lustre. Adding Peptides into your routine helps to keep your skin looking plump, firm and more youthful."
What are the skincare benefits?
"Peptides are mainly used to help target the signs of ageing by supporting collagen and elastin production, which plumps and visibly improves of fine lines and wrinkles. They can also be great at strengthening your skin barrier which may reduce the appearance of breakouts!"
Can peptides help protect the skin barrier?
"[Peptides] are beneficial for the skin barrier in several ways. A stronger skin barrier means happier skin, so skin feels calmer and more soothed, improving the appearance of breakouts."
"Some peptides can improve skin hydration, which is essential for maintaining a healthy skin barrier, whilst other peptides can calm and soothe the appearance of the skin."
What are the best ways to use peptides?
"When adding peptides into your routine, it's best to go for products that are left on the skin to get the maximum benefits – a serum or moisturiser is your go-to! Two of my favourites are The INKEY List's Collagen Peptide Serum and Peptide Moisturiser."
The best peptide skincare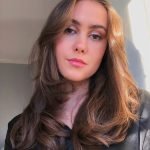 As someone with an affinity for all things beauty, discovering fantastic new products is my not-so-secret obsession. Over the years I've tried and tested a mountains worth of creams, serums and cleansers, finding some of my favourite 'holy-grail' products along the way. However, I'm always on the lookout for more ways to nourish my hair, perfect my dewy base, or enhance my skincare routine. Working as a beauty blogger for over 3 years, I've been lucky enough to collaborate personally with lots of amazing beauty brands including Christian Dior, The Body Shop and Dermalogica. I've used the Dermalogica special cleansing gel religiously since I first got it and their products are some of my ultimate skincare faves. When it comes to cosmetics, NARS Sheer Glow foundation is definitely my go-to - I live for a light, glowy base!