Investing in a good quality anti-ageing skincare routine is one of the best investments that you can make for your skin. You may be surprised to learn that an anti-ageing skincare routine is not just reserved for those with more mature skin, and the earlier you can start taking preventative measures to help avoid premature ageing, the better. If you are curious to learn more about the right time to start using targeted anti-ageing products, then we recommend reading our previous article: When to start using anti-ageing skincare products.
As the beauty industry continues to innovate with many new and exciting skincare products launching every month, we understand it can be an overwhelming task to choose the right anti-ageing skincare that will make a real difference. This is where we can help, as we've enlisted the help of a cosmetic expert to help you curate the very best anti-ageing skincare routine.
Meet The Expert, Jade Rheiner From Filorga
Jade Rheiner is the international trainer and coaching manager for the prestigious cosmetic brand, Filorga. Jade's formal beauty training began at Ecole d'Esthétique Michelle Paschoud in Geneva where she studied beauty therapy. A decade later, Jade now lives in Paris where she continues to nurture her expertise in beauty and cosmetics.
Anti-Ageing Skincare Routine
"The skin shows the first signs of passing time and from day one our skin will age so it is important to start as early as possible to maintain beautiful skin, prevent premature ageing and fight the signs of skin ageing".
 Your anti-ageing skincare routine should form two halves, your morning (AM) skincare routine and your night time (PM) skincare routine. Whether it's morning or night, your skin has different needs at different times of day, therefore the products you use for both routines may change. This need not be daunting though as we share our simple anti-ageing skincare routine below.
Step 1: Cleanse Your Skin
When? AM and PM
"A priority to avoid skin ageing is to cleanse the skin daily morning and evening. A double cleansing step would be ideal."
Begin both your AM and PM skincare routine by using a cleanser to remove any impurities and dead skin cells from your face. Your night time cleanse is very important as you will be removing any dirt, oil and makeup that has been building up and resting on your skin throughout the day.
A good cleanser, when used with a flannel and warm water should remove any excess oil and dirt from your face without drying out your skin and making it feel tight and uncomfortable. Hyaluronic acid and Retinol are the core ingredients found in any good anti-ageing cleanser, so be sure to look out for those on the label. Jade recommends double cleansing to ensure you thoroughly clean your face ready for the next steps in your skincare routine.
The first cleanse removes the surface level dirt, and the second cleanse will penetrate deeper into the skin to ensure a thorough job. Curious to learn more about double cleansing? Discover our expert guide, what is double cleansing?
Step 2: Apply Serum
When? AM and PM
The next stage in your anti-ageing skincare routine is to use a serum. Serums typically contain a high concentration of nourishing vitamins and key anti-ageing ingredients such as hyaluronic acid, ceramides, peptides and retinoids.
Discover: Which are the best anti-ageing serums?
A good quality serum should be hydrating, repairing and nourishing to target a range of skin types and their specific needs such as fine lines and wrinkles, blemishes and dullness. Apply your serum by gently patting the formulation gently into your face, not forgetting your neck and decolletage. Want to learn more about face serum? Discover how to choose the right serum for your skin.
Step 3: Apply a Treatment
When? PM
Night time is the ideal time to apply a focused treatment to your skin as you can give it the time to work its magic, un-interrupted. Jade recommends a micro peel which you should apply to clean skin every evening after make‐up removal using a cotton pad, avoiding the eye contour area and do not rinse.
"For a new skin effect use the fresh & exfoliating cosmetic water Filorga Oxygen Peel which contains a micro‐peel complex [6 smoothing acids at 6%] that gently exfoliates the skin and smooths wrinkles and pores".
Step 4: Apply Eye Cream
When? AM and PM
"The eye area is very delicate and is known to be the first area to show signs of ageing hence the importance to treat specifically".
The skin around your eyes is very delicate and susceptible to puffiness, wrinkles, fine lines and dark circles. By applying eye cream, you can target these areas for brighter, more radiant eyes. An eye cream can be lightly dabbed in and around the eye contour area, not forgetting the upper eyelids.
"This multi‐revitalising eye & lip contour cream is inspired by recognised aesthetic medicine techniques to create a visible and intensely rejuvenating effect [dark circles, puffiness, wrinkles, dehydration, sagging skin".
For a targeted action around your eyes and lip contour and to fade away the major signs of skin ageing, Jade recommends the Filorga Global Repair Eyes and Lips Contour Cream which transforms the skin from dry and dull, to brightened and dewy.
Step 5: Apply Moisturiser and SPF
When? AM and PM
Moisturiser not only intensively and deeply hydrates your skin, helping soften fine lines and wrinkles, but also helps to form the base for makeup application following your morning skincare routine.
Intensive moisturisers are also ideal for when nights are short and you want to achieve visibly younger skin upon waking up. We recommend an ultra-nourishing night cream to penetrate deep within the skin to help provide a bright, hydrated visage when you wake up.
As part of your morning skincare routine, It is also really important to follow up by using an SPF with at least SPF20 to protect your skin from environmental damage from the sun. Sun damage is one of the main contributors to premature ageing so be sure to protect your skin from harmful UVA/UVB rays by using an SPF.
Discover: What does SPF mean?
By looking after your body and following this easy step by step anti-ageing skincare routine both morning and night, your skin will look brighter, more youthful, hydrated and nourished.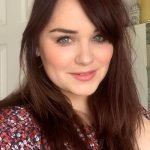 I've been writing about hair and beauty for over 10 years. I am a collector of vintage perfume and my go-to look always includes a bold pink lip! For more, visit https://www.goodgollymisshollie.co.uk