In honour of Pride month 2021, brands across the globe are coming together to show their support for the LGBTQ+ community. From charitable donations, to limited edition launches, at a time dedicated to amplifying LGBTQ+ voices, we are sharing some of the top beauty brands showing their support for Pride this year.  
Tangle Teezer 
With the launch of their #PowerToBeMe campaign, Tangle Teezer aim to empower the LGBTQ+ community and educate allies by giving them a better understanding of struggles that LGBTQ+ people face. The campaign focuses on sharing uplifiting, inspirational stories from people in the LGBTQ+ community, amplifying their voices, providing role models for others and encouraging them to embrace their true selves.  
The haircare brand has partnered with The Albert Kennedy Trust (akt), an organisation that supports young LGBTQ+ people aged between 16-25 who are homeless or living in a hostile environment. Together, they have produced educational content for their audience surrounding LGBTQ+ definitions, as well as facts and statistics regarding the struggles the community faces. Tangle Teezer has also pledged to donate £10,000 to akt in 2021, to support the incredible work they do for the young LGBTQ+ community. 
To celebrate Pride month and help their customers get involved, they have released a Pride Power edition of their compact styler, featuring a removable protective cover, so you can show your support for Pride (and have great hair) wherever you go!  
Spotlight Oral Care 
Take pride in your pearly whites with Spotlight Oral Care's new Limited Edition Pride Sonic Toothbrush. Launched in celebration of Pride month, 100% of the profits from this rainbow-coloured brush will be donated to support the vital work of three different LGBTQ+ charities: Equality for Children, Mermaids and Center for Black Equality.  
Alongside the release of their toothbrush, Spotlight Oral Care are also launching a three month global 'Smile with Pride' campaign with the aim of educating their followers on the history of Pride, and the importance of supporting the LGBTQ+ community. With content intended to inspire people to show their true colours, be their authentic selves and come out in confidence, Spotlight Oral Care are working to make an impact within the community as well as show their unwavering support.  
Clean & Clear 
Throughout Pride month and beyond, skincare brand Clean & Clear are showing their support for the LGBTQ+ community. Working with The Albert Kennedy Trust, they have pledged to donate £35,000 to sponsor a Youth Space for LGBTQ+ homeless people.  
The work of akt is crucial to help LGBTQ+ people stay safe in a crisis, access specialist support and find emergency accommodation, as well as developing skills to help achieve life goals. 24% of homeless people identifying as LGBTQ+, and within this community, they are more likely to suffer violence or substance abuse. Working with akt to create a safe space for young LGBTQ+ people is essential to support and empower those who really need it during Pride month, and every month.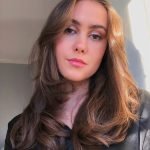 As someone with an affinity for all things beauty, discovering fantastic new products is my not-so-secret obsession. Over the years I've tried and tested a mountains worth of creams, serums and cleansers, finding some of my favourite 'holy-grail' products along the way. However, I'm always on the lookout for more ways to nourish my hair, perfect my dewy base, or enhance my skincare routine. Working as a beauty blogger for over 3 years, I've been lucky enough to collaborate personally with lots of amazing beauty brands including Christian Dior, The Body Shop and Dermalogica. I've used the Dermalogica special cleansing gel religiously since I first got it and their products are some of my ultimate skincare faves. When it comes to cosmetics, NARS Sheer Glow foundation is definitely my go-to - I live for a light, glowy base!