Conscious about your beauty buys? Want to save your skin while also protecting the planet? Then we have the perfect products for you! Biotherm is an ocean-friendly, blue beauty skincare brand, leveraging the power of science to support nature and reverse skin damage caused by the urban environment.  
For over half a decade, they have been using rich active ingredients from the earths waters to leave you with a stronger, healthier complexion. The brand is strongly achieving a better future for our oceans since 2012 and are involved in a multitude of projects through its Live By Blue Beauty Commitment. Want to find out more? Discover the perfect Biotherm product for you. 
The mystery behind the healing fountains : Regenerating Life Plankton™ 
In 1952, founder Dr. Jos Julien cracked the mystery behind the healing fountains of the French Pyrenees and discovered the unique thermal ingredient: Life Plankton™, hereby founding Biotherm. Since 1994 the brand has harnessed the ingredient's potency using biotechnology through a process called Fermogenesis™, to extract the fraction without harming nature, making Life Plankton™ 100% natural, 100% renewable, 100% biodegradable. This ingredient can be found in all Biotherm products. 
The Star Transveral Serum: Life Plankton Elixir 
With the highest concentration of 5% of this ingredient, the Life Plankton Elixir is the hero serum of the brand. It is a transversal serum which helps to soothe and regenerate skin after only 8 days of use. Other benefits include helping to reduce redness, protection from pollution as well as helping to smooth out fine lines. We recommend warming up 3 to 4 drops of serum in your palms then massage it gently onto cleansed skin, taking particular care around your eye area.  
The Moisturising Marvel: Cera Repair Barrier Cream 
Fight first signs of ageing with the Cera Repair Barrier Cream, recommended for those 20+. Leveraging the power of ceramides, the formula made of 94% natural origins works to repair the skin's barrier leaving you with a soothed, stronger and healthier-looking complexion from the first use. Infused with 100% natural, renewable and biodegradable Life Plankton™ probiotic extracts, the sustainable lightweight formula uses potent anti-ageing technology to regenerate and repair your skin. We recommend applying this after the Life Plankton Elixir to help repair your skin from daily urban aggressions.  
Top tip: For the perfect morning routine, apply a few drops of the Life Plankton Elixir to clean, cleansed skin. Next, take a small amount of the Cera Repair Barrier Cream and massage into your skin, pressing and curling out your fingers like the pattern of a wave to improve internal circulation, leaving you with a healthy glow for your day ahead. This combination also works to tackle maskne!  
Youth is Ageless: Biotherm Blue Therapy Range 
Correct the effects of collagen loss with the Biotherm Blue Therapy Range. These anti-ageing products are infused with Collagen Peptides and Algae to help uplift and firm your complexion. The collection offers a range of anti-ageing creams for all age ranges whether you're in your 20's or have more mature skin. Check out this anti-ageing routine guide specific to your age: 
For ages 30+: 
The Biotherm Blue Therapy Multi-Defender SPF25 is an anti-wrinkle repair cream and works to protect your skin against environmental aggressors that can cause fine lines. Perfect for those 30+, we recommend applying the cream to your face and neck daily, making sure to avoid your eye area. If you are looking to treat dark circles and crow's feet, the Biotherm Blue Therapy Eye cream will be your new best friend! The product contains brown algae extract which works to speed up metabolism in your cells, leaving your skin significantly firmer and more radiant. It also works amazingly as a primer, leaving you with a flawless matte texture for makeup application. 
Top tip: For the ultimate night-time routine, apply a generous layer of the Blue Therapy Eye cream after the Life Plankton Elixir. Gently tap it around your eye socket, pressing into your skin for maximum results.  
For ages 40+:  
The Blue Therapy Red Algae Uplift is a nourishing cream to help lift and firm skin within just 28 days! It also works to smooth out skin and leaves you with a youthful rosy glow.  
Top tip: Perfect for those 40+, we recommend using the day and night cream with Life Plankton Elixir serum for to help soothe your skin, combat irritation and reduce fine lines over time. Apply with dabbing movements on the forehead, the cheeks, the chin and the neck. 
For Ages 50+: 
The Blue Therapy Amber Algae range is perfect for more mature skin. With the revitalising powers of amber algae, the range leaves you with an energising healthy-glow. It also helps to strengthen your skins barrier and deeply nourish.  
Top tip: Apply the Amber Algae day or night cream after Life Plankton Elixir Serum for a plump, illuminated complexion. End with the rainfall gesture by lightly tapping your skin in an upward direction to get the best results. 
Want to indulge in scientific ocean-friendly skincare? Shop all Biotherm at LOOKFANTASTIC.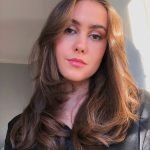 As someone with an affinity for all things beauty, discovering fantastic new products is my not-so-secret obsession. Over the years I've tried and tested a mountains worth of creams, serums and cleansers, finding some of my favourite 'holy-grail' products along the way. However, I'm always on the lookout for more ways to nourish my hair, perfect my dewy base, or enhance my skincare routine. Working as a beauty blogger for over 3 years, I've been lucky enough to collaborate personally with lots of amazing beauty brands including Christian Dior, The Body Shop and Dermalogica. I've used the Dermalogica special cleansing gel religiously since I first got it and their products are some of my ultimate skincare faves. When it comes to cosmetics, NARS Sheer Glow foundation is definitely my go-to - I live for a light, glowy base!