With 58.4% of the world's population now using social media and a person spending an average of 2 hours 27 minutes on different social media platforms everyday, the pressure to keep up with what we see online can be overwhelming and heavily influences changing beauty standards. 
From tips about how to 'get rid of cellulite' to the latest filters and apps that will hide your imperfections, we are constantly bombarded with the latest beauty advice and treatments that enforce the idea of a desired beauty standard - which to put it blankly, is simply unattainable.  
This somewhat damaging beauty advice and constant pressure to look a certain way has become normalised for girls and with 1 in 2 girls saying it causes low self-esteem alongside a wide increase in people getting cosmetic treatments, it's about time we understood what, where and how this is happening. 
To help you understand the intense pressures social media can have on beauty standards in 2022, we have analysed social media, Google search data, internal and trend data to unveil what beauty and cosmetic treatments are increasing in demand and where and how the pressures to have them are manifesting.
There's no shame in having cosmetic treatments, but it's important that you are doing it for you and not to meet external pressures to look a certain way. You are beautiful the way you are and are in control of the beauty you behold. 
The Rise of Cosmetic Treatments
With people being more aware of their appearance on camera alongside having more disposable income and time to spend on it, lockdown gave way to a surge in interest for cosmetic surgeries. This so-called ''Zoom boom'' and its widespread increase in ''selfie awareness'' resulted in the British Association of Aesthetic Plastic Surgeons reporting that its doctors were seeing up to 70% increases in requests for consultations in this period. 
But in a post-lockdown climate, we wanted to take a look to see if this trend has continued to dominate. By analysing Google search data for hundreds of cosmetic treatments we have revealed the most-searched for procedures of 2022 and the key cosmetic trends we are seeing rise in popularity. 
The Most-Searched for Cosmetic Procedures in 2022

The Rise of 'Tweakments' in 2022
In 2021, the most Googled cosmetic treatment was ''hair transplants'' with 35,000 combined average monthly searches, followed by ''liposuction'' which averaged 30,000 searches a month. 
However in 2022, whilst searches for these and other more intense cosmetic surgeries remain high, they have been outranked by less invasive procedures like ''microblading'', ''hair extensions'', ''lip fillers'' and ''blepharoplasty'' - a process to remove excess skin or fat from the eyelids.
These cosmetic 'tweakments', that are less invasive and achieve more 'subtle' effects through enhancing features are rapidly increasing in popularity in 2022 as the trend to look 'natural' and 'clean' is simultaneously growing. 
Michael Saur, Partner at Cosmetic Surgery Solicitors says, ''There's a lot of stigma around cosmetic surgery and their often 'fake' effect and invasive processes. Tweakments offer a more minimal refinement or addition to your existing anatomy that enable you to fulfil a desire to enhance or correct something whilst simultaneously looking 'natural' while doing it.'' 
"It is this balance between the preservation of facial identity whilst subtly optimising and enhancing features that are increasing in popularity amongst the younger generation. While it still comes with risks, it can be a much safer route to go down; however, it's always recommended that you carry out lots of research before undergoing any procedure and don't conform to trends just because you feel pressured by social media or other certain ideals. Cosmeceutical skincare is a better way to achieve results instead of making a huge commitment and undergoing cosmetic surgery."
The Rise of the BBL & Body Alterations
Although we are seeing a rise in these less invasive cosmetic tweakments, there is also a staggering increase in popularity for body alteration surgeries and the 'BBL' which has become a 'trend' amongst celebrities and on social media. 
Over the past year, searches for 'Liposuction' have grown by 14% alongside a 12% increase in searches for 'tummy tuck' and a 98% increase in search growth for 'boob job' - with all these procedures ranking in the top 10 most popular cosmetic procedures of 2022. 
These surgeries have always been popular, but despite the body positive movement trying to make waves in society, each year we are seeing interest in these figure enhancing and sometimes dangerous procedures grow as people, especially young girls, continue to struggle with body image issues and insecurities. 
Although we may think we have come a long way away from the days of body-shaming and the toxicity of the discourse on shows like America's Next Top Model, the pressures placed on young women to be 'thin' are still prevalent and manifest in mainstream and social media where we are constantly bombarded with celebrities and influences whose 'perfect bodies' are idolised. 
When it comes to the BBL (Brazilian Butt Lift) however, the growing interest and popularity in what is now considered to be one of the world's most dangerous cosmetic procedures, is worrying. With 49,500 monthly searches, the BBL has officially outranked nose jobs, boob jobs and other renowned cosmetic surgeries that have been around for years in the rankings for the most popular cosmetic surgeries of 2022. It is also the most searched for procedure in all major UK cities. 
What is a BBL?
The BBL, or Brazilian Butt Lift, procedure involves liposuction to remove fat, which is then injected into the buttocks to give a fuller effect and with the complexity of the surgery, there is a risk of death and serious health complications. 
Despite its risks however, the Aesthetic Societyreports that there were more than 40,000 BBL surgeries in 2020 alone and, while liposuction and breast augmentations still vastly outweigh the numbers, they're rising fast. 
But, why is this?
Perhaps this has been a long time in the making. From a time when Pamela Anderson's breasts were the dream, to when size zero was the hottest diet challenge out there and thigh gaps were the desired body shape, beauty standards constantly change and now, thanks to celebrities such as Kim Kardashian, Cardi B, Kylie Jenner and many more, flaunting their hourglass shape on social media, the BBL is a shortcut to meeting the latest one. 
On TikTok, the #BBL also has 5.4 Billion views and despite some of these videos parodying the surgery, it raises the profile of the surgery as a normal thing that thousands of people are and can have. 
The Media Wave & Its Influence on Cosmetic Trends
To highlight how much influence the media can have on our beauty standards and pressure to look a certain way, we have also taken a look at when searches for these cosmetic surgeries are at their highest in relation to what's going on in the media and society. 
"The Summer Shred"
From the pages of magazines and adverts to influencer's Instagram stories and TikTok trends, messages about being 'bikini body ready' and 'beach confident' start to pop up all over the media around spring time and persist throughout the summer. 
It seems that when the weather starts to heat up, so does the pressure to have the 'perfect' body to hit the beach and people look for the shortcut procedures to meet this standard. It is in July of each year that searches for 'liposuction' and 'tummy tucks' are at their peak. 
The average monthly search volume for 'liposuction' is 27,100 and for tummy tuck it is 18,100. In July, searches for these procedures hit their peak, with 'liposuction' raking in 40,500 searches and 'tummy tuck' increasing to 22,200. 
"The New Year New Me"
From wanting to 'lose weight' to 'get that dream body' after all, there is this herd mentality and pressure that is nurtured by the media to 'transform yourself' every new year. It is in this January period that searches for cosmetic surgeries also spike, particularly for 'transformation' procedures. 
The average monthly search volume for BBLs is 49,500 but in January, this figure spikes by 82% and the monthly search volume becomes a whopping 90,500. This is also when searches for 'breast enlargement' and 'hair transplants' are at their peak as we have internalised this expectation to use the new year as the new opportunity to 'transform' yourself…
Celebrity Culture
From Kim K speaking about her strict diet regime to fit in Marilyrn Monroe's dress, to reality TV stars all talking about the latest lip surgery they've had, celebrities in the media hold a huge amount of power when it comes to influencing diet, beauty, cosmetic trends and much more. 
From looking at search behaviour for cosmetic procedures, we found that searches for cosmetic tweakments like 'lip fillers', 'microblading' and 'fox eyes' spike each year in the UK over the months of May-July. This trend tightly coincides with when the renowned reality TV programme Love Island is on, full of many young people who have undertaken cosmetic surgeries. 
The influence of shows as big as this to spark interest around cosmetics is staggering, with 15,740 people searching for 'Faye Winter lips' and 15,260 people searching for 'love island cosmetic surgery' in July-August 2021. 
If we also look back at 2015, when Kylie Jenner confirmed that she had got lip fillers, searches for the procedure skyrocketed by a staggering 123% and have continued to grow ever since.
The Rising Alternative of Cosmeceutical Products & Devices
With the boom of the skincare industry over the past few years, we have also found a growing interest in the use of cosmeceutical products and devices as alternative procedures to cosmetic surgery. 
Searches for treatments like 'Enzyme peels' have grown by 50% over the past year alongside a 56% increase in searches for 'creams like Botox' and a 29% increase in searches for 'common ingredients in cosmetics'. 
Just as 'tweakments' are on the rise, so is the interest in peels and ingredients that can provide a non-invasive method to target lines and wrinkles like Botox does. 
Commenting on this increase in popularity, Aruj Javid, Group Pharmacist at LOOKFANTASTIC says, ''The advancement of these beneficial skin ingredients has allowed consumers to opt for a safer, more cost-effective option in comparison to cosmetic procedures to help showcase youthful, glowing skin.'' 
Aruj also notes that if you do have fillers or Botox, ''Having a combination of these ingredients and facial tools in your skincare routine will not only help maximise results after fillers, but can also help achieve specific skin goals which no form of cosmetic procedure, tweakment or enhancement will provide.'' 
But as a new and emerging trend, there are thousands of ingredients and treatments out there and finding the right information about what each one does can be confusing. 
So to let you in on all the latest tips and tricks, we've analysed Google search data to reveal what cosmeceutical ingredients are currently the most popular in 2022 and spoken to our Pharmacist, Aruj Javid, about their benefits and her recommended products. 
The Best Filler Alternatives & Top Cosmeceutical Ingredients 2022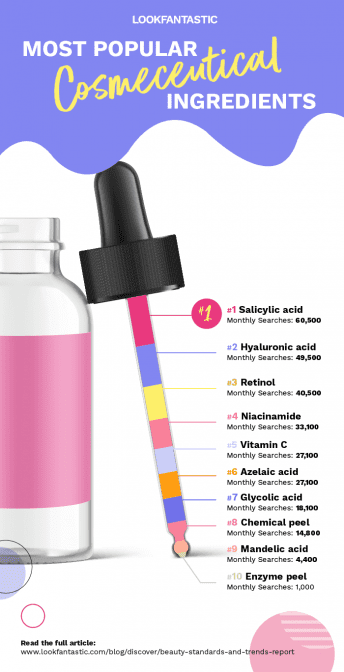 Salicylic Acid - the safer alternative for chemical peels
Salicylic acid has become a buzzword in the skincare world over the past few years and it's now the most searched for ingredient in 2022, raking in an average of 60,500 monthly searches. 
It's rapidly increasing in popularity as people discover its visible benefits that can achieve similar effects to chemical peels and Botox. 
Aruj says, ''The recognition of salicylic acid has reduced the requirement for chemical peels as a skin resurfacing treatment to help reduce acne scarring, due to advancements in skin-care
formulations. It is a holy grail blemish-fighting skin-care ingredient that if added to your regular routine will penetrate the pore lining and exfoliate inside the pore to help reduce blackheads, whiteheads and to fade blemish scars.'' 
Aruj recommends the The Ordinary Salicylic Acid 2% Masque,''an exfoliating mask that can be used 1-2 times a week to penetrate the pores and promote a smoother and clearer complexion.''
Hyaluronic Acid - the safer alternative for fillers 
With 49,500 monthly searches, hyaluronic acid is another buzzword ingredient and is the second most searched for cosmeceutical ingredient. Ironically, it is found naturally in the body and is responsible for that 'plumpness' in our skin. 
Aruj says, ''As we age, its production in our body decreases, hence many people get filler and Botox to replace it. Many of these fillers use hyaluronic acid, however the sudden change in physical appearance, side-effects endured, cost and after-care of the procedures are factors that need to be carefully considered.''
''You can instead add hyaluronic acid serums and products topically into your daily skincare, which can help reduce the appearance of unwanted fine lines around the nasolabial folds and crow's feet, providing a needle-free result. As a highly soluble molecule, it will absorb into the skin quickly, providing structural support to the skin as well as retaining water in the dermal tissue hence keeping our skin plump and moist.'' 
Aruj recommends the SkinCeuticals H.A. (Hyaluronic Acid) Intensifier Serum- a corrective, multifunctional serum infused with a high concentration of pure hyaluronic acid to firm and plump skin.
Retinol & Niacinamide - the moisturising alternative for Botox 
Retinol and niacinamide are the third and fourth most searched for cosmeceutical ingredients of 2022. Working to smooth out the skin, reducing the appearance of fine lines and wrinkles and diffusing pigmentation, they can achieve a similar effect to Botox.  
Aruj says the key here in achieving a similar effect is using them in combination of both retinol and niacinamide in your night-time moisturising. 
''The powerhouse ingredient retinol, a vitamin A derivative, is known to help reduce the
appearance of wrinkles and stimulate cell turnover. This, combined with niacinamide and its power to tighten lax pores and minimise big ones is what will give you that snatched and even skin. Retinol is best used as a moisturiser and you should start off with a lower percentage strength and increase as per use to help skin accustom to it. It is also very important that SPF is used during the daytime, as retinol can cause sensitivity to UV therefore it is best to apply at night to help the skin repair from any environmental damage.'' 
Aruj recommends theL'Oréal Paris Retinol and Niacinamide Night Cream Revitalift Laser Pressed Cream, ''the innovative pressed formula combines retinol, niacinamide and nourishing oils with a deeply moisturising, yet lightweight, night cream.'' 
Vitamin C - the serum alternative for Botox
With an impressive 27,100 searches, coming in at number 5 is Vitamin C, '' a popular ingredient choice, known for its skin-brightening properties.'' Aruj says that ''This antioxidant, which plays a key role in collagen synthesis, is used during the day and helps provide environmental protection. The addition of it into a daily skin-care routine can help improve signs of ageing and can help firm the skin, therefore, reducing the requirement for botox.'' 
Aruj recommends the La Roche-Posay Pure Vitamin C10 Serum for Sensitive Skin, ''a lightweight face cream that hydrates and brightens the complexion, suitable for sensitive skin.'' 
If you're curious about these increasingly popular cosmeceutical products and devices you can find plenty more here. If you do decide to have cosmetic surgery, always do your research, find a trusted practitioner and do it safely with the correct care and aftercare. 
The Rise of Image-Conscious TikTok Trends
A pioneering force behind changing beauty standards and this influx of interest in cosmetic surgeries in 2022 is the rapid growth of TikTok. The app saw a 40% growth in 2021 and now has over one billion users with 43% being aged between 18 and 24. 
From DIY recipes to dance routines, TikTok is a great platform to share creative content and connect with others, but amongst this younger demographic, there is an intense craze for trends that focus on beauty standards and appearance.
From the ''side profile check'' to the ''symmetry filter'' trend, the app is full of image conscious trends where young people are constantly comparing themselves and their appearance to a beauty standard. 
But how are these TikTok trends and their image-conscious consequences contributing to changing beauty standards and an increase in cosmetic surgeries? 
Dr. Victoria Mountford, UK Clinical Psychologist at LightHouse Arabia says, ''Platforms such as TikTok and their popular trends often have a narrow and Eurocentric view of beauty, sending the message of a beauty ideal - which many young people will feel they can't meet.''
''Such platforms encourage us to base our self-worth on our appearance and to feel that we have failed if we don't look a certain way. These pressures can lead to scrutinising, checking and comparing our appearance to others and these behaviours all lead to a heightened preoccupation with weight and appearance, which in turn, increases vulnerability to eating and body image disorders alongside an interest in having cosmetic surgeries to meet this beauty ideal.'' 
By analysing TikTok data, we wanted to take a look at the biggest image conscious TikTok trends of 2022 and we have spoken to experts about how this is impacting young users on the platform and cosmetic surgery trends. 
The Biggest Image-Conscious TikTok Trends of 2022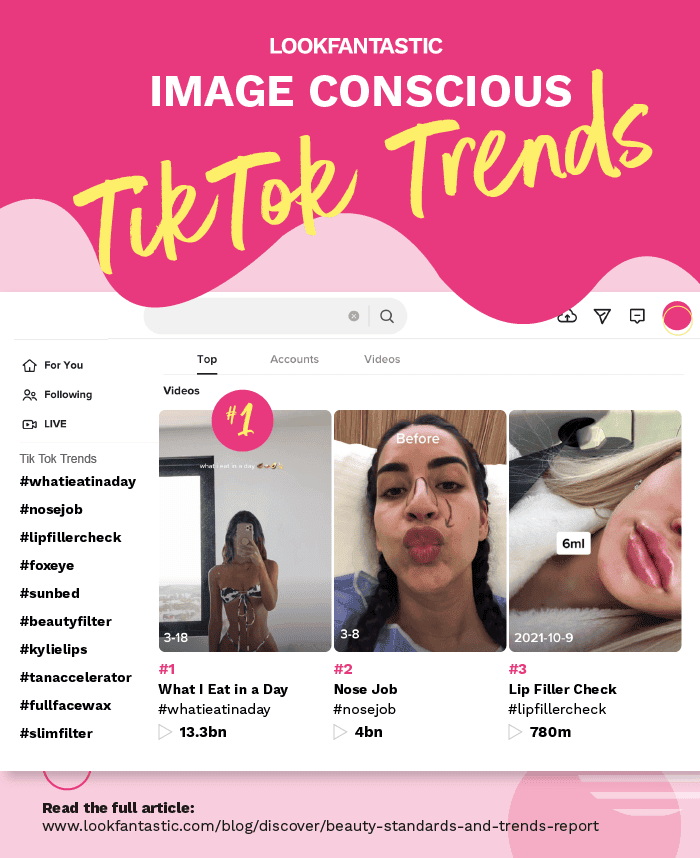 1. #What I Eat In A Day
The 'What I Eat in a Day' trend began in lockdown when TikTok views were at their peak and despite registered dieticians and psychologists speaking out about the negative implications of the trend on our relationship with food and body image, it remains one of the most viewed trends on the platform in 2022, with a jaw-dropping 13.3 billion views. 
The majority of those posting "What I eat in a day" videos are white, young, thin and able-bodied, meaning the majority of content emerging from this trend is not reflective of diverse body shapes and sizes and instead, Sara Ellis, Therapist at the the National Centre for Eating Disorders says, ''This trend portrays the thin body as the most desirable one, going hand in hand with it being the most successful and popular.''
What's problematic about the trend is its potential to influence young girls to copy these often low-calorie diets, which when being done by the masses Dr Victoria Mountford says can pressure girls into ''thinking "If I eat like this person, I'll look like them" without being aware of the risk of copying unhealthy eating habits and how this may lead to disordered eating and self-esteem issues.''
The trend also normalises 'calorie counting', which alongside the recent addition of calorie information to UK menus, Sara Ellis says can be very dangerous. ''It leads to obsessing about what can be eaten and what is 'forbidden'. There is no one size fits all when it comes to calorie intake and young girls who are growing and going through hormonal changes need a balanced diet, not calorie restriction.'' 
Every diet is different and if you're struggling with body and food issues, these "what I eat in a day" videos can be very triggering. Always seek help if you are struggling and, Sara says to remind yourself that ''you don't know the reality of what is going on behind the scenes of these videos''. A lot of these videos are not realistic, they are being done for views. 
2. Nose Job 
The nose job trend on TikTok typically involves people sharing videos compiled with short snippets of their nose job journey and transformation. But the trend has also evolved to include the 'side profile check' where girls with nose jobs turn to the side and show their perfectly crafted new noses. 
The trend is now the second biggest image-conscious TikTok trend in 2022, with the hashtag having a whopping 4 billion views alongside the #sideprofile having 997.3 million views. 
Nose jobs are one of the most popular cosmetic procedures in 2022, with search growth for them increasing by 67% over the past year. There are of course other factors within the media that have resulted in this increase, and while there is nothing wrong with having one, trends such as this where 'normal' people are glorifying them as a trendy and everyday procedure that bring you happiness with that perfect 'side profile' is making interest rapidly increase amongst young and impressionable users. 
Commenting on the trend, Dr Victoria Mountford says these '"Transformation" videos also reinforce unrealistic beauty standards and increase pressure on young people to chase the ideal. Initially, they promise hope but later reinforce a sense of failure when the young person themselves cannot achieve the desired transformation.''
If you do want one, do it for yourself and forget about external pressure. But remember, everyone is different and it is your uniqueness that makes you beautiful.
3. Lip Filler Check
Similar to the nose job trend, the 'lip filler check' involves people sharing videos of their lip filler journey with before and after images. The trend has a whopping 780 million views and whilst it may seem harmless, it again reinforces cosmetic treatments as a normal procedure that 'everyone' does to meet the glorified beauty standard of having big and plump lips. 
Lip fillers are now the fourth most popular cosmetic treatment of 2022 with searches for theprocedure increasing by 51% this year. A recent study by VICE also found that 59% of people aged 13-24 see 'tweakments' like this as comparable to getting a haircut or manicure. 
Also ranking in the biggest image-conscious TikTok trends is 'Fox eye' - a trend that has popularised the latest new surgery on the block called the fox eyelift. It involves simultaneously lifting and elongating the upper eyelid, in order to get that almond and snatched eye shape… 
Dr. Victoria Mountford, D.Clin.Psy (UK), Clinical Psychologist says, ''Many of these trends serve to normalise cosmetic treatments such as fillers, breast implants and rhinoplasty, which perpetuates the idea that if we don't like something we change it, rather than a more holistic approach to body acceptance. We see young women having these procedures, when perhaps addressing self-esteem may be more helpful.'' 
The Increasing Use of Filters & Airbrush Apps
Alongside these pressures from TikTok trends on beauty standards, we also wanted to take a look at how rapid the use of 'beautifying' filters and apps that can sharpen, shrink and enhance your facial features with a few clicks and swipes is increasing and changing the way we look at ourselves. 
Over the past year, Google searches for 'instagram filters that change your face' have increased by a staggering 100% alongside DOVE recently finding that 85% of young girls have already edited their appearance by the time they're 13 years old.  
By looking at download data, we found that the Snapseed App now has over 100 Million downloads, alongside other popular airbrushing apps like FaceTune and Airbrush: Easy Photo Editor having over 50 Million downloads. There's also been a spike in Google searches for 'best photoshop apps to make skinny' over the past year.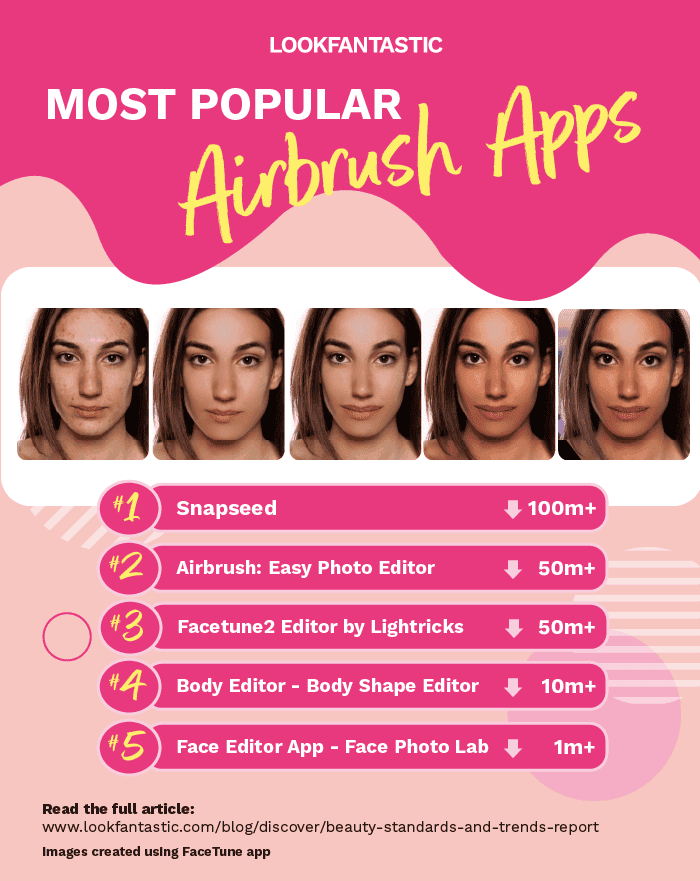 With more and more people using these apps and filters that offer us easy access to see ourselves constantly and physically 'improved', the trend to cover up our natural selves is growing and it perpetuates unhealthy and unrealistic beauty standards. 
Alice Liveing, best-selling author, personal trainer and founder of Give Me Strength, has battled with this expectation to cover up her natural skin textures and acne and she recently shared her advice with us in The Highlight by LOOKFANTASTIC saying, "If I start to only
like my face when it has a filter on it, how am I going to accept it when it's how it is naturally? I'm just grateful that we're existing in a world where there are people who are dropping filters and showing the real them." 
Ditch the Filter & Embrace Your Natural Self
Whilst the use of filters and photoshops is rapidly increasing, more and more social media users are sharing images of their natural selves and body positivity content encouraging people to accept their natural selves and remember that these filtered, edited and perfectly angled pictures are not real life. 
From stretch marks and skin texture to love handles and pimples, these are natural things we each have and should learn to embrace. 
But with the addictiveness and sometimes what feels like the 'uncontrollable' nature of social media, it can feel difficult to shield yourself from these trends and posts that perpetuate beauty standards. If you are struggling with social media and its sometimes pressurising trends, we've put together a little toolkit to help you beat the feed, relieve that pressure and surround yourself with positive vibes only. 
Social Media Tips for Positive Vibes Only
1. Have a detox 
Now before you insist that you can't quit cold turkey, rest assured that this can be a temporary measure. Take social media off your phone for a few days and see what effects not being on it has and what thoughts it provokes. Once you've had a little break, the idea of limiting yourself will feel so much more doable.
2. Follow those that inspire you 
There's millions of users on social media. Follow those that inspire you and share inclusive and 'realistic' content that makes you feel good about yourself. If you look at a post and feel yourself comparing your image to theirs, rip the bandaid off and unfollow them - you won't miss them after a couple of days. 
3. Go to IRL events & Move your Body 
Get out into the real world and see people unfiltered. Go to an exercise class where you will see all different shapes and sizes and appreciate what our bodies can do for us, not their appearance only.  
4. Find different niches
Engage in content from a range of niches and topics. From travel related content to DIY home hacks, there's a wealth of content out there that can inspire and entertain you without a sole focus on appearance and beauty standards.  
Methodology 
Search volume data was collected using Google Trends and keywordtool.io. to identify the most-searched for cosmetic treatments and cosmeceutical products. Biggest image-conscious TikTok data was collected by searching for different trends to see which is the most viewed # and combining this with their average monthly search volume on Google and 12 month trend increase/decrease. Photoshop app data was collected by pulling data on number of downloads/installs, review score and number of reviews for editing apps on Google Play.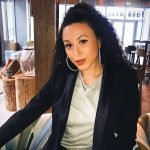 As a beauty obsessive, I'm always trialling and testing new, exciting brands and product discoveries. With over 6 years' experience in beauty writing, including freelancing on the Net-A-Porter beauty desk, I have lots of useful beauty hacks, tips and tricks to share. I'm constantly seeking the latest hair products to make my curls ultra-bouncy and defined. The Cantu Coconut Curling Creme is my Holy Grail! My lipstick collection is always expanding – and my favourite lip product of the moment has to be a nude lipgloss for the ultimate everyday look.