They don't call it beauty sleep for no reason. When it comes to keeping your complexion and locks in check, getting those all-important 8 hours is essential. But have you ever considered how your choice of bedding may be impacting your beauty regime?
In the age of beauty tech, tools and devices, sometimes, going back to basics is all we really need, and something as simple as switching up your bedding can have dramatic results. Silk pillowcases have been long-raved about in the beauty industry for their anti-ageing, de-frizzing powers. Loved by celebs and beauty gurus alike, many attribute their clear, fine-line free complexions to these shiny covers, but is the hype really worth it? I decided to test out a silk pillowcase to discover the results for myself.
Born from her own struggle with blemish-prone skin and thinning hair, Fiona Stewart, Founder of Slip, launched the brand when she discovered the untapped beauty benefits of silk pillowcases. Developed over ten years, Slip's products are made from their very own Slipsilk™, specially created to be gentle on skin and hair, creating 43% less friction compared to traditional cotton pillow cases.
Benefits of a silk pillowcase
Anti-ageing
Reducing friction and stress on our delicate facial skin is essential for preventing the first signs of ageing. By providing a smooth, friction-free surface to sleep on, skin is less prone to the wrinkles and fine lines that are caused by tugging and resistance overnight.
Reduces frizz
Bed head is a real thing, and it isn't pretty. Opting for a pillowcase that is gentler on your hair will reduce knots and tangles, whilst preserving your style for longer.
Anti-crease
Whilst most sleep creases disappear over a couple of hours, over time, repeated creases can become settled into the skin as fine lines and wrinkles. Sleeping on a silk pillowcase will reduce pressure and friction on skin so you can wake up crease-free.
Keeps you cool
Silk is a naturally temperature-regulating fabric. Unlike cotton pillowcases which absorb moisture, silk pillowcases wick it away, keeping you cool and dry all night long.
Keeps you hydrated
Thanks to its non-absorbent material, silk pillowcases ensure that your skincare and haircare products remain where they're meant to be, allowing you to reap their full moisture-boosting benefits.
My review of the Slipsilk™ pillowcase
Having heard promising reviews of this stylish little sleep accessory, I was eager to try it out for myself. I had lost count of the amount of beauty gurus, models and celebs that had pledged their allegiance to the silk bedding society, and this cult-following was too intriguing to ignore.
After sleeping on a regular cotton pillowcase for the best part of 23 years, sleeping on a silk pillow was a new sensation to get used to, but a welcome one at that. Not only did it keep my face and head much cooler throughout the night, but the case felt deliciously soft on my skin, and certainly amped up the luxe factor of my bedding.
I found that my frizz-prone locks woke up much calmer, and with far fewer tangles
A chronic victim of 'bed head', I was most looking forward to the alleged haircare benefits of this pillowcase, and to my delight, this was one of the first changes I noticed. I found that my frizz-prone locks woke up much calmer, and with far fewer tangles. Moreover, I noticed that my 'effortless' bouncy blowdry (that actually took me over an hour to create) was preserved far better after a night's kip with my silky companion than my regular pillowcase.
Admittedly, the non-absorbent surface initially felt slightly bizarre on my night cream-coated skin, but this meant that my products actually absorbed into my skin, as opposed to my bedding. And the best part of it all? I woke up to a completely crease-free complexion!
New York Magazine refers to Slip's range as the 'Rolls Royce of silk pillowcases', and quite frankly, I have to agree.
How to care for your silk pillowcase
One of the best things about Slip's pillowcases is that, unlike most silk products, they aren't hand wash only - which makes your life a lot easier. But it's still important to wash them gently, as Slip's mantra says, 'the better you care for your slip, the better it will care for you'.
When washing your pillowcase, always put it on a cold or 30-degree wash, and use a pH neutral detergent. The biggest sin when it comes to silk pillowcase washing? Using the dreaded tumble dryer. Leave your pillowcase to airdry, and it will come up soft, shiny and good as new.
Shop the full Slip range on LOOKFANTASTIC.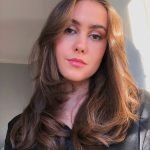 As someone with an affinity for all things beauty, discovering fantastic new products is my not-so-secret obsession. Over the years I've tried and tested a mountains worth of creams, serums and cleansers, finding some of my favourite 'holy-grail' products along the way. However, I'm always on the lookout for more ways to nourish my hair, perfect my dewy base, or enhance my skincare routine. Working as a beauty blogger for over 3 years, I've been lucky enough to collaborate personally with lots of amazing beauty brands including Christian Dior, The Body Shop and Dermalogica. I've used the Dermalogica special cleansing gel religiously since I first got it and their products are some of my ultimate skincare faves. When it comes to cosmetics, NARS Sheer Glow foundation is definitely my go-to - I live for a light, glowy base!