Dry skin on the face is extremely common, it can be a recurring nuisance or a one-off instance. Dry skin can occur for lots of reasons, ranging from changes in the weather to underlying skin conditions, or a reaction to skincare. Here, we'll be sharing our expert tips on how to prevent dry skin on your face, as well as introducing you to our favourite products to tackle it.
What causes dry skin on your face?
Skin that is dry can appear flaky and red, or sometimes feel uncomfortably itchy and sore. If your skin is naturally dry, it may not be down to environmental factors and is instead due to your natural oil production. Sebum is the natural oil that your skin produces and when your sebum production is balanced, it helps to keep your skin hydrated. Too much sebum production can cause breakouts and blemishes, while too little sebum production causes dry skin. Other causes of dry skin may include washing your skin excessively, psoriasis and eczema. Always check with a medical professional if you are unsure or concerned about dry skin on your face.
How to prevent and treat dry skin on your face
If you have dry skin, it is recommended that you avoid skincare that includes drying or irritating ingredients, such as alcohol (often found in toners) fragrance and petroleum. If you're unsure, always check the ingredients label to avoid exacerbating the symptoms of dry skin rather than soothing it.
1. Use a gentle cleanser
It's best to use a gentle cleanser on dry skin so that it doesn't irritate the sensitive areas. Always use warm, rather than hot, water to cleanse your face during your skincare routine.
2. Moisturise your skin daily
Help your skin to lock in hydration by moisturising daily. We recommend using a moisturiser as part of your morning and evening skincare routines. If your skin is dry, it's likely it will also be sensitive, so choose a gentle moisturiser specially formulated for dry skin or use a natural moisturiser such as Coconut Oil, Aloe Vera Gel and Shea Butter. These kinds of moisturisers typically include hero ingredients such as Ceramides and Hyaluronic Acid, which work hard to hydrate and retain moisture in the skin.
3. Exfoliate
Your dry skin may be caused by a lack of exfoliation, whereby dead skin cells stick on the surface of your skin and cause dry patches. Exfoliating really helps to remove these dead skin cells which can reduce dry patches and help smoothen the overall texture and appearance of your skin.
4. Protect your skin
Protect your dry skin from environmental factors by using SPF daily and drinking plenty of water to stay hydrated.
Great Skincare products for dry skin
Give your skin a douse of moisture with the hydrating Revolution Body Skincare's moisture balm. This lightweight and gentle formula is quickly absorbed without leaving a greasy residue on the skin, working to buff away dead skin cells and leave your skin looking brighter.
Contains hero ingredients:
Lactic Acid
Glycolic Acid
Glycerin
The Revolution Beauty Niacinamide Essence Spray is a refreshing mist infused with active ingredients, including soothing camomile, Niacinamide and Vitamin B3. Spritz over the complexion for a refreshing, cool mist packed with hydrating powers that will help revitalise dry skin.
Give your skin a treat with the Revolution Skincare Moisture SPF30 Cream for Normal/Dry Skin.  Although it's formulated with SPF 30, this moisturiser won't leave behind any white or greasy residues, unlike traditional sun creams. Glycerin ensures that moisture is firmly locked in, keeping your skin hydrated for a soft, supple surface. What's more, Sodium Hyaluronate counteracts dehydration, while Allantoin and Urea soothe dry skin.
Revive dry eyes with the Revolution Skincare Hydrating Hyaluronic Eye Gel, specially formulated for the delicate eye area, which can become dry and irritated easily. Formulated with Hyaluronic Acid, this gel will plump and refresh your dry skin without ever feeling greasy, while Cocoa and Shea Butter condition.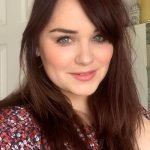 I've been writing about hair and beauty for over 10 years. I am a collector of vintage perfume and my go-to look always includes a bold pink lip! For more, visit https://www.goodgollymisshollie.co.uk