Are you lusting after glossy and sleek straight hair? You may be thinking that heat styling with hair straighteners or a hairdryer is the only way to achieve this. Whilst electrical styling tools, when used sparingly with a thermal protectant, will serve you the poker-straight hair of your dreams, we all know that going overboard with excess heat styling can lead to breakage, dryness and damage.
With this in mind, you may be looking for alternative routes towards straight hair. And there are, in fact, a few ways to achieve straight hair without using lots of heat. So if you're curious about how to straighten hair the natural way, then keep on reading as we share 4 easy steps to get the look.
How to straighten hair the natural way
It's time to say goodbye to frizz and flyaways, as once you've nailed a technique and found the products that work best for your hair, you won't look back.
Step 1 Use products formulated to help achieve straight hair
There are many haircare products available that help you to achieve beautifully straight hair, these include shampoos, deep conditioners and straightening creams. More often than not these products are packed full of keratin to help load the protein back into your hair whilst relaxing every strand and offering a glossy salon-worthy finish.
LOOKFANTASTIC loves…
The KMS ThermaShape Straightening Conditioner is a straightening treatment that helps create smoother, sleeker hair that looks and feels healthy and manageable. When used on a regular basis, this product helps support straighter hair which is frizz and flyaway free.
You may also like the KMS ThermaShape Straightening Crème which helps create a straight, shiny and smooth finish. Ideal for curly and wavy hair types, this formula is enriched with Polysilicone-9 and the rich crème helps to shape hair during heat styling. Use before blow-drying or paired with straighteners for a sleek, straight and shiny finish.
Step 2 Use an ultra-absorbent towel
As your hair is the most vulnerable when it is wet, we recommend using an ultra-absorbent towel to help remove excess moisture from your hair, without causing frizz or breakage. By making sure your hair is free from excess water you can follow on by trying one of the techniques listed below to help achieve straight hair the natural way.
Step 3 Blow-dry your hair on the cool setting
To achieve a straight blow-dry without the risk of damage, we recommend blow-drying your hair with cool air. For best results, start this process when your hair is damp to the touch, if you wish, you can also apply a straightening cream or a leave-in conditioner.
Divide your hair into four sections around your crown and use the cool setting on your hair dryer to finish drying your hair off. Use a paddle brush to comb through your hair as you dry to promote a straightened finish.
Step 4 Use hydrating oils
Coconut oil, Macadamia oil and Argan oil are all well-known and widely used oils that help moisturise and hydrate your hair. These essential oils penetrate deeply into the hair shaft, helping to seal and smoothen the fibres. Oils can be helpful in the way they weigh your hair down slightly so that it holds the straight style for longer whilst being ultra-soft to the touch.
Step 5 Use a jumbo roller
Jumbo rollers can be a great way to keep your hair looking straighter, especially if you have naturally wavy hair. We recommend using plastic rollers for this hack. Start by dividing your hair into 6 sections and roll the sections up until you reach your root area. Don't forget to secure the rollers against your head using a clip. Sleep in your rollers overnight before taking them out and combing through your hair. The results will offer you slick and glossy straighter hair.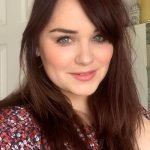 I've been writing about hair and beauty for over 10 years. I am a collector of vintage perfume and my go-to look always includes a bold pink lip! For more, visit https://www.goodgollymisshollie.co.uk