After over a year of mask wearing, staying indoors and plenty of time to fill, the world embraced beauty with searches for products, treatments, trends and influencers all booming like never before.
Skincare has become a huge priority for people with Google searches for 'skincare' seeing a whopping 143% increase since the initial outbreak of COVID-19, alongside the term skincare accumulating 89,044,286 million hashtags on Instagram. It's safe to say the world has become skin-care obsessed and it's not stopping anytime soon.
But what trends, products and influencers are now leading the pack when it comes to skin? And how has over a year of lockdowns impacted our skin habits and skincare concerns?
We've taken a deep dive into the world of skincare, and analysed data from Google searches, trends and social media to create the ultimate 2021 Skinfluencer Report so that you know how and where to look for the right skinspiration and treatment.
Celebrity Skinfluencers: Top 10 Most Pinned Skin
From beauty trends to skincare secrets, we look to celebrities for everyday inspiration. There are dozens of celebrities that now have their own skincare brands, but which celebrity actually has the most influential bare-faced look?
By analysing data from the one stop shop for inspiration, Pinterest, we have revealed who has the most pinned celebrity skin of 2021 that people lust over.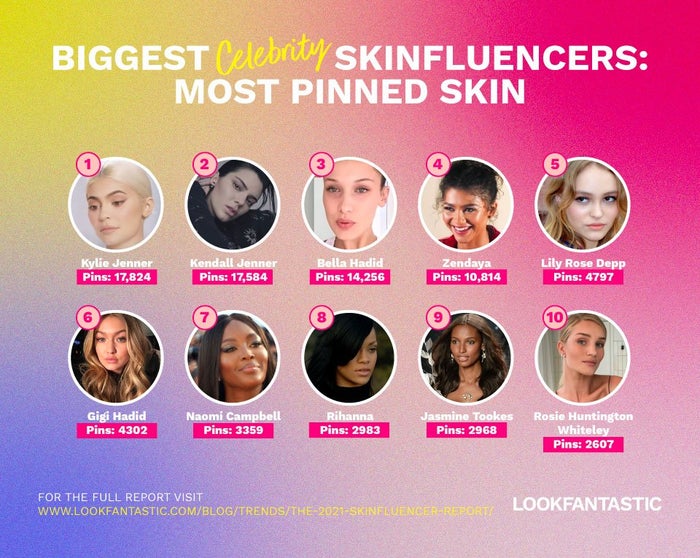 Kylie Jenner leads the Pinterest pack when it comes to skin. Her skin is always on point, with a dewy yet plumped look achieved by her 6-step skincare routine; cleanser, walnut face scrub, vanilla milk toner, vitamin C serum, face moisturiser and eye cream.
Her sister, Kendall Jenner, comes in second place. The model suffered from acne in her teens, but now, with the right skincare routine she has some of the most lusted skin, that she lets breathe with her regular bare-faced looks.
Bella Hadid, Zendaya, Naomi Campbell and Rihanna's skin also all rank in top 10 most pinned skin of 2021. It may be the A-List lifestyle that is the key to their clear complexions, but all these celebrities swear by a structured skincare routine and their pinned skin is the proof of its benefits.
Top Celebrity Skincare Routines
We've all seen the iconic Vogue Beauty Secrets YouTube series, where celebrities share their step-by-step skincare routines and biggest beauty secrets.
But who's routine is the most popular? We've taken a look at all the celebrity skincare videos and their views to reveal who really has the best, and most popular skincare routine so that you know who to go to to achieve an A-list, bare faced beauty look.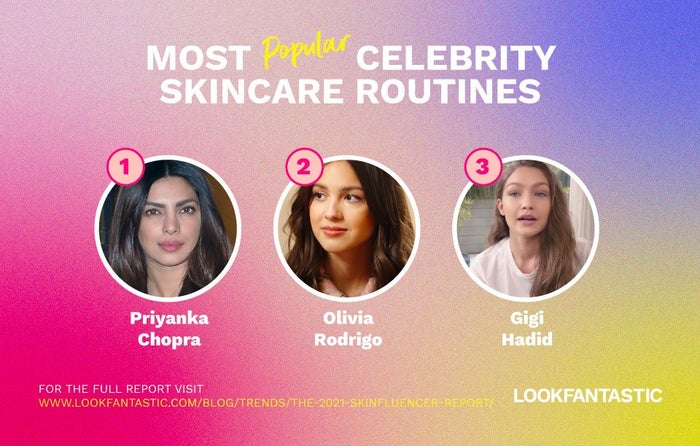 The actress-activist Priyanka Chopra can be crowned the queen of skincare, with her DIY skincare routine raking in an incredible 28, 805, 954 views - miles ahead of fellow celebrities.
Whilst celebrities are renowned for lathering their skin in lavish and expensive products, Chopra's video consists of only DIY exfoliants she uses regularly to keep her skin looking clean and glowy. With all natural ingredients, the star's routine and its popularity is one you can trust that won't irritate your skin.
Coming in at second place is the Queen of pop, Olivia Rodrigo and her effortless skincare routine. The singer's 10,325,202 million views can be attributed to her routine's simplicity. She says that stripping back her skincare routine to just a simple cleanser and The Ordinary serum helped to clear her dermatitis which is a great tip to take for those with sensitive or irritable skin. Followed by a quick gua sha routine, lip scrub and some chap-stick, the star serves some real skinspiration for those after a quick and effortless routine.
3. GiGi Hadid
The third most viewed video is Gigi Hadid's post-pregnancy skincare routine with an impressive 8,079,518 views. The supermodel swears by clean products that can be bought in a drugstore and also uses little hacks such as putting toothpaste on spots to dry them out. Similar to Rodrigo's simple routine, Gigi begins with Dr. Jart+ Ceramidin Cream, followed by a Odacité Mo+P Serum Concentrate and then some moisturiser on the lips and dry patches of her face, before diving into her makeup routine.
Sofia Richie, Bella Thorne, Emma Chamberlain and Saweetie also all rank in the top 10 Skinfluencer list when it comes to sharing beauty tips. These top contenders may all live the A-List lifestyle, but lots of their skincare routines include small and affordable hacks that can be easily added to your skincare toolkit.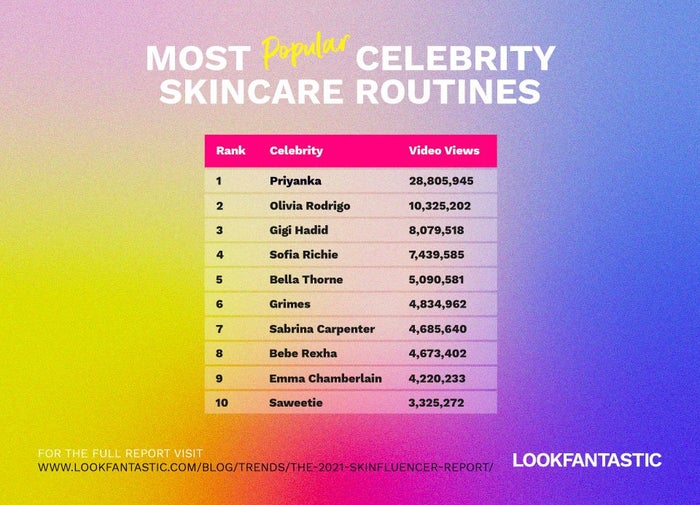 2021 TikTok Skincare Trends: to Try or not to Try?
The short-video app has kept many of us entertained for hours. TikTok trends have sold out entire lines of products, turned people into stars, and single handedly taught an entire generation how to dance. The app is a powerhouse when it comes to setting trends, especially when it comes to skincare, but that doesn't mean we should always give in to the trend…
We've analysed TikTok to find the most popular skincare trends of 2021 and consulted Dr. Dennis Gross, board certified dermatologist in New York City and founder of his eponymous skincare line, to determine whether or not we should or should not be following them.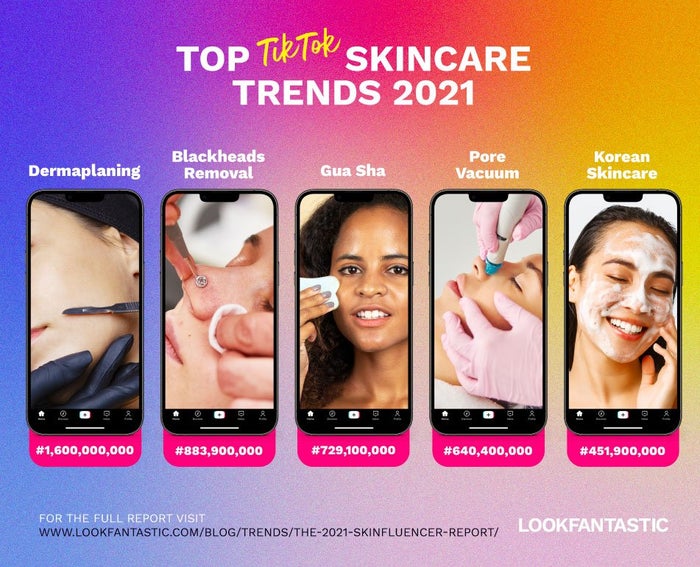 Dermaplaning
Dermaplaning is the number one skincare trend of 2021, raking in a whopping 1,600,000,000 hashtags alongside 301,000 monthly searches on Google. It's a procedure that uses a scalpel or a tool called a dermatome to exfoliate the skin and get rid of dirt and vellus hair, also known as 'peach fuzz'. Traditionally done by professionals, people have taken to TikTok to do it themselves using their own scalpels.
Should we do it?
Dr. Dennis Gross says that "Chemical and physical exfoliation is beneficial in how it not only removes dead skin cells lurking on the surface, but it enables topical products to penetrate into the skin better. In addition, it can create a smooth canvas for makeup application. However, with physical exfoliation, there is a greater chance that sharp or irregular particles, like a scalpel or scrub, will cause micro-tears and disrupt the skin barrier."
"Dermaplaning is a type of physical exfoliation – meaning the blade is used to lift and cut away dead skin cells and vellus hair. In untrained hands, it can be easy to cut or nick the skin, making it vulnerable to infection. I recommend seeing a professional for this treatment. If at-home is your only option – always start with a clean face (you should not be using a blade to remove dirt from your face), use light pressure and pull the skin taught to avoid cutting yourself. For those with active breakouts, skip this treatment – it could spread acne bacteria to other areas of the face."
2. Blackheads Removal
Whilst some of us gag at the thought of squeezing a blackhead, it seems most of us can't get enough of it. With 883,900,000 hashtags, blackhead removal is the second biggest skincare trend of 2021 which makes sense considering our report has also found blackheads to be one of the biggest skin concerns of 2021.
But is this strangely satisfying skincare trend something we should be joining?
Dr. Gross says, "It can be tempting to squeeze blackheads, but it's important to not make a habit of it. Squeezing inflamed pores can push bacteria and oil deeper into the pore. This can prolong the breakout, damage the walls of the pore, cause post-inflammatory hyperpigmentation, or even cause long-term scarring. Leave the squeezing to professionals and get a professional facial tailored to your skin needs.''
3. Gua Sha
Gua sha (pronounced gwah-shah) tools ― smooth, half moon-shaped stones that massage your face ― seem to have popped up everywhere over the past two years. They are the third biggest skincare trend out there with celebrities such as Nina Dobrev, Olivia Rodrigo and Lizzo all expressing their love for the tool. Facial gua sha claims to give you clear skin, fewer wrinkles and a more sculpted facial appearance.
But does it actually do anything?
Dr. Gross says, "Using a gua sha tool can stimulate blood circulation which increases oxygen flow and nutrients to the skin – like a mini home massage. The key is a gentle touch – pulling and scraping the skin can burst capillaries. Do not expect a gua sha to solve all your skin care needs. Use it as part of your skincare routine to decrease puffiness and stimulate blood flow but don't expect skin and sculptural miracles. It's more of a self-care therapeutic routine that is relaxing and relieves tension.
2021's Biggest Skin Concerns
As our lifestyles change in the modern world, our skin changes alongside it and new problems arise. By analysing Google search data, we have revealed the current biggest skincare concerns for people in the post-pandemic 2021 climate and consulted a dermatologist about how to treat them.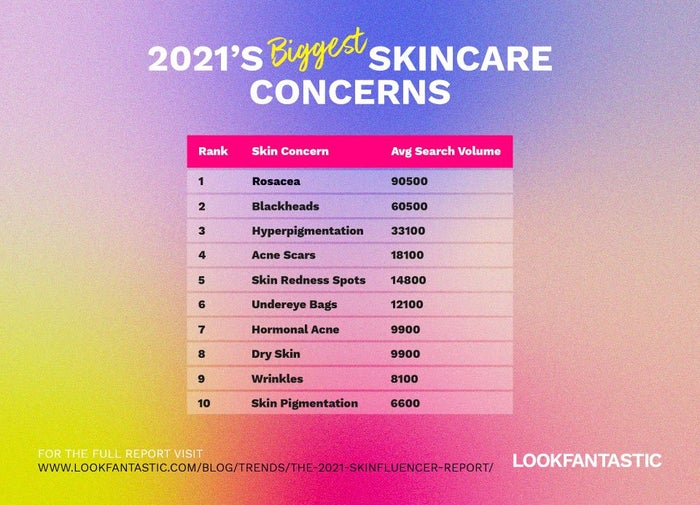 Rosacea
Coming in at number one is rosacea, with a massive 90,500 searches for the issue each month alone. Rosacea is a common skin condition that causes blushing or flushing and visible blood vessels in your face. It may also produce small, pus-filled bumps. These signs and symptoms may flare up for weeks to months and then go away for a while.
How to treat it?
Dr. Gross says, 'Rosacea is a common, chronic skin condition that can be worsened by lifestyle habits. In fact, we may be seeing a huge spike in the issue as a result of people having to wear masks. Recent studies have found that masks can cause those with pre-existing rosacea to flare up as the fabric rubs and irritates the skin.'
While there is no cure for rosacea, it can be managed by avoiding perfumed and alcohol-based products and protecting your skin with a sensitive SPF 30+ at all times. Dr. Gross adds, "without treatment, rosacea symptoms often worsen. Rosacea is different for everyone; talk to your dermatologist to develop the best treatment plan for you."
2. Blackheads
Pesky blackheads are the second biggest skin concern of 2021 which may explain TikTok's obsession with them. With an average of 60,500 monthly searches, it seems people are struggling to keep them away. Blackheads occur when pores become blocked with oil and dead skin-cells. They can persist for weeks to months and generally require treatment to be removed long-term.
How to treat it?
While it can be very tempting to get your Dr. Pimple Popper on at home, Dr. Gross advises against a DIY extraction. ''Squeezing blackheads with your fingers can spread bacteria and trigger inflammation, turning a small bump into a large pesky one.''
"Blackheads are a type of acne that develops when oil inside your pores mix with dead skin cells – the black color occurs when the mixture is exposed to air and oxidizes. Salicylic acid is the best treatment for dissolving oil and dead skin cells inside pores. To prevent blackheads, incorporate regular gentle chemical exfoliation into your routine, like a peel with salicylic acid, which will reduce dead skin cell build-up," adds Dr. Gross.
3. Hyperpigmentation
With 33,100 monthly searches, the third biggest concern of 2021 is hyperpigmentation - a term used for any uneven patches of skin, usually darker than your natural skin tone.
It is a result of excess melanin in the skin that is usually produced due to inflammation from a blemish or cut which causes the skin to produce more of the pigment to protect the skin from UV rays as it heals. It can be a pain to cover but thankfully, these stubborn spots can be treated and reduced with the right skincare products.
How to treat it?
Dr. Gross says, "Hyperpigmentation is notoriously difficult to treat – in-office and at-home. In fact, natural aging plus additional damage from the sun and pollution have an accumulative effect on the skin. And sometimes it can take years for damage deep within the skin to show up as discoloration on the surface."
"That's why using the right skincare products every day to treat and prevent hyperpigmentation is key. Vitamin C, AHAs and SPF are the best tools in our arsenal to combat the free radical damage that causes hyperpigmentation.''
''Vitamin C works by reducing the production of pigment that leads to dark spots, neutralizes free radical activity, and last, but not least, stimulates our skin's own collagen production. For best results, use vitamin C along with AHAs like lactic acid and arbutin – this will ensure that you will target existing pigmentation on multiple levels whilst also preventing future discoloration formation. Lastly, daily protection with physical sunscreen can protect against UVA/UVB rays weakening the skin barrier."
Most Searched for Skincare Ingredients
From alpha hydroxy acids to zinc, there are hundreds of skincare ingredients promising your best complexion ever. But how can you possibly know which ones are the best and what on earth they all do?
We've analysed Google search data to identify the most popular skincare ingredients of 2021 that are in demand.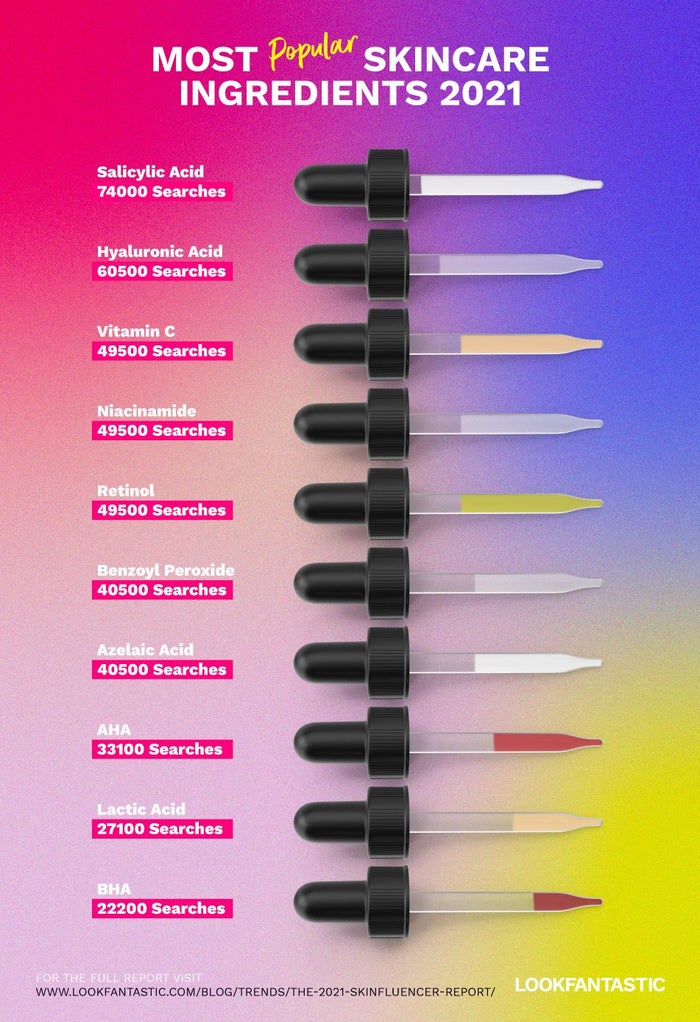 With 74,000 searches for the ingredient alone each month, alongside 22,200 monthly searches of its other name, 'BHA' Beta hydroxy acid', salicylic acid has proved immensely popular this year. But what actually is it?
Salicylic acid is a liquid, chemical exfoliant that helps shed dead skin cells. It's surge in popularity is likely to be a result of it being one of the best ingredients to treat some of the biggest skincare concerns of 2021, such as acne and blackheads. Salicylic acid penetrates the pore lining and exfoliates inside the pore to help reduce blackheads, whiteheads and to fade blemish scars.
It's visible benefits make it the most popular skincare ingredient out there and is definitely worth the investment.
Coming in at number 2 is a skincare ingredient that is ironically found naturally in the body, hyaluronic acid.
As we get older the natural amount of hyaluronic acid in our skin decreases, so supplementing it in your skincare routine can be extremely beneficial in improving the plumpness of your skin whilst reducing fine lines and wrinkles. Hyaluronic acid can also be paired well with other skincare ingredients such as vitamins and retinol.
With visible plumping benefits, this is another ingredient that people are returning to time after time.
3. Vitamin C
With hyperpigmentation being a big concern for people this year, many have been reaching for the all-round hero ingredient of Vitamin C.
It inhibits melanin production in the skin, which helps to lighten hyperpigmentation and brown spots, even out skin tone, and enhance skin radiance. It's protection from environmental aggressors, like the sun and pollution, makes it an absolute skincare essential for city girls.
Other popular ingredients include niacinamide, retinol, benzoyl and peroxide. Still confused? Check out our A-Z breakdown of skincare ingredients to find out which one is right for you.
The Most Searched for 2021 Skincare Products:
There's more skincare products out there than there are ingredients, so how on earth do we know which ones are the best?
We've analysed Google Search Data surrounding all the skincare products out there to reveal which ones people swear by when it comes to getting A-Lister skin.
Just in time for Christmas, we've got your wish-list sorted.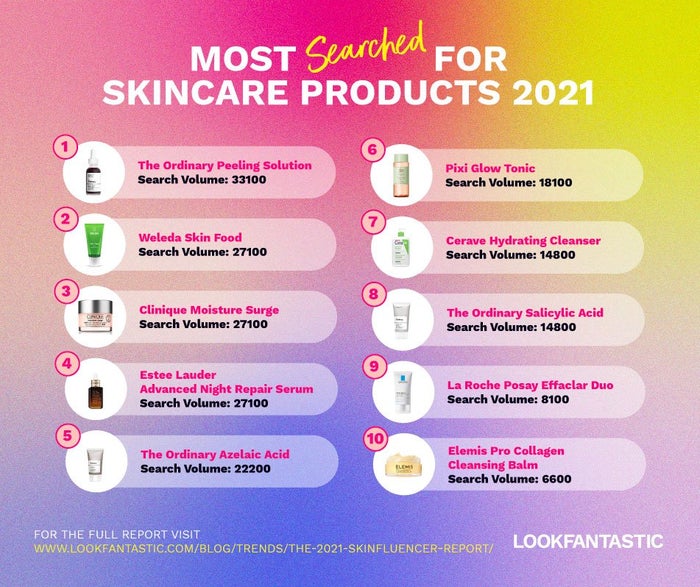 The rave for this product began on TikTok. Now with over 18.8 Million views on the social media app alongside a whopping 33,100 monthly searches on Google, it's pretty clear that The Ordinary's infamous AHA 30% + BHA 2% Peeling Solution should be in everyone's skincare toolkit.
The combination of the two skin acids works on different layers of the skin, polishing it while treating acne leaving you with a clean and plump look.
With one sold every 16 seconds 27,100 monthly searches and stars like Julia Roberts, Victoria Beckham and Scarlett Johansson all confessing their love for it, Weleda Skin Food is a must have product for anyone looking for seriously glowing skin.
This product is a cult beauty buy that is deeply moisturising, with nourishing oils for dry and very dry skin. They also have a lighter version that is excellent for normal to dry skin types, too.
A product that needs no introduction, Clinique's Moisture Surge is a bestseller across the globe and has maintained its title in 2021 with 27,100 searches for it every month. It's donned by the likes of Gilian Anderson who swears by its incredibly hydrating and moisturising properties. The hype about this product is real since it can reverse major signs of dryness without making the skin super oily or greasy.
Other cult beauty buys such as the Pixi Glow Tonic, Cerave Hydrating Cleanser and the la roche posay effaclar duo top also top the charts for 2021.
But some surprising contenders are the Estee Lauder Advanced Night Repair Serum, praised for its hydrating properties, and the Skinceuticals C E Ferulic that will set you back a whopping £126.
We can guarantee it's worth every penny...
Share your Skincare Hauls
Which trends, products and routines will you be putting to the test this winter? Share your skincare hauls with us by tagging us on socials @lookfantastic for a chance to feature on our feed!
Working with brands at LOOKFANTASTIC for over two years I have developed my knowledge of all things beauty from key skincare concerns to niche makeup tricks and haircare hacks. I have a major passion for finding effective solutions that are easily accessible to everyone so that we can all achieve our best, glowing complexion.