If you're cosmetics obsessed (because, who isn't?!), you'll have no doubt built up your fair share of eyeshadow palettes. And when it comes to splashing the cash on a much-needed beauty haul, you probably have a rough figure in mind. So, would you be willing to part with over £200 for an eyeshadow palette? Yes, we're being totally serious. In fact, it's been the question on everyone's lips since Natasha Denona Makeup landed here at lookfantastic.
With palettes ranging from £41 to £205, this luxury cosmetics line by world-renowned makeup artist, Natasha Denona, is changing the beauty game. But is a Natasha Denona eyeshadow palette really worth the money? Here at Team Fantastic, we say absolutely! Let us tell you why...
Expertly Designed
When you buy an eyeshadow palette, do you ever think about how it's made? Typically, makeup formulas are crafted by scientists and expert brand representatives, with very little input from the brand founders themselves. However, Croatian-born Natasha Denona prides herself on the amount of involvement she has in the development of her beauty products.
Natasha creates all formulas from scratch, meaning each palette is hand-crafted with ingredients that cater to the needs of beauty junkies and makeup artists across the globe. What's more, the palettes are made in Italy - the most high-end location to manufacture luxury cosmetics.
User Friendly
The pan sizes of each eyeshadow in a Natasha Denona palette are significantly larger than the pan sizes of competing eyeshadow brands, meaning your palette will last longer than most. Not just this, but each eyeshadow palette has been curated in a way where specific looks can be visualised and created - in the 28-pan Metropolis palette, for instance, any 4 shades that meet horizontally, vertically, diagonally or in quads can be combined to form one glamorous look.
100% Cruelty & Paraben Free
We know how important it is to look after our planet – and so does Natasha Denona. All Natasha Denona cosmetics are 100% cruelty free, meaning no ingredients are tested on animals nor are the ingredient suppliers tested on animals. As well as this, all Natasha Denona makeup formulas are of high quality and free from parabens (a group of chemical nasties) or allergens, making each product safe to use on the skin.
Luxurious Ingredients
The Natasha Denona metallic eyeshadows are second to none. Natasha's unique formula of crushed pearls and crystals work to give her eyeshadows an intense metallic finish - unlike other cosmetics brands that may use glitter and other synthetic materials in their formulas.
A-List Approved
If it's good enough for the stars, it's good enough for us. Natasha Denona eyeshadow palettes are loved by some of Hollywood's most glamorous A-listers: from Kim Kardashian and Dua Lipa to Chrissy Teigen and Olivia Culpo.
Unique Textures
Each Natasha Denona eyeshadow palette has a velvety smooth, easy-to-apply texture that feels buttery soft when applied to the skin. Made with hydrating properties, Natasha Denona eyeshadows work to glide across the lid for optimum texture application.
The unique formulations mean that the eyeshadows don't dry out or form creases in the skin, leaving you with a makeup look that will last into the early hours. This is down to the fact that they are produced with the highest quality ingredients for the most luxurious beauty experience.
Rich, Pressed Pigment
No need to spend time building your eyeshadow to achieve maximum coverage; the Natasha Denona eyeshadows are made up of an extraordinary rich pressed pigment that instantly provides intense, full coverage. Because the pigment is so rich, less product is required to produce maximum colour payoff. This means that your palette will last much longer than other brands.
Can't wait to try the Natasha Denona eye palettes for yourself? Shop the full range at lookfantastic today.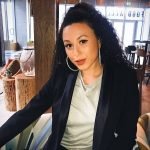 As a beauty obsessive, I'm always trialling and testing new, exciting brands and product discoveries. With over 6 years' experience in beauty writing, including freelancing on the Net-A-Porter beauty desk, I have lots of useful beauty hacks, tips and tricks to share. I'm constantly seeking the latest hair products to make my curls ultra-bouncy and defined. The Cantu Coconut Curling Creme is my Holy Grail! My lipstick collection is always expanding – and my favourite lip product of the moment has to be a nude lipgloss for the ultimate everyday look.