Although known for show-stopping runway fashion, Givenchy has an equally luxurious skincare collection to match. Whether you're dipping your toe into the world of premium skincare, or you're a seasoned professional when it comes to the finer things in life, discover our ultimate guide to the brand's formulas, and find the perfect one for you.
About Givenchy skincare
Bringing luxury to the comfort of your home, Givenchy's exclusive skincare range aims to deliver high-quality results using cutting-edge technology. Formulated with natural ingredients sourced from land and sea, the brand's range uses natures most potent extracts to create high-performance skincare. From vitamin-enriched glow boosters, to skin barrier protectors, there's something to suit every complexion concern.
Discover the ranges
Le Soin Noir
Great for: mature skin
After 25 years of research off the coast of Ile Grande, Brittany, the Givenchy Laboratories discovered the extraordinary millennial life force of Vital Algae. Formed with a unique molecular structure, this algae is enriched with four micronutrients, giving it exceptional regenerating properties. Ideal for those who want to boost their skin and protect it from ageing, this range promotes a revitalised radiance like no other.
Skin Ressource
Great for: sensitive, stressed out skin
In the fast pace of modern living, this soothing collection will protect your skin against daily stressors. From environmental aggressors such as pollution, to the effects of stress on the skin, this range aims to reinforce your skin's natural barrier to promote a healthier, hydrated complexion.
Skin Perfecto
Great for: dull, uneven skin
A cocktail of essential vitamins, this glow-boosting range is ideal for reinforcing your radiance. With hydrating formulas enriched with gentle AHAs and hyaluronic acid, this range is perfectly suited to those who want to maintain an even, balanced complexion whilst achieving a lit-from-within glow.
L'intemporel
Great for: dry and mature skin
Enriched with light-sensitive ingredients, this luxurious range is your answer to a youthful glow. Formulated with natural extracts including evening primrose extract, the collection works to retain moisture, keep skin plumped and combat the visible signs of ageing.
Top picks for dry skin
Offering up to 72 hours of intense moisturisation, this rich cream is a dream for anyone who suffers from dryness. Enriched with the Beauty Moss Complex and 96% natural ingredients, it provides instant hydration whilst leaving the complexion looking more plump and soft overall.
A featherlight formula crafted with 97% natural ingredients, this silky serum quenches skin with intense moisture. Passionfruit oil protects against environmental aggressors leaving skin soft, smooth and radiant.
Top picks for mature skin
Infused with the Timeless Blend Complex, the cream nourishes the skin with a blend of vitamins and polyphenols to create the appearance of supple skin. Melting effortlessly into the skin, this lotion delivers long-lasting softness and a youthful glow.
Centred around vital algae and its extraordinary life force, Givenchy's Le Soin Noir Light Cream seeks to leave skin looking revitalised, with the appearance of a firmer, smoother texture. Weightless and soft, this rich formula leaves the complexion with a healthy glow.
Top picks for sensitive skin
Ideal for sensitive complexions, this nourishing lotion rids the skin of impurities and dead skin cells. Powered by  liquorice extract, and the Beauty Moss Complex®, this lightweight formula has a soothing effect on the skin from the moment you apply it.
Gentle yet effective, this eye makeup remover gets rid of all traces of makeup quickly and easily, without irritating your skin. Infused with antioxidant-rich vegetal moss extract, the makeup remover harnesses biotechnology to effectively cleanse the lips, eyes and lashes, while creating a hydrating, cooling sensation.
Shop the full Givenchy range on LOOKFANTASTIC.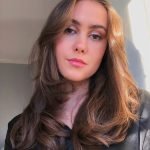 As someone with an affinity for all things beauty, discovering fantastic new products is my not-so-secret obsession. Over the years I've tried and tested a mountains worth of creams, serums and cleansers, finding some of my favourite 'holy-grail' products along the way. However, I'm always on the lookout for more ways to nourish my hair, perfect my dewy base, or enhance my skincare routine. Working as a beauty blogger for over 3 years, I've been lucky enough to collaborate personally with lots of amazing beauty brands including Christian Dior, The Body Shop and Dermalogica. I've used the Dermalogica special cleansing gel religiously since I first got it and their products are some of my ultimate skincare faves. When it comes to cosmetics, NARS Sheer Glow foundation is definitely my go-to - I live for a light, glowy base!