As health officials have advised us to stay safe from coronavirus (or COVID-19) by self-isolating for at least two weeks, you're likely to be on the hunt for useful hacks to keep yourself busy. Since you'll have more downtime than usual, your body will be adjusting to a new routine and it can be easy to let our everyday habits slip. For example, during self-isolation you may choose to not wear makeup - but that doesn't mean your whole beauty regime needs to be forgotten! Whether you're keeping safe by working from home or simply being precautious by staying indoors, check out our self-isolation beauty survival guide... 
Stay Clean 
Hygiene is key, so make sure you regularly keep your hands clean to avoid spreading any germs or bacteria. The ESPA Bergamot & Jasmine No Rinse Hand Cleanser is the perfect product. This fuss-free product offers a no-rinse solution, so you can cleanse on the go around your home and when you head out for your essential shop. It's also blended with luxurious essential oils to create an aromatic fragrance  – a must-have for every household. 
Keep Healthy 
Looking after your body is just as important as taking care of your skin. Self-isolating means that you won't be able to get to the gym or carry out regular exercise, so incorporate home workouts into your day. Another way to take care of your body is by taking vitamin and health supplements. The Perricone MD Omega Supplements have anti-inflammatory properties that help to elevate your mood, maintain cardiovascular health and hydrate the skin. Make sure you read the instructions before consuming. 
Relax Your Mind
It's normal to feel a little stressed or anxious at this time, so it's important to use self-isolation as a time to relax and unwind your mind. Take up morning meditation, read a book or listen to some calming music. Freshening up your home can also help to uplift your mood. The NEOM Organics De-stress Home Mist is blended with 24 stress-relieving oils to help restore tranquillity. Spray it around your home, onto cushions and curtains for a calming, fragrant infusion. 
Be Eco-friendly
Minimise waste whilst you're at home by looking at eco-friendly alternatives to your usual beauty staples. Swap face wipes, for instance, with the Magnitone London WipeOut! Microfibre Cleansing Cloths. This pack of three cloths helps to remove makeup using warm water. What's more? You can put them in the wash, so they're re-usable and they're backed with a unique antimicrobial technology called Biomaster that works to prevent cross-contamination. 
Be Resourceful
If you aren't already, now is a good time to start being resourceful with your beauty products. Avoid this culture of 'stockpiling' or bulk-buying everything in sight, and instead be resourceful by looking at jumbo-size alternatives to your ordinary products. The Pixi Glow Tonic comes in a larger 250ml bottle (worth £25) that you can shop today for £18. This means that you can double up without being wasteful, and get more for your money at the same time. Not just this, but the Glow Tonic will leave your skin feeling soft, radiant and glowing.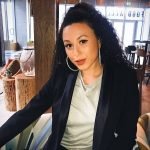 As a beauty obsessive, I'm always trialling and testing new, exciting brands and product discoveries. With over 6 years' experience in beauty writing, including freelancing on the Net-A-Porter beauty desk, I have lots of useful beauty hacks, tips and tricks to share. I'm constantly seeking the latest hair products to make my curls ultra-bouncy and defined. The Cantu Coconut Curling Creme is my Holy Grail! My lipstick collection is always expanding – and my favourite lip product of the moment has to be a nude lipgloss for the ultimate everyday look.