Looking to make your beauty routine more environmentally friendly? For those like to shop consciously, using brands that protect the oceans as well as the land is essential. With World Ocean Day approaching on 8th June, Ocean preservation is a hot topic right now, with more and more people looking to ensure that their beauty cupboards are reef-safe.  
Water pollution is becoming an increasingly pressing issue, with marine life suffering from plastic waste, contaminated water and the destruction of their habitats. Brands are stepping up their efforts to fight the negative effects of ocean pollution and provide beauty routines that are beneficial to you, without harming the planet. We have put together a list of some of our favourite ocean-friendly brands so that you can replenish your beauty bags more sustainably.  
La Mer  
Named after the very thing it is protecting, La Mer believes that the ocean's wellbeing is our wellbeing. In an effort to protect the waters that they value so much, they launched their Blue Heart Oceans Fund to support ocean conservation projects all over the globe. Since its conception in 2017, this fund has helped to preserve and enrich the seas, from planting 400,000 mangroves in the Caribbean, to supporting the Oceano Azul Foundation in creating Marine protected areas.  
As the name suggests, ocean protection is at the heart of La Mer's ethos, and the brand strives to improve and rebuild ocean habitats over time through their work with charitable organisations.  
COOLA 
With suncreams and SPF revealed to have damaging effects on coral reefs including causing bleaching and stunting growth, COOLA are playing their part by creating reef-friendly suncreams so that you can protect yourself, as well as the ocean. Their formulas are free from harmful chemicals such as Oxybenzone and Octinoxate, and they also have mineral suncream formulas that only use Zinc Oxide and Titanium Oxide.  
From partnering with coral gardeners to plant over 100 healthy corals in 2019, to banning the use of toxic ingredients in their products, COOLA is focused on restoring reefs that have been impacted by climate change, and working towards a healthier ocean to protect our sea life.  
Shiseido
With the launch of their Blue Project, Shiseido has committed to improving the health and the beauty of the world's oceans. The brand has become an official partner of We Are One Ocean, joining forces with the World Surf League (WSL) to call on World Leaders at the UN 2021 convention on Biodiversity to protect and conserve at least 30% of the world's oceans by 2030.  
Shiseido are dedicated to making a positive impact on the world's oceans and beaches, partnering with WSL to host events such as beach cleanups to make a better environment for marine life. 
Biossance
Biossance is the beauty brand that gives back to the ocean, known for potent, squalane-infused formulas. The brand ensure the squalane used in its products is ethically and sustainably sourced. But what makes it a reliable friend to the water? The squalane used is 100% derived from sugarcane, estimated to keep around 2 million sharks safe from liver harvesting every year! We know sharks play an integral role in the ocean's ecosystem, meaning its crucial to keep them safe and supported.
The brand's 100% Squalane Oil is highly versatile and responsibly-sourced, working to nourish hair, skin and body. The plant-based, vegan formula delivers a surge of moisture, replenishing from top-to-toe for a smooth, supple finish:
Biotherm
Biotherm is devoted to the blue beauty cause, understanding the importance of keeping our oceans happy and thriving. The brand closely monitors the impact its formulas has on aquatic life, striving for reef-safe skincare and bodycare. Biotherm's Waterlover range is designed to be kind to the environment, with the Hydrating SPF30 Sun Milk now housed in an eco-friendly paper tube. The gentle formula is perfect for sensitive skin, pairing efficient suncare with moisture-rich benefits.
https://www.lookfantastic.com/biotherm-waterlover-hydrating-sun-milk-eco-conscious-tube-200ml-various-options/13133256.html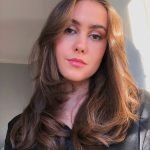 As someone with an affinity for all things beauty, discovering fantastic new products is my not-so-secret obsession. Over the years I've tried and tested a mountains worth of creams, serums and cleansers, finding some of my favourite 'holy-grail' products along the way. However, I'm always on the lookout for more ways to nourish my hair, perfect my dewy base, or enhance my skincare routine. Working as a beauty blogger for over 3 years, I've been lucky enough to collaborate personally with lots of amazing beauty brands including Christian Dior, The Body Shop and Dermalogica. I've used the Dermalogica special cleansing gel religiously since I first got it and their products are some of my ultimate skincare faves. When it comes to cosmetics, NARS Sheer Glow foundation is definitely my go-to - I live for a light, glowy base!