Whether you love pencil, liquid or gel eyeliner, it's not uncommon to be on the eternal hunt for the best eyeliner on the market that offers precision, staying power and a strong opaque colour payoff. Here, we are sharing our favourite tried and tested eyeliners to help you find your next makeup bag essential.
The Best Eyeliner
Are you looking for an eyeliner that is perfect for creating the ultimate long-lasting, sultry and sexy smokey eye? Maybe you're looking for an eyeliner with a more subtle payoff? You might even be looking for a coloured eyeliner to add some sass to your usual makeup look. Whatever your preference, we'll start by introducing you to some of the different types of eyeliner available.
What is liquid eyeliner?
Liquid eyeliner offers an intense liner look, often deemed the most challenging to apply, it only takes a little bit of practice and patience to master the perfect liquid liner. Ideal for a super precise line, liquid liner is the go-to eyeliner of choice for professional MUA's creating a cat eye or winged liner look all thanks to its long-lasting staying power. Apply your liquid liner to the upper lashline to make your lashes appear fuller.
What is a pencil eyeliner?
The most common and forgiving eyeliner of the bunch, pencil eyeliner is typically much easier to work with than liquid liner thanks to a softer application and thicker nib. You can apply pencil liner to the upper lashline as well as the waterline for a super amped up smokey eye look.
What is gel eyeliner?
Gel eyeliner comes in a small pot paired with a special thin brush to apply it. With gel liner, you can achieve the same stability and ease of use as pencil eyeliner, but with that punchy pigmentation that liquid liner offers. Gel eyeliner really is the best of both worlds!
The best matte eyeliner
For a matte liquid eyeliner formulation that promises to offer long-wearing results and a mistake-free application, look no further than the benefit Roller liner. This super quick-drying, waterproof eyeliner glides onto your lids effortlessly without flaking, smudging or fading.
The best waterproof liquid eyeliner
The Stila Waterproof Liquid Eye Liner offers a thin marker tip for ultimate precision in your eyeliner application. If you're looking to achieve a thin, smudge-free line, this eyeliner is your perfect pairing. You won't find yourself working with a grey, wishy-washy pigment either thanks to a full-throttle colour formulation.
The best long-wearing eyeliner
Want to amp up your eye makeup? Choose the Endless Silky Eye Pen from PIXI. This is a long-wearing, waterproof eye pen that offers you the effect of a liquid liner with an easy gel nib that will not smudge or budge! What's more, if you happen to have more sensitive skin around your eyes, this liner includes Vitamin E for protecting delicate skin.
The best-coloured eyeliner
If you want to get creative with coloured eyeliner, then look no further than the 24/7 Glide-On Pencil from Urban Decay. Available in a range of colours from deep purples, to intense green you'll be sure to find a shade to match your makeup vibe. Infused with Jojoba Oil, Vitamin E and Cottonseed Oil, this ultra-creamy, waterproof eyeliner glides on effortlessly to deliver a long-wearing, crease-resistant application.
The best eyeliner for those in a hurry
Need to get your makeup on and get out of the door? Worried you won't have time to get your eyeliner looking precise? The Clinique Quickliner for eyes is exactly what you've been waiting for. This smooth, water-resistant eyeliner is dual ended with a smudge tip for a more effortless look. What's more, this self-sharpening eyeliner is transfer resistant so you won't have panda eyes by lunchtime.
The best multitasking eyeliner
Looking for the perfect multitasking product? The delilah Gel Brow and Eye Liner creates the perfect wing in one stroke, whilst being able to sculpt your brows too! Pretty genius right?. The creamy formula that makes up the brow gel and eyeliner spreads and blends effortlessly, leaving you with a waterproof, photo-ready finished look.
We hope that we've introduced you to your new favourite eyeliner from our tried and tested list of the very best eyeliners around. All that's left to do now is style out your favourite liner look!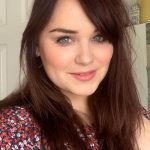 I've been writing about hair and beauty for over 10 years. I am a collector of vintage perfume and my go-to look always includes a bold pink lip! For more, visit https://www.goodgollymisshollie.co.uk