Looking to achieve big, bright Bambi eyes but don't always fancy applying false lashes? You may be pleased to know that it is possible to get longer, stronger and healthier eyelashes all thanks to lash enhancers. Our beauty experts have rounded up the best eyelash enhancers that help to achieve fuller lashes without needing to use falsies.
What are lash enhancers?
Lash enhances are conditioning treatments that help your eyelashes to appear thicker and fuller. Lash serums normally contain ingredients such as castor oil and nourishing Vitamin E which help to hydrate and strengthen your natural lashes.
A conditioning lash serum won't make your eyelashes grow, but they will help with unnecessary breakage. Conditioning lash serums help to protect the lashes and repair the damage caused by heavy mascara use, makeup removal, lash extensions and false lashes.
Are lash-enhancing serums safe?
As with any beauty product going near your precious peepers, be sure to buy a lash serum from a reputable place like LOOKFANTASTIC. If you notice you are experiencing redness and irritation after use, stop using the serum and consult a medical professional.
How long do lash serums take to work?
Eyelash serums are best used consistently, you won't see results overnight, but over time, with the right formulation, your lashes will begin to look visibly healthier.
The best lash enhancing serums
 Looking for longer-looking and thicker eyelashes? The RapidLash Eyelash Enhancing Serum is enriched with Hexatein 1 Complex, a unique blend of Peptides, Biotin, Amino Acids and Panthenol. With added Soybean Oil and Pumpkin Seed Extracts, the serum coats every lash encouraging the appearance of longer, voluminous-looking eyelashes.
Nourish your eyelashes with the clinically proven Lash Serum from L'Oréal Paris. Featuring a super-soft brush for a precision application, this serum targets the roots with growth-stimulating ingredients such as Castor Oil, Vitamin B5, Filoxane and Hyaluronic Acid to help strengthen lashes and help prevent shedding.
Promote longer and stronger eyelashes with the Lancôme Advanced Génifique Eye and Lash Serum. This ultra-hydrating multi-purpose formula can be used as a lash conditioner, as well as an illuminating eye serum to help your eyes look energised, bright and luminous.
For a fast-absorbing lash enhancer, call upon the Shiseido Full Lash Serum. Delivering intense hydration to sparse, thin or short eyelashes, this lightweight serum offers a precise application to achieve fuller-looking and healthier lashes. 60% of users noticed visibly fuller lashes after 4 weeks. 80% of users noticed visibly longer and denser lashes after 4 months.
Lash enhancing serums can be super helpful in ensuring that your lashes are conditioned, however, you can always call upon a volumizing mascara for that extra added oomph to your lashes.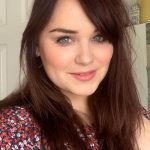 I've been writing about hair and beauty for over 10 years. I am a collector of vintage perfume and my go-to look always includes a bold pink lip! For more, visit https://www.goodgollymisshollie.co.uk