Toning shampoo is a fast way to knock unwanted brassy and yellow tones out of your hair. From blondes that have morphed to yellow and brunettes that are looking more warm than cool, toning shampoos are an easy and effective way to reset your hair colour. We took expert tips from the haircare gurus at Redken to find out just how quickly toning shampoo works on coloured hair and how you can care for your hair at home...
Toning Shampoo for Dyed Hair
Your colourist will likely recommend a toning shampoo to you in the salon. "Toning shampoos are a great at-home treatment for coloured hair. When hair is lifted out of its natural state – such as lightening – it can end up looking raw, yellow and brassy. A toning shampoo will adjust this and bring the colour in line with a more natural aesthetic," explains Ant Rawlings, Creative Director at Lockonego for Redken.
Toning shampoos like Redken's Color Extend Blondage, Graydiant and Brownlights work after just one shampoo to deposit colour neutralising pigments into your strands. The purple pigments in the Blondage shampoo essentially neutralise the yellow tones making them less visible. In the Graydiant shampoo you'll find purple and silver pigments to neutralise yellow but also to impart a shine and shimmer to the strands. The Brownlights shampoo, on the other hand, is shot through with blue pigments that neutralise the warm orange tones, so your brunette strands stay as cool as you.
Redken Color Extend Blondage Shampoo 300ml

Redken Color Extend Graydiant Shampoo 300ml

Redken Color Extend Brownlights Shampoo 300ml
Each of these shampoos work immediately to impart colour-correcting particles into your strands. While you can use Brownlights, a blue shampoo for brunettes, straight after your colour appointment to keep those cool tones topped up, with the Blondage and Graydiant shampoos you should wait a couple of weeks for yellow tones to appear in your strands. If you apply these purple-toned shampoos to strands with no yellow molecules to neutralise, your hair could become stained with a purple hue! If this does happen, don't worry, simply use a pigment-free shampoo like Redken Clean Maniac Micellar Shampoo, which will help the purple stain to lift out.
Colour-correcting Natural Hair
It's not just those who've had their hair coloured that can benefit. Give your hair tone a new lease of life and colour-correct your natural hair too. "Both natural blondes and brunettes can suffer from sun damage. Brunettes can also find that they suffer from red and orange undertones. The Redken Brownlights is a blue shampoo for orange hair and will freshen the overall appearance of the hair."
Caring for Coloured Hair
A weekly masking session is the easiest way to supercharge your hair's moisture and colour-correct those strands. It's a great selfcare moment, too! If you're looking for a super shot of nourishment the Colour Extend Magnetics Mega Mask is the one to try. With Redken's RCT Protein Complex this intensely conditions the hair from root to tip and deep down into the core of each strand. It also gives your colour a vibrance that lasts three washes (that's about one week, so use this mask weekly to keep your colour looking its best).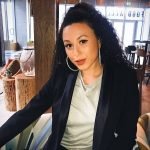 As a beauty obsessive, I'm always trialling and testing new, exciting brands and product discoveries. With over 6 years' experience in beauty writing, including freelancing on the Net-A-Porter beauty desk, I have lots of useful beauty hacks, tips and tricks to share. I'm constantly seeking the latest hair products to make my curls ultra-bouncy and defined. The Cantu Coconut Curling Creme is my Holy Grail! My lipstick collection is always expanding – and my favourite lip product of the moment has to be a nude lipgloss for the ultimate everyday look.