Nailing your morning skincare routine is the best way to start your day, something Caudalie founder Mathilde Thomas knows more than most. In light of the relaunch of their viral Tik Tok Detox Mask, famed for removing dirt and oil from individual pores in just ten minutes, Mathilde takes us through her full Caudalie skincare routine as she talks ingredients, skincare tips and the story behind her brand.  
Step one: cleanse your skin  
'It's not worth applying any good products onto unclean skin because the active ingredients will not penetrate it.' 
Double cleansing is best, but if you're in a rush, trying mixing together the Vinoclean Cleansing Oil and the Vinoclean Instant Foaming Cleanser.  
'I love the cleansing oil because it's 100% natural, removes all makeup (including waterproof) and it contains castor oil to help your lashes and brows grow!' 
Mix a few pumps of each product together in your hands and apply all over the face (including eyebrows), rubbing gently in circular motions. 
'I adore the instant foaming cleanser because it contains sage to purify the skin, and it's great for a burst of radiance.' 
Step two: Apply a mask 
Apply the Caudalie Detox Mask to rejuvenate and purify your complexion. 
'This mask is fantastic because it absorbs all excess oils, minimises your pores and detoxifies your skin so you feel like you have a brand new face!' 
Apply a thin layer of the mask and rinse off thoroughly with warm water after ten minutes.  
'This mask is perfect for all skin types, no matter what your age is, and you'll see amazing results in ten minutes' 
Step three: Apply a toner 
Apply the Vinopure Clear Skin Purifying Toner to your cleansed skin. 
'I'm using this one right now because I think my skin needs some Salicylic Acid to cure all the little blemishes I have.'  
Pour into the palms of your hands and rub together before patting gently into your skin until absorbed.  
'This toner contains six organic essential oils that are antibacterial and purifying. Your pores feel instantly tightened after using it.' 
Step four: Apply your serum  
'Always remember after cleaning your skin that you use products in order from the thinnest to the thickest texture.' 
Use the best-selling Vinoperfect Complexion Correcting Radiance Serum and apply half a pipette to your skin, gently spreading the formula over your whole face.  
'After using one bottle, it diminishes the intensity of brown spots by 63%. After a few days you see an immediate glow on the skin!'   
Step five: Eye contour 
Apply the Premier Cru The Eye Cream all around the eye contour using your ring finger, pressing very gently into the skin – a little goes a long way. Top tip: if you have some left over, apply around the mouth area. 
'This cream contains all of Caudalie's best technology. It contains antioxidants, it's anti-dark circle, and it contains 10% of pearliser that will illuminate your eye contour.' 
Step six: Moisturise 
'I often get asked what moisturiser I would take to a desert island, and mine would definitely be the Premier Cru.' 
Apply the Premier Cru The Rich Cream to your face, neck and décolletage using your fingers.  
'It's the perfect all-in-one product. Full of antioxidants, this patented formula moisturises and firms your skin and is also anti-dark spot and anti-wrinkle. It's a super rich texture yet completely matte on the skin.'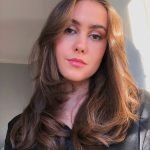 As someone with an affinity for all things beauty, discovering fantastic new products is my not-so-secret obsession. Over the years I've tried and tested a mountains worth of creams, serums and cleansers, finding some of my favourite 'holy-grail' products along the way. However, I'm always on the lookout for more ways to nourish my hair, perfect my dewy base, or enhance my skincare routine. Working as a beauty blogger for over 3 years, I've been lucky enough to collaborate personally with lots of amazing beauty brands including Christian Dior, The Body Shop and Dermalogica. I've used the Dermalogica special cleansing gel religiously since I first got it and their products are some of my ultimate skincare faves. When it comes to cosmetics, NARS Sheer Glow foundation is definitely my go-to - I live for a light, glowy base!