Nothing inspires a hair refresh quite like entering a new year. As we dust off the tinsel from the festive season and look forward to a new start in 2022, many are ready to mark the occasion with a new 'do. But which styles are top of the beauty scene this year? We caught up with celebrity stylists and haircare experts Sharon Dale, Jay Birmingham and Dom Seeley, to get the root-to-tip lowdown on which styles are certified cool for this year.
Face-framing cuts
As long locks begin to take a back seat, we're welcoming face-faming cuts with open arms this year. Celebs such as Rihanna and Miley Cyrus have both embraced the choppier, face framing mullets that characterised the 80s rock era. '2021 saw us move away from long hair with no definition or shape into layers of shaggy hair, re-introducing the famous mullet with very long framed edges, and shorter versions of the pixie mullet!' says Sharon Dale, Creative at Moroccanoil UK.
'Hair trends in 2022 will follow suit, but with much more commitment to change. That lob length style which was generally one length midway through down the back will travel up past the shoulder line creating a stronger, swisher look.'
Thinking about embracing the chop this year? Then it's time to trust your stylist. 'Us hairdressers who love hair cutting can finally show off our expertise in designing hair to suit your face shape, hair type and personality to make the most of what you've got.'
Sharon's top picks for layered cuts
Gaining momentum during the pandemic, the natural hair movement has sunk its roots into our social media platforms, with #naturalhair garnering a whopping 5.2 billion views on Tik Tok. Restoring and defining your curl pattern became the number one goal, with people having more time than ever to invest in proper haircare.
'Natural curls will play a big part in 2022 trends, celebrating the hair's own texture' explains Sharon. 'Focusing on the importance of a brilliant haircut, together with the right recommended products will be an absolute winner, enabling clients to throw away their tongues or flat irons and go natural!'
Sharon's crushes for curly girls
It may be 2022, but we're bringing back the 90s. From fashion to beauty, modern takes on the styles of this iconic decade are set to characterise this annum. '90s style layering and super model style volume is definitely a look that I think we will see more of in 2022' says celebrity stylist Jay Birmingham. 'In 2021 we noticed lots of celebrities experimenting with voluminous layers with lots of texture and movement. Using rollers to help create lots of height and volume is currently a viral trend on Tik Tok and to help create the exact look you need to have some layers.'
'The return of the iconic Farah Fawcett style is something I personally love. Think textured layers paired with curtain bangs with lots of height and movement around the face. Curtain bangs are best to sit just above the jaw so that when styled they bend back and lift up naturally.'
Despite what you may think, you can achieve supermodel volume status from the comfort of your own home. 'It's all about the products and preparation of the hair' explains Jay. 'Invest in a great round brush too as it will help to create volume and height. Be sure to lift the hair away from the scalp when drying, using a round brush to create as much height as possible.'
Jay's va va voom boosters
The brunette-bombshell era has arrived and we are here for it. 'Rich chocolate hair colour is definitely going to be popular this year' says Jay. 'This natural colour is all about embracing a more realistic version of yourself, from deep chocolate shades to honey hues, the variety of brown shades are having a moment in 2022.'
'Celebrities including Hailey Bieber have embraced this trend and moved towards their natural colour and gorgeous shades of brown. This trend is also a staple on fashion catwalks, with models on the runway looking effortlessly and naturally beautiful when it comes to their hair. The key is to know that less is perhaps more. Even for blondes who want to try this out, opt for some soft low lights to bring a natural feel to your colour for 2022.'
Jay's top picks for enhancing natural brunette locks? 'If your hair is already dark, consider a hair gloss or a treatment that adds shine and enhances your natural tone. I love the Olaplex No.8 Bond Intense Moisture Mask to hydrate hair and help your colour look its best. The Wella Colour Fresh Semi-Permanent Mask is also incredible. It's a fifteen minute treatment to gloss over colour and refresh your hair.'
Jay's Brunette boosters
Want a fresh look without committing to a huge chop? Try meeting your stylist halfway. 'One of the early trends for 2022 is I'm seeing a revival of the Midi or Mid-Length Cut' says Dom Seeley, Celebrity Hair Stylist and Creative Director at Color Wow International. 'It started making its way into the celebrity scene right at the back end of 2021. It's so versatile but still can look cool, modern or chic.'
'Both Khloe Kardashian and Chrissy Teigan were seen sporting the length and it's a cool and fun way to change up your look and be a bit bolder - but without sacrificing too much of the length.'
So, what are Dom's top tips for enhancing this style? 'If you really want to make this cut a showstopper, then you want to make sure it reflects the light well, and you want the hair to look as healthy as possible. Color Wow's Kale Cocktail is a formula that you apply to wet hair and leave in as a powerful hair supplement. To make sure it's super sleek, Color Wow's Extra Mist-ical Shine Spray will double up as a heat protector, as well as giving you weightless glossy shiny (non-oily) strands.'
Dom's midi must-haves
Liquid hair
Despite the name, this doesn't require you to walk around with dripping-wet locks all day (although that would be temptingly easy). 'A style that is around to stay is a look that's been called liquid hair. It's an update on the 2020-2021 trend Glass Hair, but is more about fluid movement instead of being set and flat. Hair is still sleek and polished with no frizz in sight.'
'Kim Kardashian is a huge lover of this trend. She took inspiration from Cher and the look was dubbed 'Cher Hair' in 2019 – it then went to be called glass hair and now the look has developed into 'Liquid Hair'. The hair has more bounce whilst remaining fresh, modern and on-trend - and just as it's name suggests, so shiny it's almost liquid-like.'
But how can you achieve this glamorous look at home? 'One of the best products you can use to achieve this look is Colorwow Dreamcoat – it's a first of its kind in modern de-frizzing technology and completely weightless, with no residue or oils/silicones in the formula. It blocks and repels all moisture and humidity, transforming hair texture to be smooth, shiny and glass like with mirror like reflection.'
Liquid locks essentials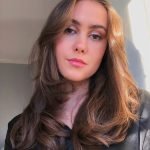 As someone with an affinity for all things beauty, discovering fantastic new products is my not-so-secret obsession. Over the years I've tried and tested a mountains worth of creams, serums and cleansers, finding some of my favourite 'holy-grail' products along the way. However, I'm always on the lookout for more ways to nourish my hair, perfect my dewy base, or enhance my skincare routine. Working as a beauty blogger for over 3 years, I've been lucky enough to collaborate personally with lots of amazing beauty brands including Christian Dior, The Body Shop and Dermalogica. I've used the Dermalogica special cleansing gel religiously since I first got it and their products are some of my ultimate skincare faves. When it comes to cosmetics, NARS Sheer Glow foundation is definitely my go-to - I live for a light, glowy base!