With the current outbreak of coronavirus (COVID-19) around the world, it's important now more than ever, to keep ourselves clean, safe and protected. Whether you're on your daily commute, in work, at home or in a restaurant, the best way to stay safe is to make sure your hands are always clean. Whilst this may seem like common knowledge, germs can easily spread after we sneeze or cough, and transfer onto everyday objects like door handles and light switches. 
To help you stay safe, we've put together a step-by-step guide to keeping your hands clean – whether you're at home or on-the-go... 
Step One: Hand Wash 
For best hygiene practice, wash your hands before and after eating, after you sneeze or cough, after using public facilities and before and after you apply makeup or face moisturiser. The NHS recommend washing your hands for around 20 seconds in the following way:
Wet your hands under warm running water.
Apply a small amount of liquid soap to your hands.
Rub your hands together vigorously, ensuring you massage the soap into your palms, between your fingers, nails and wrists.
Rinse your hands under warm running water.
Dry your hands thoroughly using disposable paper towels.
Turn the tap off using the paper towel or your elbow, to avoid recontaminating your hands.
It's also advised to carry hand sanitiser, especially if you travel on public transport or work in a shared office space. We've selected our favourite hand wash and soaps to keep your hands super clean and smelling fresh, including brands such as ESPA, Jo Malone, Rituals and Molton Brown. For a touch of luxury, the Aveda Rosemary Mint Hand & Body Wash will gently cleanse the skin of impurities, whilst keeping hands soft and refreshed. 
Step Two: Hand Scrub 
The cold weather can leave your skin feeling dry, cracked and generally tired. After washing, give your hands a new lease of life by using a hand scrub once or twice a week. Hand scrubs work to get rid of dead skin cells and rough patches. The Mauli Reawaken Himalayan Hand & Body Scrub uses natural Himalayan salts to gently buff the skin and leave hands feeling softer, cleaner and more invigorated. 
Step Three: Hand Mask 
If you're obsessed with all things skincare, you probably like to treat your skin to a rejuvenating face mask on a pamper evening – but have you ever tried a hand mask? Equally as cleansing and nourishing to the skin, a hand mask works to hydrate and repair hands, whilst giving them a deep cleaning treatment at the same time. The Starskin VIP The Gold Hand Mask works to repair and condition the hands. Simply leave it on for up to 15 minutes, then massage the excess serum into your skin without needing to wash it off. The result? Soft, clean hands and cuticles.
Step Four: Hand Moisturiser 
The last step in keeping your hands fresh and clean is to use a hand moisturiser. When followed by the steps above, regularly moisturising your hands after washing will help prevent them from drying out and provide a rich, intense nourishing treatment. The Laura Mercier Fresh Fig Hand Cream works to moisturise the skin to deliver optimal hydration and leaving them feeling velvety-smooth to touch.
Shop our full range of Hand Wash and Soap at lookfantastic and visit the NHS for full advice regarding COVID-19.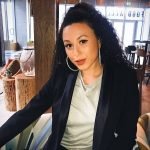 As a beauty obsessive, I'm always trialling and testing new, exciting brands and product discoveries. With over 6 years' experience in beauty writing, including freelancing on the Net-A-Porter beauty desk, I have lots of useful beauty hacks, tips and tricks to share. I'm constantly seeking the latest hair products to make my curls ultra-bouncy and defined. The Cantu Coconut Curling Creme is my Holy Grail! My lipstick collection is always expanding – and my favourite lip product of the moment has to be a nude lipgloss for the ultimate everyday look.