Cold weather can impact the condition of your skin, causing it to look and feel more sensitive and dry. That's why it's important to adapt your skincare routine to the winter months. We caught up with the skincare experts at Margaret Dabbs London to find out how to care for your hands, feet and legs during those colder days...
Q

What are the key ingredients used in your Feet, Hands and Legs products?

A

All of our ranges have been formulated using specially selected ingredients to provide treatment remedies, with no nonsense results. Emu Oil is the key ingredient in the Fabulous Feet range for its intense healing, treatment and anti-inflammatory benefits and is scented with lemon myrtle.  These products were formulated by Margaret for use in her medical foot clinics and are suitable for diabetics. The hand range is a treatment range focused on anti-ageing ingredients including Hempseed Oil and Seaweed Extract for their hydrating, antioxidant, and anti-ageing benefits.  This helps to plump the skin, increase collagen levels and elasticity and reduce fine line, wrinkles and age spots.  The hand range is non greasy and scented with geranium and mandarin. The leg range uses our unique V-Tonic complex and Legance™ and is formulated to  reduce the water content of the legs, stimulate circulation, tone and firm the skin  and leave legs feeling light and revived and looking slender, firm and toned. Our newest range, Pure Feet, is vegan friendly and enriched with potent natural plant extracts Buriti, Hempseed, Calendula and Turmeric which are all selected to help moisturise, heal and protect the skin of the feet.

Q

Are your products dermatologically approved?

A

Margaret Dabbs London products are formulated with the finest ingredients, are suitable for diabetics and high risk patients.  These are used and recommended by professional Podiatrists and foot experts globally to treat common foot complaints.

Q

How often should you use Margaret Dabbs London products during winter?

A

With feet hidden away in socks and boots all winter it's easy to forget about them but a bit of effort will be worthwhile and give you one less thing to thing about as the warmer weather approaches. Keep the

Intensive Hydrating Foot Lotion

for use in the morning and the Foot Hygiene Cream on your bedside table and apply every night before bed. File feet with the Professional Foot File and exfoliate with the

Exfoliating Foot Mousse

twice weekly to remove any dead, dry skin and callous build up and help your moisturiser penetrate the skin more easily.   For a real treat use the

Intensive Treatment Foot Oil

before you apply the Intensive Hydrating Foot Lotion – we do it this way in our clinic treatments for a deep treatment.

Q

Is it possible to 'over-moisturise' your skin?

A

Over moisturising the feet wouldn't damage the skin in any way but it would simply be a waste of product. Consistency is key and applying a small amount of moisturiser often is the best way to keep the skin hydrated.

Q

'I suffer from eczema on my hands and legs, can I still use your products?'

A

Absolutely- not only can you use the products but they will help relieve the symptoms associated with eczema. Emu Oil is used in the Fabulous Feet and Hands ranges and helps to treat dry, itchy, flaky and inflamed skin with no irritation or side effects while its emollient properties help the skin to retain moisturise and create a protective barrier. Hempseed Oil and Calendula feature throughout the Pure Feet range and boast the same skin soothing benefits as Emu Oil meaning there's a product to suit everyone! For legs suffering from Eczema or Dermatitis try using one of the lotions or oils from either of the ranges for feet.

Q

Would you recommend using moisturising gloves or socks after night-time application?

A

For really parched, chapped, cracked and irritated skin, putting socks or gloves on after applying a nourishing moisturiser and leaving overnight is a great way to let the product work its magic, lock in moisture and keeping your hands and feet warm will enable the moisturiser to absorb more easily for speedy results. Do this with the

Foot Hygiene Cream

at night before you go to bed.

Q

'I'm going on a winter city break. Can I use Margaret Dabbs London products whilst on the go?'

A

Cold, dry winter air can strip the skin on the hands of its natural protective oils so replenish them on the go with the

Intensive Hydrating Hand Lotion 45ml

tube. A handbag must-have and saviour for dry, chapped, irritated skin prone to redness and formulated with Hempseed Oil and Seaweed Extract.

Q

What is the best way to prep the skin before a pedicure?

A

You should leave pedicures to the professionals but if you are really embarrassed about the state of your feet use the

Foot Hygiene cream

for a couple of nights before you have your treatment – you will be amazed at the transformation!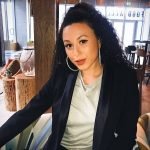 As a beauty obsessive, I'm always trialling and testing new, exciting brands and product discoveries. With over 6 years' experience in beauty writing, including freelancing on the Net-A-Porter beauty desk, I have lots of useful beauty hacks, tips and tricks to share. I'm constantly seeking the latest hair products to make my curls ultra-bouncy and defined. The Cantu Coconut Curling Creme is my Holy Grail! My lipstick collection is always expanding – and my favourite lip product of the moment has to be a nude lipgloss for the ultimate everyday look.