If like me, you're a curly girl, you'll have been through countless bottles of shampoo, serums, conditioners and hair masks on a quest to find "the one" that will tame your unruly locks. For context, I have very thick and coarse curly hair. Dryness is my biggest hair concern, so I'm constantly seeking the latest and greatest hair products that claim to combat dry, frizzy hair and restore moisture and shine. That's when I was introduced to the latest haircare range by Bumble and bumble: Invisible Oil. The clue was in the name - an oil-based collection with a light-as-air formula, designed to soften, tame, de-frizz and protect against breakage. I was sold. And so my journey began...
*Before, With Bumble and bumble Curl Butter Masque, After.
Step 1: Shampoo
First things first: shampoo. The Bumble and bumble Hairdresser's Invisible Oil Shampoo ticks all the boxes when it comes to what I look for in a shampoo: sulfate-free, lightweight and targeted towards dry, damaged hair. I applied this product to my wet hair, evenly distributing and massaging into the roots, which is where my hair is most dry and coarse. After a thorough wash, my hair felt noticeably softer and less tangled, making it much easier for me to comb through my curls.
Step 2: Mask
Having curly hair, I like to introduce products to my haircare regime that are specifically targeted towards curls. After shampooing my hair, I applied the Bumble and bumble Curl Butter Masque to my damp tresses. As the name suggests, the formula of this mask is thick, creamy in consistency and super buttery - perfect for coating my curls, absorbing moisture and adding hydration. The bottle suggests leaving the mask on for 3-5 minutes, but since my hair is in need of that extra moisture boost, I left it to work its magic for 15-20 minutes.
Step 3: Condition
One of the most important steps in my hair wash routine is conditioning. Once a week, I like to deep-condition my hair to give it a richer, more nourishing treatment. But, since I already used the Curl Butter Masque (which I found gave similar results to a deep treatment), I skipped this step and applied the Bumble and bumble Curl Custom Conditioner to my freshly washed, damp hair. Designed to combat frizz and detangle, the brand recommends leaving the product on the hair for 2 minutes before washing out. However, I prefer to leave the conditioner in for a more hydrating finish and because my dry, thirsty hair soaks up any moisture in an instant.
Step 4: Oil
When it comes to my hair styling routine, oils and serums are the Holy Grail. After washing my hair, I ran the Bumble and bumble Hairdresser's Invisible Oil through my curls, which is a fast-absorbing hair oil that that doesn't leave any dreaded 'greasy residue'. Designed for all hair types, the Invisible Oil works to detangle, add shine and give my curls a softer texture - the perfect base for my next styling step.
Step 5: Prime
Whilst I don't often apply heat to my hair, keeping it protected from the harsh weather is key. The Bumble and bumble Hairdresser's Invisible Oil Heat/UV Protective Primer is the final step of my haircare routine and works as a leave-in treatment to shield the hair from breakage and UV rays. I sprayed the Primer onto my curls whilst damp, but this product can also be applied to dry hair to help refresh and re-style (ideal for reviving my curls on day two or three post-wash). The result? More defined, healthier-looking curls that didn't feel weighed down by product.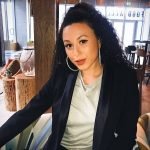 As a beauty obsessive, I'm always trialling and testing new, exciting brands and product discoveries. With over 6 years' experience in beauty writing, including freelancing on the Net-A-Porter beauty desk, I have lots of useful beauty hacks, tips and tricks to share. I'm constantly seeking the latest hair products to make my curls ultra-bouncy and defined. The Cantu Coconut Curling Creme is my Holy Grail! My lipstick collection is always expanding – and my favourite lip product of the moment has to be a nude lipgloss for the ultimate everyday look.