Adjusting your skincare routine throughout the different seasons is essential for maintaining glowing skin all year round. In the same way that you wouldn't wear a big woolly jumper during summer (even in the UK), you need to switch up your winter skincare products to adapt your regime for the hotter months. More exposure to sunlight, as well as increased humidity means our skin can act very different during the summer, so we've put together a round-up of some of the key changes you should make to your skincare routine to keep your complexion nourished and glowy, whatever the weather.  
Start with an exfoliating wash 
As the weather warms up, our skin typically becomes oilier, and we produce much more sweat throughout the day. This means that our skin becomes more prone to acne, as pores become clogged with impurities, sweat and oil during the day. Whereas gentler cleansers such as the CeraVe Hydrating Cleanser are typically favoured in the winter, during the summer exfoliation is key. Using a light daily exfoliant, or a deeper exfoliant a couple of times a week is crucial for removing dead skin cells and impurities to prevent blemishes and promote an even skin tone.  
Opt for a lighter moisturiser 
Whilst during the winter, it's important to use richer, thicker moisturisers to maintain hydration levels and condition the skin, in the hotter weather, lighter formulas are much more effective. Using fewer products with lighter consistencies prevents the skin becoming too oily or saturated in the hot weather. A light moisturiser alone is enough to lock in moisture throughout the day to keep your skin looking fresh.  
Upgrade to a stronger SPF 
Although we cannot emphasise enough that you should be wearing SPF every day, during the summer months particularly, you may want to up the strength of your usual sun protection. With more prolonged exposure to the sun, it's important to be using a minimum of factor 30 SPF, and factor 50 if possible. This can be in the form of a moisturiser or a sunscreen, but whatever the formula, it must be applied in the morning, and reapplied as needed throughout the day (even on cloudy days!) 
Try out a hydrating mask 
Skin is typically a little less flaky in the summer months, however it can still easily become dehydrated, so it's important to retain as much moisture as possible. A great way of doing this is to use a hydrating mask 1-2 times a week in order to keep your skin nourished, moisturised and nice and plump in the hotter weather.  
Use antioxidant rich products 
Using products that are rich in antioxidants is a great way of further protecting your skin during the summer. Antioxidants can stimulate collagen production, as well as helping to protect the skin from environmental aggressors and pollutants. Keeping your skin protected as you spend more time outside is essential to prevent premature ageing and damage.  
Incorporate anti-pigmentation products 
Skin discolouration and pigmentation can often become worse during the summer months due to prolonged sun exposure. Using an anti-pigmentation product with ingredients such as Hyaluronic acid or Thiamidol can help to reduce the appearance of marks or discolouration on the skin, as well as prevent new ones from appearing.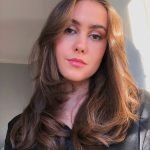 As someone with an affinity for all things beauty, discovering fantastic new products is my not-so-secret obsession. Over the years I've tried and tested a mountains worth of creams, serums and cleansers, finding some of my favourite 'holy-grail' products along the way. However, I'm always on the lookout for more ways to nourish my hair, perfect my dewy base, or enhance my skincare routine. Working as a beauty blogger for over 3 years, I've been lucky enough to collaborate personally with lots of amazing beauty brands including Christian Dior, The Body Shop and Dermalogica. I've used the Dermalogica special cleansing gel religiously since I first got it and their products are some of my ultimate skincare faves. When it comes to cosmetics, NARS Sheer Glow foundation is definitely my go-to - I live for a light, glowy base!