It's been suggested by scientists for millennia that our skin and mind are intimately connected. And when you think about it, it doesn't seem that farfetched. When we blush, our cheeks go red. When we're stressed, we can develop spots. When we're feeling happy, our skin glows. All of these things can have a big impact on our mood.
But its not just our mood that can influence how our skin changes. This could also work in the opposite direction. How we care for, think about and treat our skin could also have a positive impact on our state of mind. We're going to take a look at 5 of the top ways you can boost your mood through your skincare regime.
1. Take all the stress away
This first one is probably one of the most important points of advice we could give. A key ingredient in breakouts and skincare woes is stress. This can be easily lifted by simply taking time out of your day to focus on yourself. Whether this be moisturising; topping up the tan; massaging the pores, there's a variety of ways you can release some of the stress from your day through your skin.
As well as calming the mind, these rituals can also relieve tension from the skin and increase elasticity which in turn, makes for a healthier, brighter and smoother complexion. It's a win-win.
There's also a lot to be said for the skins cooling properties. We all know that feeling. It's mid-July. You've had a tough day at the office and the commute is taking that little bit longer than normal. You get home, you feel hot and bothered and just want an immediate cooling remedy. The answer? A skin massage. Grab your favourite moisturiser with SPF and start in little circle motions with your hand or use a gua sha. Tiny blood vessels close to the skins surface transport this cooling action deep within the body tissues, leaving you feeling cooler and more relaxed. Bliss.
2. Its all about control
A major cause of anxiety is the lack of control we have over the bigger, more pressing matters in our lives. Having a regular skincare or makeup regime can help you regain some control over a small area of your life, making the other things seem less daunting.
3. Makeup is your friend
We've all had times when we've looked in the mirror and just want the ground to swallow us up. Well, don't let that demon take up anymore of your time. Grab your favourite blush, a bit of highlighter and get to work. Makeup can be the ultimate power tool when you're feeling a little less confident than usual or even if you're just craving a little pick-me-up.
But take note: its not about covering up, its about accentuating what is already there. Makeup should be used to highlight your beautiful features, and showcase to the world a small snapshot of your personality. These can all have a major impact on your mood, and make for a brighter, happier day. Why not try setting aside some time to relax and unwind and check out this month's Beauty Box?  The perfect remedy for a chilled weekend.
4. Catching some Z's
Sleep. It's one of the most important things we do in our daily lives. And your bedtime beauty regime can have a sizeable impact on your mood before and after counting the sheep.
Before beginning your night time skincare, try spritzing a pillow with some lavender mist, or lower the lights and light a scented candle. These calming scents and ambient lighting can have a calming, zen-like affect on your mood, which is crucial for an undisturbed sleep, leaving you feeling fresher and brighter the following morning.
TOP TIP: don't forget to take your makeup off before bed. It can sometimes be that one task too far, the 'ugh, I'll have to get out of bed again to take it off, I'll leave it' moment. Don't leave it. Your skin will thank you for it.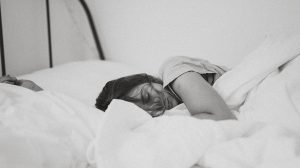 5. Simplicity is key
Though we've talked about how your skincare and makeup routines can help boost your mood, it's always important to remember that these things alone are only a helping hand towards a happier mind and body. Don't let the details drag you down, skincare should be a relaxing, therapeutic and beneficial routine that positively impacts the body and mind alike.
Keep it simple and don't overcomplicate matters. A simple face massage with a jade roller, or a spritz of your favourite face mist can go a long way in terms of your mood.
Who knew skincare was such a mood booster?! But there you have it… 5 simple ways your skincare routine can help bust those Monday blues or provide a mid-week pick-me-up. And remember- selfcare doesn't stop there. It's important to remember that friends, family and other support networks are always available. Talking is just about the best remedy to any issue, skincare related or otherwise!
As the Beauty Editor for LOOKFANTASTIC Beauty Box I'm always hunting for a good beauty story, I like to remain ahead of the trends. But aside from this, I'm a keen reader and writer in my spare time. You'll find me with my head in a good book most of the time- Beauty & Fashion related or otherwise! You'll often find me obsessing over the latest tropical-scented body oil or lathering on the coconut moisturiser. As you may have already guessed, I have a natural affinity for all things tropical. Beauty and grooming for me is escapism, a little slice of heaven away from the day-to-day.