We're giving you the low-down on our Eve Lom Starter Kit.
Skincare and makeup can be a tricky business to navigate. With so many potions and lotions to choose from, it's hard to know what exactly to choose and when to choose it. That's why here at Beauty Box HQ, we've listened, we've learned and we've created a collection of starter kits from some of our best brands. 
Founded on the belief that the secret to radiant, glowing skin begins with the perfect cleanse, Eve Lom, a renowned facialist, created her first product; the original Cleanser Balm.
Blending naturally-derived ingredients and essential oils for their unique properties, Eve Lom combined them with sophisticated, yet straightforward science to create her signature products. The result is radiance you can see from the first step, the cleanse. And a long-lasting healthy glow you can feel with a curated collection of products for all skincare concerns and types.
To help you understand a bit more about the process, we've split the products from the Eve Lom starter kit into three helpful subcategories:
1. Cleanse- The first step for radiant skin
Removes all traces of impurities, including waterproof make-up
Skin appears healthier and radiant
Creates the perfect canvas for skincare to perform
Hydrate for up to 12 hours after use
2. Rescue- For skin that needs saving
For specific concerns that need extra attention
Hydrate for up to 72 hours after use
3. Moisture – The hydration heroes
Next generation Hyaluronic Acid hydrates skin for dewy, glowy results
Restore skin's balance and fight future dehydration
Hydrate for up to 72 hours after use
To get you started, we've highlighted the ultimate tool for any skincare regime- the Eve Lom Gel Balm Cleanser. A soothing gel-to-balm formula that gently removes makeup and impurities without stripping skin's moisture. This multi-benefit cleanser is infused with Eve Lom's signature blends of botanical oils, Shea Butter and nourishing Grapeseed Oil to seal in moisture for long-lasting hydration, and plant-derived Lecithin to condition the skin, leaving your skin feeling clean and refreshed.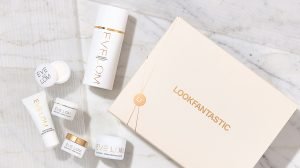 But that's not all… this handy starter kit also comes with additional pro treatments to help elevate your makeup looks to the next level. Take the Eve Lom Kiss Mix original, for example. Beautifully chic and filled with a luxurious blend of active extracts, this moisturising, protective and cooling lip treatment has it all. Use under lipstick as a moisturizing base, on its own for a softening pearl-like sheen, or over lip-colour for a slick of protective shine.
All you need for perfectly hydrated and glowing skin and a flawless makeup routine is right here!
These starter kits are the ultimate try before you buy of your beauty favourites! Packed full of the must-have products and hero remedies, these handy little kits will leave you feeling wiser, fresher and altogether more nourished. You're welcome.
To get your hands on the essential Eve Lom starter kit, click here.
As the Beauty Editor for LOOKFANTASTIC Beauty Box I'm always hunting for a good beauty story, I like to remain ahead of the trends. But aside from this, I'm a keen reader and writer in my spare time. You'll find me with my head in a good book most of the time- Beauty & Fashion related or otherwise! You'll often find me obsessing over the latest tropical-scented body oil or lathering on the coconut moisturiser. As you may have already guessed, I have a natural affinity for all things tropical. Beauty and grooming for me is escapism, a little slice of heaven away from the day-to-day.