Mineral makeup is ideal for every skin type, though it is particularly effective for those with sensitive skin and people with oily skin thanks to their non-comedogenic properties which won't block your pores but will absorb excess oil.
Mineral foundations are fast becoming the face base of choice thanks to their minimal ingredient list and ability to perfectly cover the skin without ever looking cakey.
What is a mineral foundation?
Mineral foundations are available as liquid foundations and powder foundations and more. Made from a blend of natural ingredients like zinc and titanium oxide, mineral foundation leaves out a lot of the chemical nasties found in regular makeup such as parabens, preservatives, oil and fragrance.
Mineral foundation is ideal for anyone with problematic, combination or sensitive skin as they help to absorb excess oil without disrupting the skin's natural balance. They also tend to be non-comedogenic so don't block pores or cause breakouts.
Which Are The Best Mineral Foundations?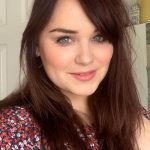 I've been writing about hair and beauty for over 10 years. I am a collector of vintage perfume and my go-to look always includes a bold pink lip! For more, visit https://www.goodgollymisshollie.co.uk