Matrix is one of the leading brands in the haircare industry. Their expertise and knowledge has led them to develop some of the most advanced technologies and cutting-edge products, which are loved by stylists and customers alike. Their new SugarShine Collection has been formulated to produce seriously high-shine and glossy hair that even Jennifer Aniston would be jealous of.
Inspired by skincare, SugarShine works to cleanse and exfoliate the hair with natural sugar to leave it healthy, glossy and vibrant. While we exfoliate our skin on a regular basis, we can often forget to take the same care of our hair. Just like dead skin cells need to be buffed away from our skin to reveal new and fresh skin underneath, our hair needs to be scrubbed to rid it of the build-up of product, dirt, oil and impurities.
This is where the collection really shines. Infused with Sugar, each product gently cleanses your hair, while intensely moisturising it to leave it looking and feeling super healthy.
Discover The Power Of Sugar With Matrix SugarShine
Discover each product in the collection and how it can transform your hair from dull to perfectly radiant.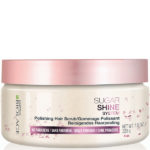 1.
The Scrub
Keep your hair free from impurities, product build-up, and oil with this scrub from Matrix. Infused with water-soluble Sugar Crystals to scrub away the dirt without irritating the scalp, it also has a light citrus fragrance to refresh and revive your hair. The best part? It also doubles as a body scrub!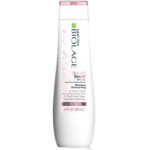 2.
The Shampoo
This Shampoo contains everything your hair needs to keep it clean, free from impurities and glossy. Free from parabens and silicone, the shampoo gently cleanses your hair without stripping it of its natural oils to reveal super healthy and shiny locks.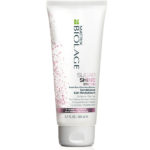 3.
The Conditioner
Nourish and protect your hair from dry and damaged ends with this lightweight Conditioner. The silicone-free formula leaves your hair feeling hydrated and healthy without coating it in chemicals, so it stays bouncy instead of heavy. Leave in for 1-3 minutes for maximum absorption.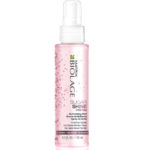 4.
The Illuminating Mist
Keep your hair radiant and glossy with the Illuminating Mist from Matrix. The lightweight spray not only helps to keep your locks shiny, but also protects them from heat damage so they stay hydrated and well cared for. The mist also helps to minimise frizz and keep your hair smooth, whilst smelling delicious!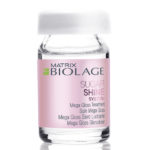 5.
The Mega Gloss Treatment
Keep your locks super shiny with this Mega Gloss Treatment, designed to take your locks from dull to radiant in mere minutes. With hydrating ingredients designed to put moisture back into lacklustre fibres, the treatment is to be used post-conditioning and rinsed off after 5 minutes. The shine lasts for up to 14 washes, for ultra shiny locks that last.

Our team of beauty experts cover everything from makeup to skincare, picking out the most effective products from the best brands and latest trends. Stay up to date on everything beauty with the LOOKFANTASTIC blog, and find all your essentials in one place.