DAZZLE THIS FESTIVE SEASON WITH GORGEOUS SKIN AND DELIGHT YOUR SENSES WITH THE MUST-HAVE PRODUCTS OF THE MOMENT.
Party season is here and what better way to get the festivities started than replenishing your beauty regime with this month's dazzling Beauty Box. Filled with 6 rejuvenating products, indulge your senses and inspire your looks with these must-have beauty essentials.
Party-prep has never looked so good!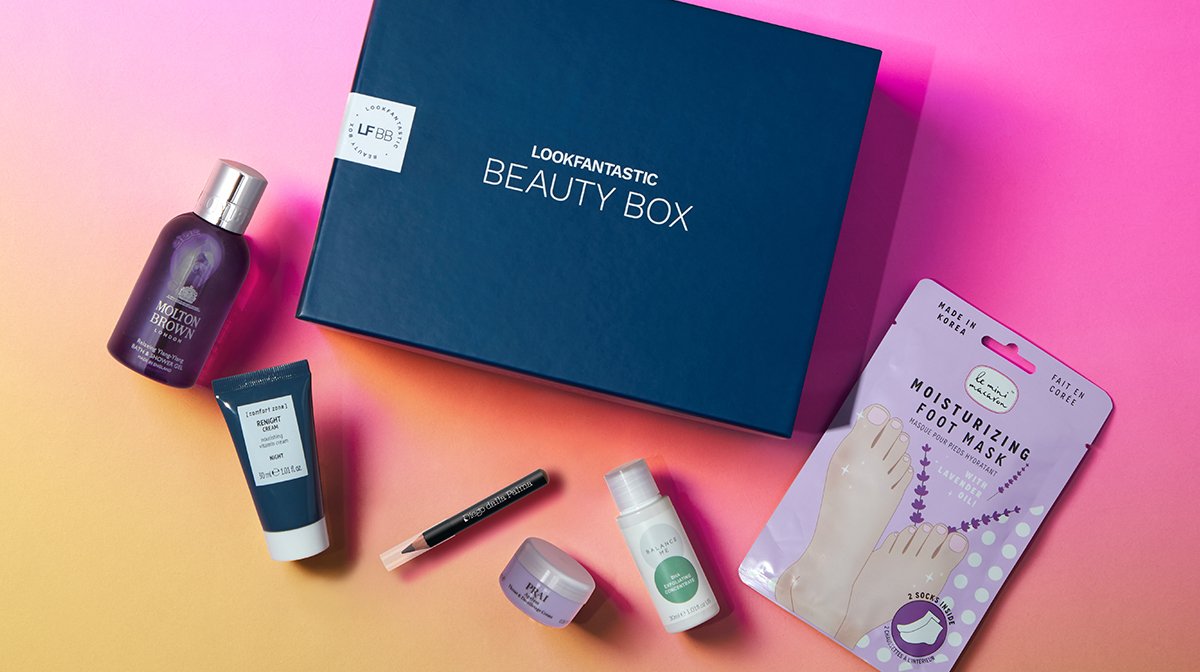 What's in the Box?
skinChemists Rose Quartz Lip Plump
Deliver an instant hit of plumpness to your lips with the Rose Quartz Lip Plump from skinChemists. This glossy lip plump nourishes your lips leaving them softer and healthier looking, with added shine!
Balance Me BHA Exfoliate Concentrate
This fast-acting, leave on chemical formula is ideal for reducing the appearance of blemishes and leaving your skin smoother and more youthful-looking.
Prai Ageless Throat & Decolletage Crème- 10ml
Designed to target anti-ageing, this formula is enriched with a blend of Mulberry and Grapeseed extracts. The mixture helps reduce the appearance of fine lines and wrinkles.
Le Mini Macaron Foot Mask
Indulge in a little self-care for your feet with this nourishing foot mask infused with Lavender Extract.
Comfort Zone Renight Cream- 30ml
Working to soothe and hydrate your complexion whilst you sleep, this cream replenishes your skin's moisture leaving it feeling refreshed and plumper.
Which will you receive?
NCLA Beauty Birthday Cake Cuticle Oil
Blended with Vitamin-E extract and infused with a deliciously sweet Birthday Cake scent, this cuticle oil by NCLA is your saviour for dry, cracked skin around the nails and fingertips.
OR
Molton Brown Relaxing Ylang-Ylang Body Wash- 50ml
Refresh your wash routine with the luxurious Ylang-Ylang and Sweet Vanilla scented body wash from Molton Brown. This wash clears away impurities and nourishes the skin.
OR
Grow Gorgeous Balance Fibre-Sealing Split Ends Treatment 30ml
Turn back time and replenish your hair with this nourishing split end treatment from Grow Gorgeous. This will leave your hair feeling fresh, nourished and radiant.
Why not shop the products from this month's Beauty Box now!
Subscribe now from just £13!
As the Beauty Editor for LOOKFANTASTIC Beauty Box I'm always hunting for a good beauty story, I like to remain ahead of the trends. But aside from this, I'm a keen reader and writer in my spare time. You'll find me with my head in a good book most of the time- Beauty & Fashion related or otherwise! You'll often find me obsessing over the latest tropical-scented body oil or lathering on the coconut moisturiser. As you may have already guessed, I have a natural affinity for all things tropical. Beauty and grooming for me is escapism, a little slice of heaven away from the day-to-day.