Halloween is just around the corner and if you're still stuck for a costume or just need a bit of chilling inspiration then we have you covered. Pablo Rodriguez, Director of Artistry at Illamasqua has created an enticing makeup look to take you deep into the night of fun. If you want to recreate the glamorous masterpiece then follow our step by step guide to help you along the way.  
Get the look
Step 1:
Start by applying the IllamasquaMatte Veil Primer to use as a base. Avoid using any foundation or concealer in case you make any mistakes when you are painting the mask as this will make it harder to correct. Instead, the mask will create a full coverage barrier over the face to distract from any imperfections.Another great primer to use is the Smashbox PhotoFinish Foundation Primer. The product is designed to maximise seamless makeup application, enveloping your visage in a smooth, even veil. If you're concerned about pores or texture, try using the benefit Porefessional face primer to perfect your perfection and prolong makeup wear. 
Step 2:
After applying primer as a base, use the IllamasquaPrecision Gel Liner in shade Infinity and start by outlining the mask. The smooth, water-resistant formula will glide on to effortlessly to deliver intense colour with ultimate staying power and help you to create the shape you desire. If you prefer to use a liquid try the Eyeko Black Magic Liquid Eyeliner. The precision tip brush allows for fool proof application, so you can create thin to thick lines with ease.  
TOP TIP: 'Something that will help you is to research and select a lace design you like. Print off any inspiration and try to copy the design.'  
Step 3:
Once you have the outline, start by creating the main shapes of the mask. Divide the mask into segments and start filling them in. Start with using the IllamasquaLiner Brush to help with the detailed line work. Then take the IllamasquaSmoulder Brush to create the thicker and more rounded areas such as the petals inside the pattern. Keep going from the big parts to the small details until you have created the full mask.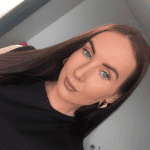 As a beauty fanatic I'm always on the lookout to try and experiment with new products! I've been writing about everything beauty for over 3 years and specialise in skincare so have plenty of tips and tricks to help put blemishes at bay and get your complexion glowing. Whilst being a content writer at LOOKFANTASTIC I've had the opportunity to collaborate with incredible brands including Tom Ford, Dolce & Gabbana and La Mer, taking my understanding of the industry to the next level. In the past I've been a freelance makeup artist and have collaborated with brands including NYX and Revolution Beauty on a personal level, sharing my makeup creations for the world to see. My ride or die brands have to be PIXI, Laura Mercier and Bobbi Brown and I can't live without my trusty MAC Velvet Teddy!