When science meets inspiration...
For a beauty experience that's more than skin-deep, discover the lookfantastic x philosophy Limited Edition Beauty Box - filled with 6 best-selling philosophy products, including America's #1 facial cleanser, and your very own travel bag. Worth £165, this box could be yours for just £49, and it's a fantastic chance to get your hands on some of philosophy's hero products. It's the start to finish skincare routine you didn't know you needed...
Subscribed to the lookfantastic Beauty Box? Click through your early access email* and shop your box for only £44!
Not subscribed yet? Subscribe today and get yours for just £44 when you use code PHILOBB
What's inside the lookfantastic x philosophy Limited Edition Beauty Box?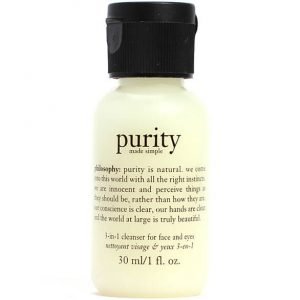 purity made simple: Facial Cleanser (30ml) – worth £5
This 3-in-1 product is America's #1 best-selling facial cleanser, and for good reason. Packed full of super ingredients to gently cleanse away all makeup and impurities, tone, and lightly hydrate.
purity made simple pore extractor exfoliating clay mask (75ml) – worth £28
Enriched with blemish-fighting white clay, salicylic acid and natural exfoliants, philosophy's creamy multi-action mask helps extract blackheads, instantly purifies pores and smooths skin. In only 2 uses, see your blackheads significantly reduce.
turbo booster vitamin C powder (7g) – worth £32
Revive your skins radiance with a 99.8% high potency topical vitamin c powder. Used alone or mixed with your favourite water-based serum, moisturiser or spf, the powerful vitamin c powder helps stimulate collagen production, protecting skin against environmental attack, brightening and evening skin tone.
renewed hope in a jar moisturiser (60ml) – worth £35
An advanced, lightweight, whipped moisturiser, formulated with non-stop skin renewal technology, to help improve skin radiance through continuous hydration. A triple blend of alpha-hydroxy acids helps gently exfoliate the skin, refining textures and pores.
anti-wrinkle miracle worker eye cream (15ml) – worth £35
This clinically tested eye cream targets fine lines and wrinkles, whilst diminishing the look of dark circles and puffiness. Powered by an exclusive high-performance retinoid cream that delivers anti-ageing benefits, to reveal a brighter, younger appearance.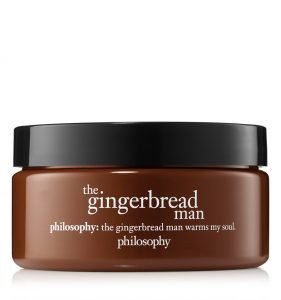 gingerbread man body souffle (240ml) – worth £30
Pamper your skin and indulge your senses with this deliciously festive gingerbread-scented souffle. Luxuriously light-whipped, containing a replenishing shea butter formula which glides onto the skin leaving it feeling silky and supple.
From all the Beauty Box team, we hope you love your lookfantastic x philosophy Limited Edition Beauty Box as much as we do. Don't forget to share your box on social media, tagging @lookfantastic, @philosophyuk and using the hashtag #LFXPHILOSOPHY, to be in with a chance of winning an exclusive philosophy bundle**
You can also find the full range of philosophy products available to shop on lookfantastic.
*Your exclusive subscriber discount of £5 will be sent to your email address.
**See inside the magazine (inside the Limited Edition Box) for more information on the competition.