It is extremely important to wear SPF sunscreen every day as it will help protect your skin and create a barrier against unprotected exposure to UVA/UVB rays which can cause skin damage and premature ageing. By choosing a broad-spectrum sunscreen of SPF30 or more, you can help shield your delicate skin from harmful environmental aggressors. Here, we have rounded up the very best SPF sunscreens for your face which are formulated to work best for those with oily skin.
What to look for with SPF for oily skin
 SPF sunscreens are available in a range of formulations from gels to powders and do not need to be heavy, greasy formulas that block your pores and cause breakouts. If you have oily skin, your sebaceous glands are overactive and produce more sebum, therefore, your skin becomes shiny and oily more easily.
With this in mind, you may be looking for an SPF sunscreen that helps keep your skin looking matte. There are many oil-free SPF sunscreens that are labelled non-comedogenic which means they contain ingredients that won't clog or block the pores on your skin.
The Best SPF Sunscreen For Oily Skin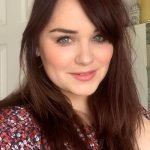 I've been writing about hair and beauty for over 10 years. I am a collector of vintage perfume and my go-to look always includes a bold pink lip! For more, visit https://www.goodgollymisshollie.co.uk