Get ready to transport yourself to haircare paradise. The LOOKFANTASTIC x Moroccanoil Limited Edition Beauty Box has dropped! To celebrate the launch, we're taking a closer a look at the star ingredient: Argan Oil.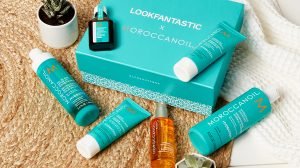 This handy little oil is natures answer to luscious, radiant hair. Below is a brief history of this liquid gold and an overview of just some of the miracle properties that render it the jewel in Moroccanoils haircare-crown.
The story…
Moroccanoil was inspired by the transformative power of Argan Oil. Rich in vitamins, minerals and antioxidants, this age-old beauty secret has many uses, helping to hydrate and soften your hair, face, body and nails.
With its high content of antioxidants, essential fatty acids and Vitamin E, the benefits of Argan Oil naturally help revitalise skin, increase hair's elasticity and consistently restore shine to dull, lifeless hair. It is a powerful antioxidant, UV-protector and free-radical neutraliser.
Argan Oil for hair leaves it beautiful, shiny and nourished with each use. Argan Oil for skin luxuriously hydrates and infuses it with moisture. Argan Oil has also been known to help reduce the appearance of wrinkles.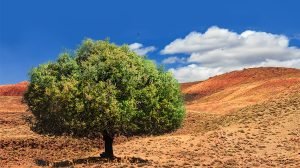 Why Argan Oil for your hair?
Argan trees grow and tenaciously survive in semi-desert areas of the Mediterranean. The deep roots and small leaves of the argan tree allow it to resist arid winds and water loss, resulting in a nut with a unique oil profile.   Rich in tocopherols (Vitamin E), antioxidants and essential fatty acids, Argan Oil is an age-old beauty secret that has many uses, helping to hydrate and soften hair, skin and nails.
By infusing Argan Oil into everything from their iconic Moroccanoil Treatment to shampoos and styling products, Moroccanoil have created a delivery system for these nourishing, reparative components that is as luxurious as it is easy.
Good enough to eat?
The iconic ingredient that inspired the creation of Moroccanoil isn't just a multipurpose beauty product. In the countries it is native to, locals eat it with bread, couscous, salad and more. One important caveat? While cosmetic-grade Argan Oil is produced by cold-pressing argan kernels, its culinary counterpart is made by roasting and grinding the kernels to produce a deep, nutty flavour so please don't get them mixed up!
Moroccanoil began with the simple wish to share the transformative powers of their rejuvenating argan-oil infused formulas and adopted this tradition as the philosophy for the brand. All Moroccanoil products for hair, body and skin are infused with Argan Oil—signature to the brand.
As the Beauty Editor for LOOKFANTASTIC Beauty Box I'm always hunting for a good beauty story, I like to remain ahead of the trends. But aside from this, I'm a keen reader and writer in my spare time. You'll find me with my head in a good book most of the time- Beauty & Fashion related or otherwise! You'll often find me obsessing over the latest tropical-scented body oil or lathering on the coconut moisturiser. As you may have already guessed, I have a natural affinity for all things tropical. Beauty and grooming for me is escapism, a little slice of heaven away from the day-to-day.