For as long as I can remember I have always disliked how thin my hair is. I always get comments from hairdressers about how fine each strand is (even though I have a lot of it), and have always longed for voluminous, thicker locks. I don't think it helps how long my hair is either, as even though I'm sure my hair doesn't shed anymore than the average person, it certainly looks that way when I inspect my hairbrush every morning!
I am therefore constantly on the hunt for hair products which promise denser hair, and I will try any lotions or potions that promote hair growth. Luckily, for Hair Care Awareness Month I've been given the opportunity to try out the latest and greatest products for denser hair, so of course I jumped at the chance!
For my first review I opted for the Kérastase Densifiquerange, a brand which I had never tried before but one that I knew was hugely popular on Lookfantastic, so I was excited to finally try it out.
What Is My Hair Type?
What does the Kérastase Densifique range aim to do?
The Kérastase Densifique Bain Densité and Masque Densité are a shampoo and conditioning masque for fine or thinning hair. The cleansing shampoo is enriched with Stemoxydine®, a molecule for making the hair feel denser, and Hyaluronic Acid that makes the hair fuller and thicker by plumping up each hair fibre. The masque is also formulated with the same ingredients to give a double dose of thickness to the hair! Used together, fine hair will appear fuller, thicker and full of vitality.
Review of the Densifique Shampoo & Conditioning Masque
As a whole I have really enjoyed using the Densifique range. To start with, the packaging was an absolute joy and had a very luxe feel to it - especially the conditioning masque. Though I cannot say that my hair looks or feels denser, it certainly feels much more healthy! I also have coloured hair and was worried that they might make the colour fade quickly; but my concerns were ill-founded. If anything, they actually appear to have sustained the colour extremely well! As soon as I heard that the products contained Hyaluronic Acid I was on board  (it's an absolute miracle product in my skincare routine), and it did make my hair feel wonderfully soft. If you use too much product, it can make your hair feel a little oily hair. In this way, it is a great collection for dry and damaged hair types.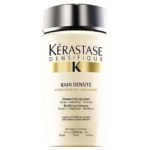 1.
The Kérastase Densifique Shampoo
The shampoo is lovely. It has a very rich and creamy consistency that lathers up well, and the nozzle ensures that you do not use too much. The scent is very mild, and I found that after a single wash my hair felt clean and much denser when wet - it's just a shame this doesn't last through the styling stage though! Overall I did enjoy using the shampoo, and my hair felt healthier and looked much more shiny. However, though it made my hair feel denser in the short term, these results unfortunately disappeared during the conditioning and styling stages. I'd be interested in trying the rest of the range to see if using the whole regime of products delivers the long-term results I'm after.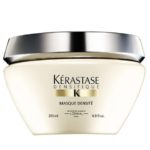 2.
The Kérastase Densifique Masque
I adore this masque! Being in a pot the packaging isn't for everyone but I personally love the option of using exactly the amount I want, whilst also being able to see how much I have left. I used this on my mid lengths and ends and left it on for approximately 5-10 minutes for a really intensive treatment. My hair was left feeling smooth and tangle free, and I could certainly feel the benefits of this when styling, including reduced hair loss.
Overall this is a luxurious masque that delivers on its promise to condition my hair and I could certainly feel the benefits of  the Hyaluronic Acid. However, this being said I do feel as though my hair was a little oilier than usual, and instead of having to wash it every 3 days, I had to reduce this to every 2 days. I would therefore recommend using this once a week to nourish your hair without adding weight.

Our team of beauty experts cover everything from makeup to skincare, picking out the most effective products from the best brands and latest trends. Stay up to date on everything beauty with the LOOKFANTASTIC blog, and find all your essentials in one place.