Radiance and luminosity are the top skincare trends for this season, and nobody nails the glowy visage quite like skinfluencer and presenter, James Atkinson. In preparation for LOOKFANTASTIC's exclusive event on livestream shopping app OOOOO, we caught up with James for an exclusive interview where he reveals his top skincare secrets. Ready to get your glow on? Tune in live to OOOOO's Instagram at 6pm on 5th August to watch the exclusive skincare masterclass. 
What kickstarted your love of skincare?  
Throughout my teenage years, I had severe eczema on my face and body and it felt like no treatments were working. I eventually started doing my own research into skincare and would spend hours every day analysing ingredients and products to figure out which ones would suit my skin. I finally got my eczema under control and honestly felt like a new person. From then on, I developed a real love for skincare and realised the power it holds. When you have a good skincare, you can conquer anything. 
What type of skin do you have?  
My skin type is the definition of 'combination'. It has changed over time, it was once very dry and dehydrated, but now its combination. This means I have dry cheeks, combined with an oily T-zone…oh the joys! 
What three skincare products could you not live without?
1. Avene, The Recovery Cream
You need this in your routine. Full stop. It's a saviour for any time your skin is feeling a little sensitive or dry. Too much sun? Feeling a little hungover? Winter taken a toll on your skin? - this cream is the answer. It's a life saver. 
2. Biossance 100% Squalane Oil  
Even if you aren't a fan of oils, you will love this one. Its a beautiful, lightweight texture, and it can be used everywhere from head-to-toe!
3. La Roche-Posay Anthelios Ultra-Light Invisible Fluid SPF50+  
This is a gorgeously lightweight SPF that will suit quite literally any skin types. Remember to apply this dream cream every, single, day.  
What does your morning skincare routine look like?  
I begin with a lightweight gel cleanser such as the CeraVe Smoothing Cleanser. I then follow up with a hydrating mist (the La Roche Posay Toleriane Ultra 8 Face Mist is my personal favourite). Next, I apply my serums, starting with a Vitamin C rich product such as the SkinCeuticles C E Ferulic Antioxidant Vitamin C Vitamin C Serum, followed by a hydrating serum such as the stunning Vichy Mineral 89 Hyaluronic Hydration Booster. I top off my glowy skin routine with a lightweight gel moisturiser such as the Caudalie Vinosource-Hydra Grape Water Gel Moisturiser, and most importantly, an SPF 50!  
Can you take us through your ideal night time skincare routine? 
In the evening, I double cleanse using the Emma Hardie Moringa Cleansing Balm, followed by a lighter cleanser such as the beautiful Kate Somerville Goat Milk Cleanser. Twice a week, I use a Dr Dennis Gross Alpha Beta Universal Daily Peel. I then use Estee Lauder's Advanced Night Repair Synchronized Multi-Recovery Complex Serum– which is totally worth the hype! I complete my routine with a niacimaide concentrate such as the Zelens Power B Revitalising and Clearing Serum, topped off by a thicker moisturiser – the Medik8 Advanced Night Restore is a dream.  
What's one skincare tip you always follow?  
Wear SPF every single day. I know people sound like a broken record when they say this, but it helps to prevent so many skin problems later down the line. With the lightweight formulas that are now available on the market, there's no excuse to not wear SPF all the time! 
What's the secret to a glowing complexion?  
Not over doing it! The purpose of our skin is to provide a barrier, and that barrier can easily be damaged by using too many products. Keep it simple, know what works for your skin and enjoy the time out of your day that you spend doing your skincare!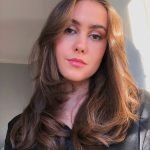 As someone with an affinity for all things beauty, discovering fantastic new products is my not-so-secret obsession. Over the years I've tried and tested a mountains worth of creams, serums and cleansers, finding some of my favourite 'holy-grail' products along the way. However, I'm always on the lookout for more ways to nourish my hair, perfect my dewy base, or enhance my skincare routine. Working as a beauty blogger for over 3 years, I've been lucky enough to collaborate personally with lots of amazing beauty brands including Christian Dior, The Body Shop and Dermalogica. I've used the Dermalogica special cleansing gel religiously since I first got it and their products are some of my ultimate skincare faves. When it comes to cosmetics, NARS Sheer Glow foundation is definitely my go-to - I live for a light, glowy base!