Take centre stage this Pride Month with the best nails in town. Whether you're in need of some design inspo or simply want to try something new, discover the top hot nail trends for Pride!
Release the rainbow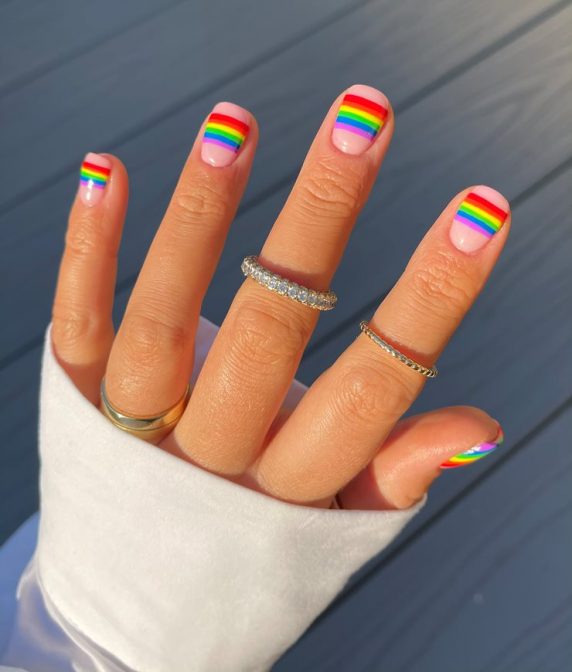 Incorperate the iconic symbol into your design with these colourful rainbow nails. Not only will they stand out but they're super easy to create!
Step 1: Paint the base of your nails a neutral tone to help the colour stand out. We love the essie 6 Ballet Slippers Nail Polish for a highly pigmented glossy finish!
Step 2: Take a variety of colourful nail varnishes one at a time on a small detail brush, this will ensure you get a perfectly neat finish. Paint the stripes across your nail bed and let one colour dry at a time to ensure they don't smudge.
Step 3: Seal in your look with the Barry M Cosmetics All in One Nail Paint for the ultimate glossy finish.
Share the love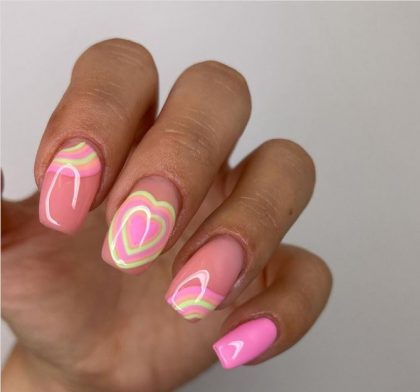 Share the love this Pride with these super cute heart nails. Reminiscing on the 60's wave, these are the perfect design for those that want to keep it simple. What's the key to this look? A neon nail varnish!
Step 1: Start by choosing your base colour, we recommend sticking to a nude to ensure the heart design stands out.
Step 2: Take a small detailer brush and your neon varnishes of your choice! We love the Barry M Cosmetics Hi Vis Nail Paint collection.
Step 3: Take your time to paint your designs on, we recommend starting at the outside of your heart and working your way in for the perfect finish.
Funky florals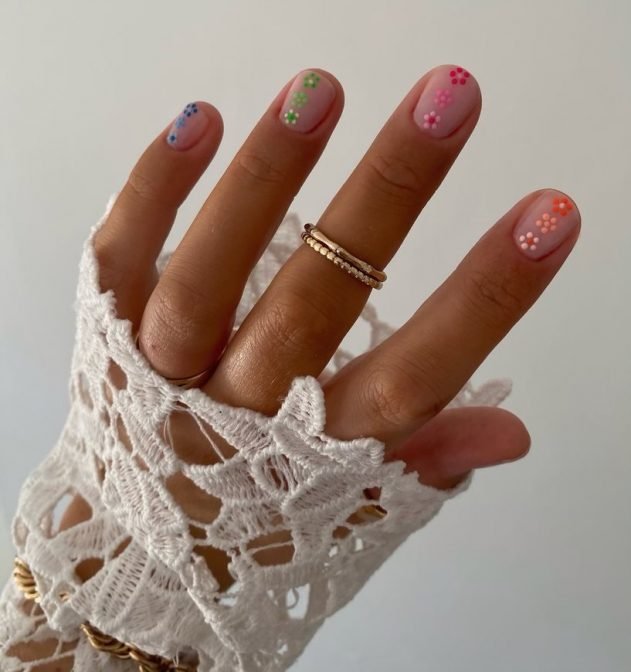 Delicate and dainty with a twist? Check! This super fresh look takes a more subtle approach to Pride and is perfect to tie into summer.
Step 1: Start by picking out a muted pink shade for your base so your design will take centre stage.
Step 2: Choose the colours you want to go for. For this look, you can really branch out with brights or you could switch it up and delve into pastels to keep it super fresh.
Step 3: Again, taking a small detail brush, create flower shapes using dots across your nail bed, and it's as simple as that!
Top tip: Use the smallest size nail brush for more precise results.
Want to create the hottest nails for pride? Discover our range of nail essentials here at LOOKFANTASTIC.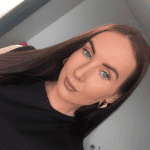 As a beauty fanatic I'm always on the lookout to try and experiment with new products! I've been writing about everything beauty for over 3 years and specialise in skincare so have plenty of tips and tricks to help put blemishes at bay and get your complexion glowing. Whilst being a content writer at LOOKFANTASTIC I've had the opportunity to collaborate with incredible brands including Tom Ford, Dolce & Gabbana and La Mer, taking my understanding of the industry to the next level. In the past I've been a freelance makeup artist and have collaborated with brands including NYX and Revolution Beauty on a personal level, sharing my makeup creations for the world to see. My ride or die brands have to be PIXI, Laura Mercier and Bobbi Brown and I can't live without my trusty MAC Velvet Teddy!