Beachy waves are the enviable locks we all long for, not only during the summer months but all year round. When perfected, these carefree, laid back locks look effortless however, the art of perfecting them takes a little more effort than sunbathing on the sand. Love the beach wave look, but aren't sure how to achieve it? That's where we can help as we've asked a professional hairdresser to share her simple 7 step tutorial.
Meet The Expert: Ella from hairbyella_darcy
Ella, better known on Instagram as hairbyella_darcy is a hairdresser and balayage specialist who shares hair styling tips and tricks through video tutorials on Instagram and Tik Tok. Here, Ella will be introducing her easy to follow tutorial on how to achieve beautiful beach waves with hair straighteners.
7 Steps to perfect beach waves
Protect your hair with heat defence spray
Add some texture to each section
Section your hair with clips and add texture
Start with the back sections of your hair
Curl the front sections of your hair
Ruffle your curls for a cool, undone beach wave look
Use a backcombing brush and hairspray
Step 1: Protect your hair with heat defence spray
Before beginning any styling routine, it's important to protect your hair from heat and environmental aggressors that can damage strands over time, resulting in split ends and dullness. Keep your locks luscious and lively with a heat protectant spray that will guard against damage.
Defence Anti-Pollution Leave-in Spray
This all in one leave-in Spray shields against atmospheric pollution, heat damage and colour fading aggressors, perfect for keeping your hair hydrated and healthy when creating your beach waves. The lightweight mist comes with scalp nourishing benefits and strand strengthening properties to completely nourish your locks. Spray onto towel-dried hair and comb through for all-round protection.
Bumble and bumble Hairdresser's Invisible Oil Heat/UV Protective Primer
Formulated with conditioning ingredients to tame, soften and smooth, this Protective Primer by haircare experts Bumble and Bumble forms a defensive barrier that prevents breakage and dehydration caused by heat damage. Simply spray all over hair before applying heat and expect to see shinier, sleeker strands.
Step 2: Add some texture to each section
The perfect sea-swept waved hair requires texture and body to hold the volume and curves. Add volume and thicken your locks before styling to create a more authentic look with a sea salt spray.
Herbivore Sea Mist Coconut and Sea Salt Beach Wave Hair Mist
Recreate that wavy, windswept surfer style with this salt and aloe vera blend that will mirror the effects of seawater for a beautiful beachy look. The spray helps to add volume, texture and bounce whilst enhancing moisture and manageability. Whether you have fine hair or thick locks, the spray will add body to thicken your hair. For best results spray the Surf Spray evenly onto damp hair after washing, then style your beach waves.
label.m Sea Salt Spray
This professionally developed formula adds a twist to your tousled style with a modern matte finish. The label.m Sea Salt Spray will thicken the hair, prepping it for styling and gives extra protection against heat styling as well as UV rays; perfect if you're planning on wearing your beach waves for a day at the beach!
Step 3: Section your hair with clips and add texture
Now that you've added heat protection and texturising spray to your hair, Ella recommends working with one side of your hair at a time. Use crocodile clips to section out each layer to work with.
Step 4: Start with the back sections of your hair
Ella recommends starting at the back of your head as it is a lot easier to manage than working from the front. To create your waves, twist your hair around your hair straighteners at 180 degrees and pull the hair through gently. Stop just before you get to the tip of your hair to ensure the end part of your hair forms a little bit straighter.
Repeat the same step around the rest of your sectioned hair. Don't be tempted to brush any of your beach waves out just yet!
Step 5: Curl the front sections of your hair
Ella recommends dividing the front sections of your hair into slightly smaller sections as it will help to create a more defined curl. To achieve this, pull all of your hair through the straighteners instead of leaving the ends straight as you did previously.
Repeat the previous steps to cover the rest of your hair. Once you've curled all of your hair, run the straighteners over the ends of your hair to straighten them out a little.
Step 6: Ruffle your curls for a cool, undone beach wave look
Now that you've finished heat styling, use your fingers to create a truly tousled look. If you wanted a more uniform, precise look, then a hairbrush would be your best tool, but for a beachy relaxed style that looks like you've just stepped off the beach...rub your fingers through your hair to ruffle up your curls. If you feel your hair could do with a few more curls, you can go back over any areas you feel aren't quite as defined as you'd like.
Step 7: Use a backcombing brush and hairspray
Set your style with a backcombing brush and some hairspray. Lightly backcomb underneath the top sections of your hair to add volume. Finish off your look with a finishing touch of the Moroccanoil Treatment to tame any frizz or fly-aways and add shine, then lock your hair into place with hairspray that will hold in your beach waves in even the strongest ocean breeze.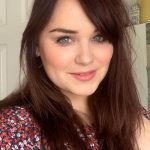 I've been writing about hair and beauty for over 10 years. I am a collector of vintage perfume and my go-to look always includes a bold pink lip! For more, visit https://www.goodgollymisshollie.co.uk