Although we understand that not being able to get to your usual brow technician is possibly more painful than most breakups, it's time to take matters into your own hands and become the ultimate personal MUA you've always wanted! Whether you're looking to freshen up your look for an important video call, a socially distanced meet up, or you're just aching for an eyebrow tint, we have the quick and easy makeup products and tips on how to use them to create a professional finish that will rival your usual treatment. From lash lifts, to faking that sun-kissed summer glow, we've got you covered.
Tint
Maybelline Tattoo Brow Peel Off Gel Tint
Not ready to take the plunge and try a permanent at home tint? We don't blame you. Start of risk free with Maybelline's Tattoo Brow Peel Off Gel, a semi-permanent brow gel that will leave your eyebrows tinted and looking naturally fuller for up to 3 days. The Tint gives a professional looking fuller, more sculpted look that easily peels off when you're ready to reapply.
How to apply:
Step 1: Apply a thick layer to clean eyebrows in your desired brow shape. If you make a mistake simply wipe away with a cotton bud or tissue soaked in makeup remover.
Step 2: Leave the product to set for at least 20 minutes. For super long wear leave for up to 2 hours or even overnight.
Step 3: Use your fingers to peel the product from your eyebrows. Don't worry the formula isn't sticky so won't pull out any hairs.
Laminate
NYX Professional Makeup Control Freak Clear Eye Brow Gel
If you prefer a more groomed, laminated look or just need to lock your unruly brows into shape for the day try the NYX Professional Makeup Control Freak. Achieve trendy bushy brows by brushing your eyebrow hairs upwards for the ultimate pointed arches. For a completed brow look follow the below steps:
Step 1: Apply colour first with either the Maybelline Tattoo Brow or NYX Professional Makeup Micro Brow Pencil.
Step 2: Lock your brows' colour and shape in place with the clear, non-sticky formula. The Gel glides effortlessly onto brows and works well over powder, pencil or tints to seal the deal!
Step 3: Brush upwards for a super laminated look or follow the natural curve of your brow for a sleek, tamed and groomed brow finish.
Step 4: Before applying mascara, the NYX Professional Makeup Control Freak Eyebrow Gel can also be used as a clear mascara that defines, separates and enhances the natural curl of lashes. Wear alone on tinted eyelashes or use as a primer to layer mascara on top of.
Lift
Maybelline The Falsies Instant Lash Lift Look Lengthening Volumising Mascara
Longing for your LVL or Salon Lash Lift? Us too, but don't worry we've got you covered! Get an instant lift look with the UK's Number 1 Mascara Brand; Falsies Lash Lift delivers dramatic volume and long, lifted lashes to rival any permanent treatment. The double curved lifting brush and fibre-infused formula grab lashes at the root to lift, thicken, and lengthen with no clumps, smears, or flakes, just volume that lasts all day. For best results follow the below expert advised technique:
Step 1: Hold the brush against your lashes and sweep from root to tip moving the wand from side to side slightly to fully coat each lash all round.
Step 2: Repeat until you achieve your desired thickness and length (try not to let the product dry between each coat for the best results.
Conceal
Maybelline Instant Anti Age Eraser Concealer
Just because we aren't going out, that doesn't mean we don't want our skin looking flawless at all times. Maybelline's Instant Eraser Concealer covers dark circles, blemishes and redness so you can feel confident in your skin even at home and be ready for those last minute meetings. The concealer comes with an anti-microbial cushion tip applicator, which means you can touch up your makeup at any time without touching your face.
How to apply:
Step 1: Twist the collar of the Micro-Corrector Applicator in the direction of the arrows until formula is visible on the sponge (it may take some turns on first use).
Step 2: Using the applicator, apply the concealer directly to the under-eye area, blending it in with outward motions.
Step 3: For extreme dark circles, apply the Neutralizer shade under your concealer shade for added coverage.
Step 4: To add a luminous touch, apply the Brightener shade to the inner corner of eyes, cheek and brow bones and, bridge of the nose.
Add some colour
L'Oréal Paris Lifes a Peach Blush Powder
Add a little life to your look with a touch of colour using the L'Oréal Paris Lifes a Peach Blush Powder. The warm, buildable powder formula is flattering on all skin types to give a healthier pinch of peach to the cheeks.
How to apply:
Step 1: Swirl the brush in product and be sure to tap off any excess before applying to your face to keep it natural and subtle.
Step 2: Apply by following the cheekbone up to the temple, lightly sweeping the brush across the skin. Make sure to follow your face shape for the best finish.
Step 3: Use a brush or damp makeup sponge to blend your blush into your face.
Step 4: Even out. If you accidentally pile on the blush, don't rush to the makeup remover! Instead, tone down a bold blush by dabbing a bit of sheer liquid foundation over it using a wet makeup sponge to evenly distribute.
The multi-purpose blush can also be used on the centre of your lips or eyelids - your face is your blusher oyster!
Top up your tan
L'Oréal Paris Back to Bronze Matte Bronzing Powder
No need to skip on your summer tan. Fake that 'just been on holiday' bronzed glow with the L'Oréal Paris Back to Bronze Matte Bronzing Powder. The lightweight and long wearing formula gives a light sun-kissed look that pairs with the Life's a Peach Blush for the ultimate, healthy summer glow! Either apply a thin layer all over for a golden glow, or for a more contoured look follow the below steps:
Step 1: Swirl the brush in product and be sure to tap off any excess before applying to your face to avoid over powering your look.
Step 2: Apply under the cheekbones, along the jawline, down the sides of the nose and around the hairline for a contoured bronzed look.
Step 3: Blend in well with a makeup sponge or brush.
Highlight
L'Oréal Paris Glow Mon Amour Liquid Highlighting Drops
Don't let being inside dull your sparkle, find a reason to get up and glow everyday! Illuminate your complexion with the L'Oréal Paris Glow Mon Amour Liquid Highlighting Drops; a high-pigmented formula with a lightweight, fluid texture. Blending seamlessly onto skin, this highlighter gives a natural-looking glowing finish.
How to apply:
Apply to your cheekbones, brow bones and bridge of the nose to give add extra definition to your face.
Mix with your moisturiser or foundation for a dewy, glowy, all over base.
Ace your base
L'Oréal Paris Infallible 24hr Freshwear Liquid Foundation
Chanel the attitude we all need this year, the L'Oréal Paris Infallible Foundation, a no compromise base for the ultimate resistance. The innovative oxygen technology gives a lightweight feel, whilst the ultra- stretchable formula ensures full coverage application, meaning a little goes a long way. Water-proof, transfer-proof and with an up to 24 hour hold, this foundation will stick with you no matter what your day holds. How to apply:
Step 1: A clear canvas; start with a well cleaned, toned and moisturised face.Step 2: For best results prime the skin with the Infallible Primer Shot that matches your main skin concern.Step 3: Apply your Infallible 24hr Freshwear Foundation using a makeup sponge or brush, starting from the T-zone and blending out toward the edge of the face. This will create an even, flawless base.
Fill and plump
NYX Professional Makeup Suede Matte Lip Liner & NYX Professional Makeup Filler Instinct Plumping Lip Polish
Whether you're used to regular lip fillers and are starting to feel a little deflated in more ways than one, or are just looking to brighten up your look, you can create fuller looking lips with this Liner and Plumping duo by NYX. The Liner adds highly pigmented definition, whilst the Polish adds gloss, shine and plumping power (expect a slight tingle). The plumping agents within the gloss and the cocktail of hydrating and conditioning ingredients work in synergy to help minimise the look of lines while adding glossy radiance to your pout. How to get the look:
Step 1: With your Lip Liner, draw a smooth line where the lips meet the skin.
Step 2: Apply the plumping polish effortlessly with the slightly arched applicator that hugs the lip contour. Either wear alone or over your favourite lipstick and enjoy its glowy, feather-resistant finish.
Lock in down
NYX Professional Makeup Setting Spray
After spending all that time creating a salon worthy look you'll want it to stick around! Lock in your masterpiece with the NYX Professional Makeup Setting Spray. Coming in a choice of 3 finishes, mix up your looks for either a matte, radiant or dewy complexion. Simply shake the bottle and spray over your face from 6 inches distance as the last step in your make up routine and it will keep everything looking as fresh and immaculate as when you applied it, eight hours later.
Shop the whole look on lookfantastic here.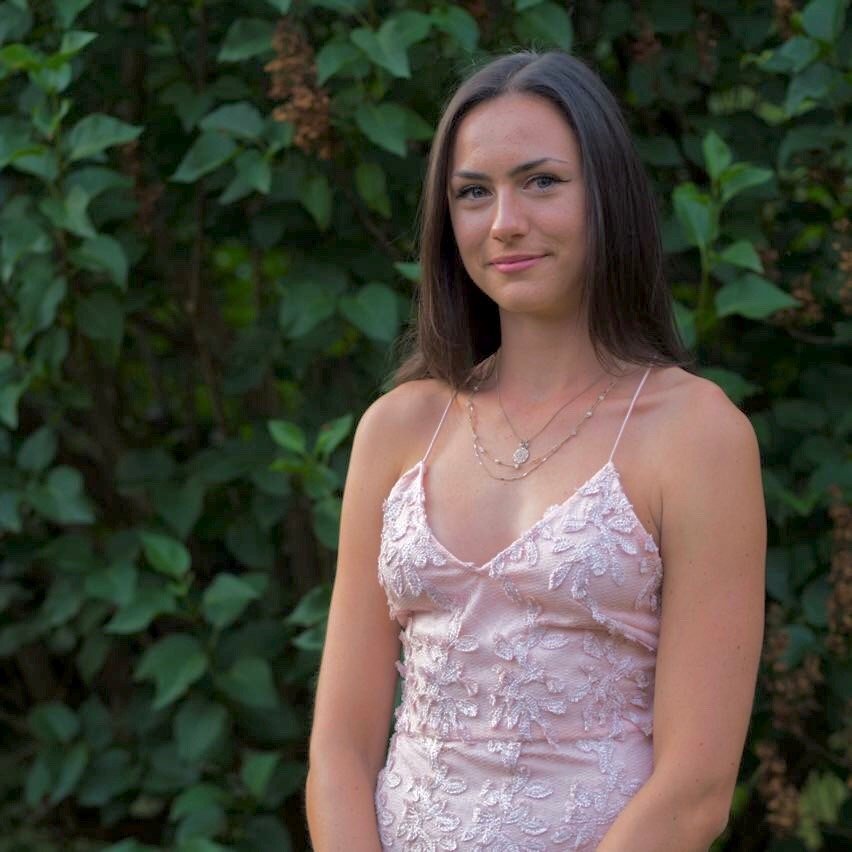 Working with brands at LOOKFANTASTIC for over two years I have developed my knowledge of all things beauty from key skincare concerns to niche makeup tricks and haircare hacks. I have a major passion for finding effective solutions that are easily accessible to everyone so that we can all achieve our best, glowing complexion.