Makeup is magical. It can transform how you feel in just a sweep of a brush and we know that the natural makeup look is always on trend. However, you don't have to pile on the layers of makeup to make a huge difference to how you look and feel. Little touches can make an enormous difference. If you want to enhance your natural beauty, these are our 3 essential steps for makeup that will make you feel incredible.
Makeup for Natural Beauty
STEP 1.
Enhance, don't conceal. Rather than trying to cover up imperfections, use a lighter option like a CC Cream.
These clever creams sit halfway between makeup and skincare, working to give you an even, radiant skintone without heavy coverage. They work to reduce redness and brighten sallow skin so you can look naturally gorgeous. Our favourites have added SPF that helps to protect your skin from sun damage so it can remain healthy and radiant.
STEP 2.
Add definition. One of the best ways to subtly enhance your natural beauty is by adding soft shadows to define your facial features. A soft sweep of a contour powder or cream under the cheekbones, along the jawline and over the eyelids will bring out your features without looking too made up.
Just apply lightly and build up as you need; the secret is always to blend and then blend some more! Look for slightly ashy, cooler shades that mimic the tones of natural shadows on your face.
STEP 3.
Open up your eyes. Most of us would say that mascara is the one makeup product that we couldn't live without, thanks to how it helps to open up and define the eyes.
Look for a mascara formula which nourishes the lashes, to help your lashes look naturally full. To get the most natural results, opt for a brown shade instead of black, and apply mascara by wiggling the brush from the base of your lashes to the top. This will help to separate lashes without clumping for a natural finish.
We're celebrating feeling gorgeous in our #LFBLOOMS campaign this April, so why not treat yourself to something that will make you feel great?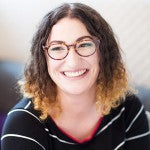 Major fan of scented candles, Make Up brushes and Highlighter. I'm always on the hunt for those Holy Grail products and my dressing table is covered in more beauty products than I like to admit. As an adopted Northerner originally from Brighton, I spend most my days wondering what all this rain is about. My hair isn't grateful for the move. Currently loving:
NIOD Photography Fluid