Retinol based skincare has garnered a lot of popularity in recent years and it's no surprise as to why. Retinol skincare has many complexion-enhancing benefits including effective anti-ageing properties, as well as the ability to resurface the texture of the skin by fading acne scarring and banishing blemishes.
Retinol is a retinoid that is derived from Vitamin A and it works by stimulating collagen production and accelerating how fast your skin cells replenish. If you're curious to learn more about retinol, be sure to check out our guide, what is retinol? Here, we'll be discussing how to apply retinol-based skincare properly to achieve the best results for your skin.
How Often Should You Apply Retinol?
Retinol is a potent ingredient that can be quite drying on the skin, if you have particularly sensitive skin, it is recommended to do a small patch test first to see how your skin reacts to the active ingredients.
If you're brand new to using retinol, begin by choosing a retinol-based product that contains a lower concentration such as 0.25% or 0.3%. Once your skin has become accustomed to using retinol-based skincare, you can gradually increase the potency.
Once you've built up your tolerance to retinol, use your retinol-based skincare every other night. If your skin becomes dry or particularly irritated cut back to using retinol once a week.
How Long Does It Take To See The Effects Of Retinol?
It is recommended that you use your retinol products consistently to begin seeing visible results such as a smoother skin texture and the softening of fine lines and wrinkles.
Can Retinol Be Used For All Skin Types?
Retinol is extremely beneficial or most skin types, however, we recommend being cautious and diligent if you have sensitive skin. We also recommend speaking to a dermatologist if you have eczema, rosacea or psoriasis and you want to use retinol in the affected areas.
How to Apply Retinol - A Step By Step Guide
We recommend using retinol products as part of your evening skincare routine, but be sure to use an SPF in the morning following using retinol as it can make your skin more sensitive to the sun.
Step 1: Cleanse your skin & apply eye cream
Use your favourite cleanser to thoroughly wash your face. Once you've cleansed and patted your face dry, apply an eye cream. By applying eye cream, you'll be helping to protect the delicate skin around your eye area. Before you move onto the next step, ensure your skin is thoroughly dry.
Step 2: Begin to apply your retinol
Apply a pea-size amount of your chosen retinol serum or moisturiser to your fingers and apply it to your skin gently.
Step 3: Complete your retinol routine with a moisturiser
Once you have applied your retinol serum, you can complete your retinol routine with a hydrating moisturiser.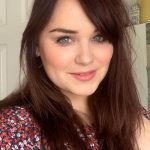 I've been writing about hair and beauty for over 10 years. I am a collector of vintage perfume and my go-to look always includes a bold pink lip! For more, visit https://www.goodgollymisshollie.co.uk