Victoria Beckham is always on our beauty radar. Last week we talked about her skincare secret from Lancer and this week there has been more exciting news with the announcement she is releasing a makeup collection with Estée Lauder this September. We are so excited to see the collection, but September is a long way away yet. If you are as impatient as us, we have put together a tutorial so you can get her signature makeup look without the wait!
A smoky eye is a beauty classic and Victoria Beckham always shows us how it should be done. A smoky eye has become her signature makeup look, with her rocking it on the red carpet and for her everyday style. It always looks incredible on her, with the perfect mix of grunge and chic to complement her glowing skin. If you want to get her wearable smoky eye, just follow our simple steps.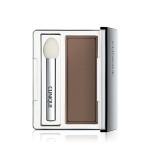 1.
Apply Eyeshadow Top and Bottom
Victoria tends to go for a brown or ashy black shadow for her smoky eye. We love the deep brown of
Clinique's 'French Roast'
for a wearable look. For her smoky eye, Victoria applies her shadow almost like eyeliner, winging it up at the outer corners of her eyes and sweeping it along her lower lash line as well as over the lid. For the best results, try doing your smoky eye before the rest of your makeup, so that you can clean up any shadow fallout without ruining your base.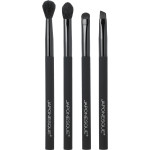 2.
Blend Everything Well
Victoria's smoky eye has that gorgeous 'lived in' look that comes from smoothing out all the edges so it almost fades out. The secret to getting that straight away is to first apply shadow with a precision brush to where it needs to be. Then, go in with a clean, fluffy brush to soften the edges and blend out the colour. If you are in need of some brilliant eyeshadow brushes,
Japonesque
offer professional quality results. The sleek black packaging is oh so Victoria, too!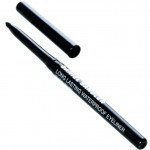 3.
Tightline Your Eyes
A big part of Victoria's signature look comes from the way she applies her eyeliner. Tightlining is where you apply liner to the waterline instead of (or as well as) the lash line. It adds extra intensity to a smoky eye and you will always spot the tightlining in Victoria's looks. For best results, use a waterproof liner and look for a mechanical pencil rather than wooden, to make sure you don't have anything that could scratch your eyes. The 
Daniel Sandler Black Velvet Waterproof Eyeliner
is ideal.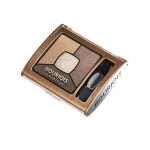 4.
Add Dimension
To stop her eye makeup looking too heavy and flat, Victoria tends to add a touch of light and shimmer. With a fluffy brush, sweep a touch of golden (or silver if you prefer) pigment onto the centre of the eyelid on top of your brown colour.  You can also add a tiny touch to the inner eye to highlight and brighten. The 
Bourjois Smoky Stories Palette
in 'Upside Brown' has a gorgeous selection of shades. The secret to Victoria's look is keeping the shimmer as a sheer wash over your darker shade, to add dimension without removing the intensity.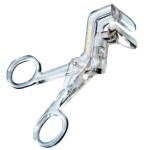 5.
Get Curling
Victoria always keeps her smoky eye looking fresh by making sure she counteracts the heavy shades with wide, open lashes. It might seem like a simple touch, but curling your lashes can make a huge difference. Before applying your mascara, gently squeeze your lashes with an eyelash curler like the 
Tweezerman Super Curl
. It will open up the lashes and help keep your curl when you apply your mascara.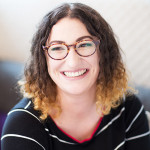 Major fan of scented candles, Make Up brushes and Highlighter. I'm always on the hunt for those Holy Grail products and my dressing table is covered in more beauty products than I like to admit. As an adopted Northerner originally from Brighton, I spend most my days wondering what all this rain is about. My hair isn't grateful for the move. Currently loving:
NIOD Photography Fluid