Whether you're a lover of fresh and fruity scents, or dark and decadent fragrances, there's something to suit every perfume connoisseur at Floral Street. Watch on as our Beauty Team try out a selection of their best-selling fragrances, and see who really knows their notes in the 'guess the scent' test.
What's inside the Discovery Set?
For just £14, you can test out eight of Floral Street's best-selling fragrances, giving you the chance to 'spray before you pay' and get the full size versions. But what can you expect from the Discovery Set? Read on to discover what's inside.
Perfect for floral fanatics, this fragrance is both delicate and refreshing. A blend of jasmine, juniper berry and sweet apple blossom, this beautiful bouquet of scents hits all the right notes.
Intoxicate your senses with this wild scent. A fragrant blend of black cherry, black violet accord and black leather, this oriental scent redefines floral fragrances as you know them.
A bright, tangy and sweet scent, this electric fragrance is sure to awaken your senses. Top notes of rhubarb combine with a heart of jasmine sambac for a floral-fruity blend, evocative of warm sunny skies and fresh, sandy beaches.
Wake yourself up with this gourmand, espresso bean-infused scent. A rich blend of soothing ylang ylang, patchouli and cocoa beans, this scent is ideal for lovers of aromatic fragrances.
A vibrant, sunny fragrance, this coconut-infused scent has a smooth opening, whilst black pepper notes gives it a spicy touch. This refreshing perfume is perfect for free-spirited types.
Captivating the senses, this smoky, rich scent blends a bouquet of wild geranium, midnight violet and damask rose absolute. A dark and decadent scent, this blend is the perfect fragrance for a glamourous night out.
Light, fruity and deliciously sweet, this unforgettable scent is a bestseller for a reason. Infused with a sugary base of cotton candy, combined with top notes of lemon and pink guava, this fragrance is the top choice for sweet scent lovers. What's more? The 20% oil concentration in the formula makes for a long-lasting fragrance, intensified by the warmth of your skin throughout the day.
A warm, exotic take on a conventional vanilla fragrance, the creamy vanilla bean base offers a touch of sweetness. Combined with notes of lemon and jasmine, this vegan, cruelty-free fragrance is a top choice for a cocktail party.
Discover more from Floral Street
Inspired by Van Gough's iconic sunflowers, this sumptuous citrus blend is bursting with fruity top notes of bergamot, mandarin and passion fruit. Topped up with a sparkling touch of Bellini accord, this zesty fragrance is ideal for lovers of refreshing scents.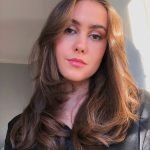 As someone with an affinity for all things beauty, discovering fantastic new products is my not-so-secret obsession. Over the years I've tried and tested a mountains worth of creams, serums and cleansers, finding some of my favourite 'holy-grail' products along the way. However, I'm always on the lookout for more ways to nourish my hair, perfect my dewy base, or enhance my skincare routine. Working as a beauty blogger for over 3 years, I've been lucky enough to collaborate personally with lots of amazing beauty brands including Christian Dior, The Body Shop and Dermalogica. I've used the Dermalogica special cleansing gel religiously since I first got it and their products are some of my ultimate skincare faves. When it comes to cosmetics, NARS Sheer Glow foundation is definitely my go-to - I live for a light, glowy base!