Chia Seeds have become a craze in the health and beauty world, and it's little wonder why. These little seeds are packed full of countless vitamins and minerals, all of which contribute to great skin, hair and bodies.
Originating from South America, Chia Seeds were a major part of both the Aztec and Mayan diets. Chia even translates to Strength in the ancient Mayan language, and we understand why. They pack a huge punch in helping to balance our overall health and well-being. Nowadays, they are fast becoming an essential ingredient in holistic and healthy cooking, and have popped up in recipes from Deliciously Ella to Clean Eating Alice.
What are the Skincare Benefits?
A single tablespoon of Chia Seeds actually contains a higher content of Omega-3than fish, more antioxidantsthan berries, and more calcium than a small glass of milk. Gram for gram, they are packed with a ridiculously high amount of nutrients guaranteed to give you a glowing complexion.
Our Beauty Ambassador Clean Eating Alice has prepared a recipe containing Chia Seeds for you Lookfantastic girls to get radiant skin, hair and nails in no time at all. Her book, The Body Bible is out on the 19th May and is a great way to kick-start your clean eating lifestyle! Her recipe below is a great way to satisfy your sweet tooth, whilst also ensuring you get plenty of vitamins and minerals.
Grilled Cinnamon Banana with Yoghurt, Pomegranate and Chia Seeds
Ingredients
170g of Non-Fat Greek Yoghurt, Sprinkle of Cinnamon, 1 Banana, 10g of Chia Seeds, 50g Pomegranate Seeds, Coconut Oil (for cooking)
Method
Pour the Yoghurt into a bowl.
Slice the Banana and sprinkle with the Cinnamon
Gently and slowly heat the Coconut Oil in a frying pan and then add the banana.
Flip and cook the banana on the other side once it begins to brown. Then place on top of the yoghurt.
Sprinkle over the Pomegranate Seeds.
Grind the Chia Seeds slightly so they are a little smaller and then sprinkle on top.
When applied directly to the skin in the form of oils or creams, Chia Seeds possess great anti-inflammatory abilities. This is due to their high content of Omega 6, which helps to repair damaged tissue, balance moisture levels and soothe irritated and delicate skin. The seeds' antioxidant properties work to regenerate the skin by slowing down its ageing process and reducing the appearance of wrinkles and fine lines.  Their high content of protein also helps to keep our cells in great condition by repairing damage and keeping them nourished.
Our Favourite Chia Seed Beauty Products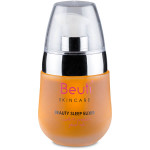 1.
Beuti Sleep Elixir Facial
This facial oil is reportedly loved by both the Duchess of Cambridge and Emma Watson, and there is little wonder why. This little bottle is packed full of skincare ingredients that will make you glow glow glow. Chia Seed Oil works to prevent breakouts, whilst helping to even-out skin tone, so your complexion appears fresh and radiant. Made from 100% natural ingredients, with 98% of oils derived from organic origin, this elixir is perfect for popping on at night, to awake with youthful and refreshed skin.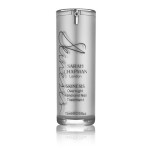 2.
Sarah Chapman Overnight Hand and Nail Treatment
It's not just the skin on your face that you need to take care of! Your hands are one of the first areas to show signs of ageing, so make sure to protect and nourish yours with this treatment from Sarah Chapman. Infused with Chia Seed Oil, it works to infuse your skin with hydration and keep it moisturised for longer. What is unique about this hand and nail cream is that it is packaged in an airless pump, which helps to protect the high levels of vitamins and antioxidants.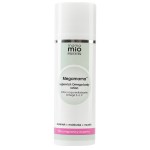 3.
Mama Mio Super-Rich Omega Body Lotion
Don't be fooled and think that this brand is only for expecting and new mamas'. This cream is great to use on all skin types, whether you are pregnant or not. Enriched with Chia Seed Oil to nourish and hydrate the skin, this lotion deeply moisturises to leave skin radiant and healthy. We love that it is free from parabens, synthetic fragrance and colourants, and phthalates; making it great for even the most sensitive of skin.

Our team of beauty experts cover everything from makeup to skincare, picking out the most effective products from the best brands and latest trends. Stay up to date on everything beauty with the LOOKFANTASTIC blog, and find all your essentials in one place.