Let's be honest, everyone's after shinier, softer and healthier looking hair. Although the key to long-lasting hair strength comes from a careful routine filled with Olaplex and deep conditioning masks with less chemical and thermal manipulation, some of us struggle to resist the fun of hair dye and bleach. If you're looking to boost your natural shine or polish off your new do, a shine spray is a quick and easy way to make your hair look silkier. What's more, the best shine sprays aren't filled with suffocating silicones any more, they're now infused with hair-loving ingredients to nourish your locks.
More than just a quick fix, the best hair shine sprays not only make your hair look shinier in the short term, they also strengthen weak strands to give you stronger hair in the long term. They can even provide you with protection against heat and chemical damage, safeguarding your delicate strands so you can style worry-free.
If you're after the best hair shine spray for you, look no further...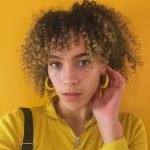 As a haircare obsessive, I'm always on the lookout for new products and methods that will define my crown. I can never stick with a hairstyle for too long, and I love to pair minimal makeup with a bold lip. I specialise in haircare, with a mission to make all hair types and textures look and feel fantastic. If you're after a new routine or product – I'm your girl, I've tried every haircare challenge and all the curl creams I can get my hands on. I couldn't live without my wash-and-go routine, and I follow the Curly Girl Method religiously. Unable to find my perfect salon, I've always cut, braided and dyed my own hair, working as a freelance hairdresser since 2016. Although I'm a long-time fanatic, I've been writing about beauty since 2019, working with haircare specialists from Cantu, Boucleme and Mielle Organics to uncover the best tricks and tips. Felicia Leatherwood is my haircare guru, and Scary Spice is my all-time icon.