Everyone is striving for that insta-approved smile, but with so many toothbrushes on the market, how do we know what works best for us? We caught up with renowned Cosmetic Dental Surgeon Dr Nina Bal who told us everything we need to know about FOREO's ISSA Electric Sonic Toothbrush, and explained how this new innovation in toothcare can take our smiles to a new level!  
How quickly do you notice a difference in your teeth/oral health when using the ISSA 3?
Within a few days! Plaque takes 12 hours to build up in the mouth, so you can quickly tell if it has been effectively removed or not. 
What are some of the reasons as to why this is the best toothbrush on the market? 
There are lots of reasons why the ISSA is the best out there, such as:
This brush acts as a 4 in 1 mouth solution, cleaning not just your teeth, but your gums, cheeks and your tongue
The ISSA offers 16 different speed options so you can tailor it to what suits you perfectly for a bespoke cleaning experience
This brush is one of the most hygienic options on the market because it is made up of bacteria resistant silicone
It's much more environmentally friendly than manual toothbrushes as it lasts 1 year! 
Why is a silicone toothbrush better for your oral hygiene? 
A silicone toothbrush is generally much more hygienic! They are much better at preventing bacteria build up, yet are a lot more gentle than other electric toothbrushes that can easily damage gums and enamel. 
What are the benefits of a toothbrush that produces 11,000 T-sonic pulsations per minute? 
The main benefit is that it has an incredible effectiveness that no other manual toothbrush could possibly replicate! Plaque adheres very quickly to the enamel and only a sonic pulsating movement like that of an ISSA toothbrush can remove it efficiently. Using the ISSA is the closest you can get to a professional ultrasonic scaler done at the surgery. 
What are some of the common mistakes consumers make when brushing their teeth? 
One really common mistake people make is brushing too hard and putting too much pressure on both teeth and gums which eventually leads to gum recession. Another key mistake is simply not spending enough time brushing our teeth! People often get lazy with brushing, but it is essential to ensure you brush for at least 2 minutes twice a day for healthy teeth. 
What are the benefits of a 4-in-1 toothbrush? 
A 4-in-1 toothbrush is great because it simplifies your oral hygiene routine and makes it much more effective overall. Plus, by using only one device, it means you have fewer to clean! 
What are your top 5 tips to achieving the healthiest clean for your teeth/cheeks/gum/tongue? 
My top tips for a healthy mouth and a Hollywood smile are:
Brush your teeth twice a day (ideally 3 times ) 
Scrape your tongue at least every morning  
Make sure you clean the gingival margin (which is where gums start). Ensure you do this gently to avoid bleeding or receding gums.
Avoid fizzy drinks and sugar as much as possible. 
Wait 20 mins after you eat anything to brush your teeth. 
Why should we use a toothbrush with T-Sonic™ tech versus a normal toothbrush? 
There are endless reasons why a sonic toothbrush is so much more beneficial to use than a manual one, for example:
Sonic toothbrushes are significantly more effective
They are much more efficient and provide better results in less time
It saves you money in the long run not having to replace it regularly - making it better for the environment too!
The silicone brush is far gentler on your gums than traditional brushes 
Shop more FOREO product on LOOKFANTASTIC now.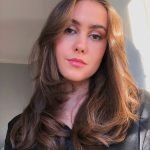 As someone with an affinity for all things beauty, discovering fantastic new products is my not-so-secret obsession. Over the years I've tried and tested a mountains worth of creams, serums and cleansers, finding some of my favourite 'holy-grail' products along the way. However, I'm always on the lookout for more ways to nourish my hair, perfect my dewy base, or enhance my skincare routine. Working as a beauty blogger for over 3 years, I've been lucky enough to collaborate personally with lots of amazing beauty brands including Christian Dior, The Body Shop and Dermalogica. I've used the Dermalogica special cleansing gel religiously since I first got it and their products are some of my ultimate skincare faves. When it comes to cosmetics, NARS Sheer Glow foundation is definitely my go-to - I live for a light, glowy base!